FORWARD wool trading was light again this week, during another tough series of auctions.
This time the broader Merino wools were not immune to the fickle nature of current auction demand.
All qualities were affected at auction, losing at least 30 cents, but once again the finer wools were under heavier pressure. This continues the pattern of the last few weeks, where the premiums for fine wools have significantly narrowed. This is important for growers considering their forward hedging strategy.
We appear to have reached a tipping point. This is illustrated in the graph below which shows that the premium for 18 micron over 21 micron blew out to more than 800 cents, but has contracted to 680 cents this week.
Growers looking to hedge into the New Year should select a micron as close to their likely production to reduce the basis risk.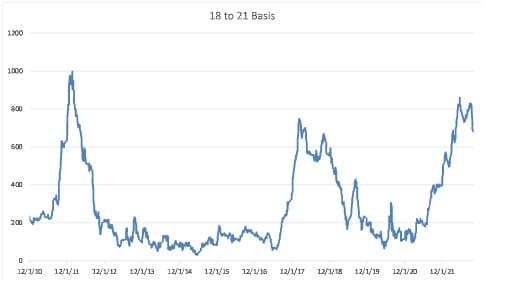 Early week optimism from buyers provided opportunities for forward-trading growers at and above last week's close. December and February traded 21 micron at 1320 cents and 1325 cents respectively — a 10-cent premium to last weeks close — while 19 micron traded April and July at 1660 cents —  a 15-cent premium to last week's close.
As the week progressed, bidding levels pulled back in sympathy with the spot auction. Demand remains focused on the longer term, with solid bidding throughout 2022 and well into 2023. Demand signals in the nearby are still unclear and once again translating to high volatility.
Further pressure on fine wools seems likely with exporters and processors still dealing with challenges around logistics and power availability.
Commodity markets in general are still buoyant with beef, grains, cotton and dairy all remaining at strong levels. The graph below charts the relative ratio between the AWEX Eastern Market Indicator and the US cotton futures market. The ratio has fallen below 4 to 1 for the first time in 10 years and as such, wool is undervalued at present. How, in this unique environment, this plays out in the short and medium term is the burning question.
As for the coming week, we see the current pattern to continue with the best hedging opportunities early in the week unless new demand comes forward over the weekend.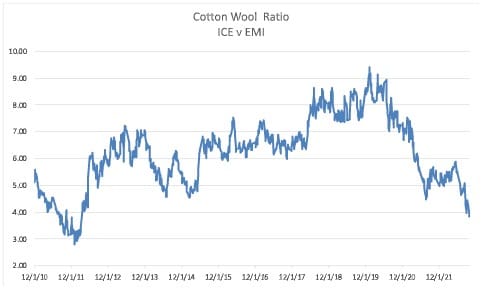 This week's trades
December 2021 21 micron                                          1320 cents                                       5 tonnes
February 2022 21 micron                                             1325 cents                                       5 tonnes
February 2022 30 micron                                                375 cents                                        5 tonnes
April 2022 19 micron                                                     1660 cents                                       5 tonnes
July 2022 19 micron                                                      1660 cents                                       5 tonnes
Total 25 tonnes