WOOL'S auction market continued its sawtooth pattern this week, with most Merino types finding seasonal highs before consolidating into Wednesday's close.
This rally translated into slightly improved volumes on the forward market with hedging spread across micron groups from 18-21 micron and maturities from November through to September 2022.
Key microns hit grower short-term targets with the 19 micron contract trading pre-Christmas at 1710 cents up to 1740 cents — a 30-cent premium to cash in the late Summer and early Autumn.
Bidding remained solid to close the week. Fine wools (18 micron) traded at a discount to cash at 2050 cents, with the market predicting a tightening of the basis from its current high levels as indicated in the graph below.
The current spread in the cash market is over 400 cents, but the New Year is spread at 310 cents, with 18 micron contract trading at 2050 cents and 19 micron at 1740 cents.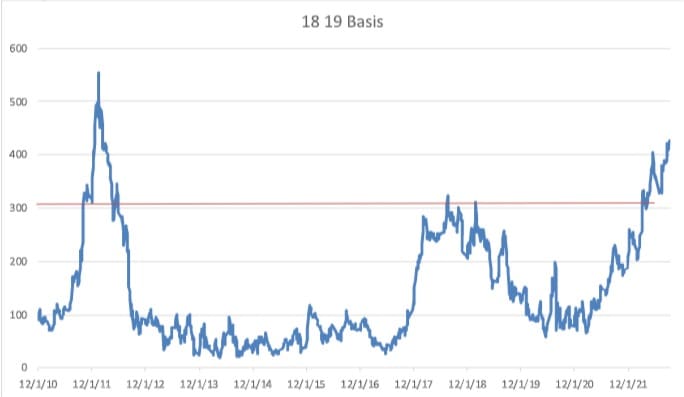 We expect this pattern to continue next week with the market seeing the medium wools slightly undervalued, while the fine wools remain in the 75th to 80th percentile of prices for the last decade.
This week's trades
November 19 micron                                                    1710 cents                        5 tonnes
November 21 micron                                                     1270/1300 cents           15 tonnes
December 20 micron                                                    1310 cents                        5 tonnes
February 2022 19 micron                                             1740 cents                        2.5 tonnes
March 2022 19 micron                                                 1680/1710 cents           12.5 tonnes
May 19 micron                                                               1740 cents                        2 tonnes
June 18 micron                                                               2020 cents                        6 tonnes
August 18 micron                                                          2050 cents                        10 tonnes
September 18 micron                                                   2050 cents                          5 tonnes
Total 63 tonnes