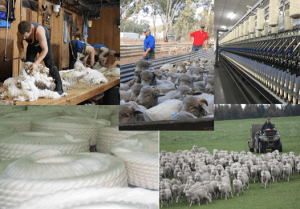 AUSTRALIA'S wool industry has answered the call to nominate its outstanding achievers for the first Australian Wool Industry Medals.
Nominations for the medals close today and Federation of Australian Wool Organisations secretary Bianca Heaney said the response to the inaugural medals initiative has been fantastic.
"At this stage I cannot advise how many, but the response has been good and would like to see as many as possible especially being the inaugural medal award.
"As a new FAWO initiative we want to make this inaugural prestigious event a memorable one for many," she said.
"It is time to recognize those men and women who have made a difference and with the support from the wider wool community it will continue on an annual basis for many years to come."
Ms Heaney said the winners of inaugural medals will not be selected within industry categories, but on the significant contribution the person has made in the Australian wool industry.
"A person being nominated may have contributed or worked in different sectors of the wool pipeline.
"The categories are only listed as a guideline, noting that anyone can be nominated from the commencement of the wool pipeline to the end," she said.
"We are encouraging everyone to think outside the square."
The announcement of the inaugural 2017 medal recipients will be made at the Annual Wool Week Dinner in Melbourne on August 24. Further information and a nomination form can be downloaded at www.fawo.org.au/awards.
The award initiative is fully supported by FAWO and its members, which include the Australian Council of Wool Exporters and Processors, Australian Wool Exchange, Australian Wool Handlers, Australian Wool Innovation, Australian Wool Testing Authority, The National Council of Wool Selling Brokers of Australia, and WoolProducers Australia.
Source: FAWO.