Riverina Livestock Agents auctioneer James Tierney sells a big run of 285 lambs for $334 at the Wagga Wagga saleyards on Thursday.
TRADE and export lamb carcase weight prices have continued into record territory this week as demand remains undiminished by lower supply and seasonal plant maintenance shut downs.
Heavy and trade lamb prices surged again this week at most saleyards, with more lambs over 30kg cwt making $300-plus at cwt rates above 800-900c/kg and heavy trade lambs tipping 1000c/kg.
At the Wagga Wagga saleyards on Thursday, Riverina Livestock Agents sold more than 1000 heavy lambs in its first lane making more than $325 a head. The top pen of 285 head made $334 and sold to Thomas Foods International. At the Ballarat saleyards on Tuesday, prices peaked at $330, with a line of lambs from Dean producer Andy Maher, who holds the centre and Victorian record at $344 for a draft of lambs sold earlier this month.
TB White and Sons auctioneer Gerry White sells lambs for up to $330 at Ballarat on Tuesday.
At the Griffith saleyards today, MLA's National Livestock Reporting Service said trade lambs were firm to $5 dearer, with the 18-24kg lambs making $155-$238, or 870-965c/kg cwt. Heavy weight lambs sold $7-$10 dearer, with over 24kg 4 score lines selling from $232-$340, or 738-1038c/kg.
Price volatility is declining – MLA
However, despite the record prices being paid mainly in saleyards, as producers increasingly spurn direct consignment to abattoirs, Meat & Livestock Australia has reported that price volatility for processors is at an historical low.
The Eastern States Trade Lamb Indicator (ESTLI) rose six cents to reach 900c/kg cwt yesterday for the first time, well above the 2018 peak of 884c/kg in late August. The 900-cent level represents a 226-cent or 33.5 percent increase in the indicator since March 27 this year, when it was 674c/kg.
The eastern states indicator for heavy lamb last week rose above the previous 2018 peak of 917c/kg in September 2018, and then yesterday continued its unabated rise to 932c/kg, a new all-time peak.
Price peaks and troughs are evening out
However, despite the rapid price increases MLA has had a closer look at historical data to determine just how extreme the current price movements have been, analysing 21 years of data.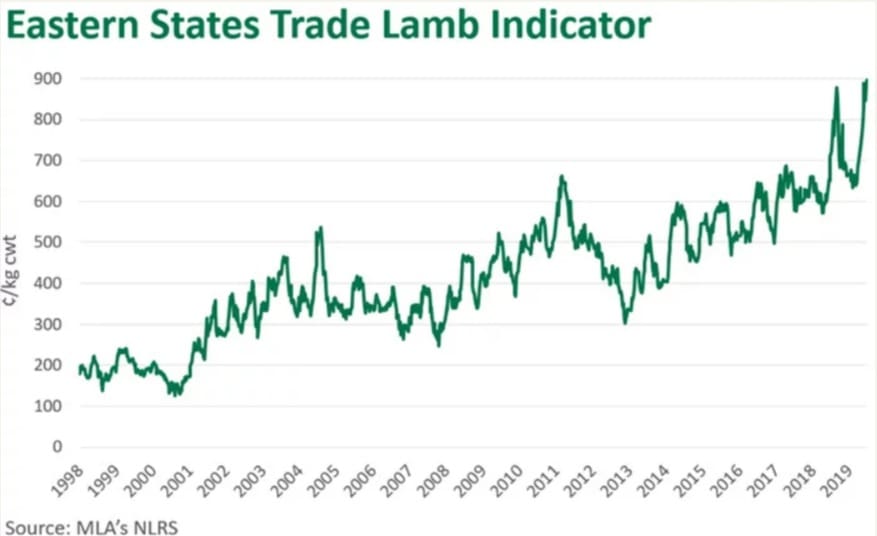 Price movements, and the rate at which they occur, have huge implications for the whole industry, MLA said. But it has found that despite records tumbling on a regular basis over the last two years, lamb prices have become less volatile than they were earlier in the millennium.
To illustrate this point, a 24kg cwt lamb sold during the week ending 24 March would have made $155, while a lamb of the same weight sold last week would have sold for $215 (on average in the eastern states, excluding skin).
MLA said one measure of volatility is the difference between the highest and lowest price level during any one calendar year. Last year was a particularly volatile year, with the ESTLI hitting a low of 571c/cwt in April, before jumping to 884c/kg cwt by the end of August, representing a rise of 55pc.
A look back at earlier years; however, demonstrated that this type of intra-year volatility isn't actually unusual, MLA said. In the 21 calendar years between 1998 and 2018, the average premium of the highest price in the year over the lowest price was 51pc, with 2001 (111pc) the most volatile year and 2010 (21pc) the least.
MLA said trade lamb price volatility has decreased in the last five years. Between 1998 and 2013, the average calendar year premium of the highest price over the lowest price was 55pc, while this figure fell to 38pc between 2014 and 2018.
MLA said lower volatility is seen as a positive for most industry stakeholders, as there is more certainty around potential future price levels.
"That said, most producers will be cheering at the sight of recent record prices.
"However, sustained high price levels can begin to impact margins of businesses further along the supply chain," MLA said.
Current prices holding despite supply decline
MLA said in the past, when prices have seen rapid appreciation, they have often fallen just as quickly. The fall usually coincided with a recovery in supply levels, such as 2011.
However, based on weekly slaughter data, supply levels are in decline, with no evidence to suggest a recovery is imminent – at least until spring, MLA said. For the week-ending 21 June, eastern states lamb slaughter totalled 310,000 head, 16pc lower than the same week in 2018.
So far, in 2019, since hitting a low of 619c/kg cwt in February, the ESTLI has risen about 45pc to hit its peak of 900c/kg cwt yesterday.
With prices typically peaking in July, there is no evidence to suggest that prices have peaked just yet, MLA said.
"Keep an eye on the NLRS weekly slaughter data and market reports, as prices are potentially in for a bumpy ride over the next few months."