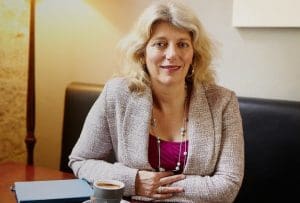 INSIGHTS into how global disruptive changes will impact the meat industry will be outlined by Lambex 2018 keynote speaker Melissa Clark-Reynolds at the major conference in Perth in August.
Ms Clark-Reynolds believes it is inevitable that technology will change the sheep business in the next decade.
During LambEx 2018, from August 5-7 Ms Clark-Reynolds will discuss how producers can begin to prepare for disruptive change and what it will mean for the meat industry.
"Big changes are ahead in the industry.
"How we produce, market and sell food will change as consumers become more and more interested in the provenance of their food," she said.
"Quality produce is receiving a premium price, but the definition of quality is changing.
"Taste and texture is obviously important, but other factors, such as the working conditions of staff, animal welfare, the use of antibiotics and growth hormones and sustainability, are now all part of the quality equation."
The successful technology entrepreneur is based in Wellington, New Zealand, and works closely with several major agricultural production companies, including AsureQuality.
"Producers need to take the time to seek out opportunities in the changes that are coming, which will create opportunities for large scale producers through traceability and authenticity.
"New technologies like blockchain, which is a type of decentralised database which continuously updates digital records of processes, are making it easier for producers to certify their production processes," she said.
"We can use technology to show exactly where meat comes from and how it is handled and processed.
"This will help consumers trust the food supply again."
LambEx 2018 chair Bindi Murray said as artificial intelligence, cellular agriculture, bitcoins and blockchains emerge as common language, it is difficult to predict how quickly this will change our way of doing sheep business.
"Melissa Clark-Reynolds is Beef and Lamb NZ's first-ever non-farmer director, and brings a unique perspective to global disruptive change, with an agricultural twist.
"Her presentation is very thought-provoking and will be a must-watch session at LambEx 2018."
LambEx 2018 is the flagship event for the sheep and lamb industry and returns to Perth for the first time since the inaugural event almost a decade ago. LambEx 2018 early bird registrations will open in late March.