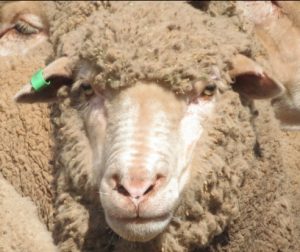 STRONG demand for more valuable sheep meat and wool exports is helping to underpin a forecast increase in Australia's farm production value, according to the latest ABARES Agricultural Commodities report.
ABARES is estimating the wool price benchmark Eastern Market Indicator will increase by 22 percent in 2017–18 to average 1723 c/kg clean and rise further to average 1990c/kg in 2018–19.
Strong export demand is expected to have pushed Australian saleyard prices for lambs up 3pc to average 612c/kg in 2017–18 and rise again to average 625c/kg in 2018-19.
Saleyard mutton sheep prices are expected to average 418c/kg in 2017-18 and lift to 425c/kg the following.
However, as the strong saleyard prices and widespread dry conditions provided producers with an incentive to increase turn-off rates in the second half of 2017–18, the rate of growth in the national flock has been reduced.
As a result, the national sheep flock is estimated to remain relatively constant at around 72 million head. In 2018–19 if average seasonal conditions return after a dry winter, producers are expected to have an incentive to increase flock numbers, ABARES said.
But expansion in the national flock is expected to be limited mainly to lamb-producing enterprises. The national flock is forecast to increase by 1pc to around 73 million head in 2018-19.
Click here to get the latest Sheep Central story links sent to your email inbox.
Gross value of farm product increasing
ABARES said lamb and wool production are forecast to contribute strongly to growth, driven by price growth and a depreciating dollar. Overall ABARES expected the gross value of farm production forecast to total $60.5 billion in 2017-18 and increase to $61.4 billion in 2018–19.
Higher export earnings for lamb, wool, beef and veal, and cheese and cotton is underpinning an ABARES farm exports value forecast of $47 billion in 2018-19. ABARES is forecasting a rise in the total value of Australia's farm production to $61 billion, well above the 10-year average.
Minister for Agriculture David Littleproud said dry seasonal conditions during autumn had seen a shaky start to the crop season in eastern Australia, however overall crop value should remain unchanged.
"Cotton exports are forecast to rise by a huge 18pc to $2.6 billion thanks to world consumption outpacing world production, lifting prices.
"Wool exports are forecast to increase 9pc to $4.7 billion as limited growth in the world supply of fine and superfine wools lift prices," he said.
"Lamb exports are forecast to rise by 10pc to $2.3 billion, while the value of beef and veal exports is forecast to increase by 2pc to $7.8 billion.
Live exports expected to decline
ABARES expected many of the recommendations of the recent McCarthy Review of Middle East live sheep exports during the northern summer months are likely to require a reduction in the stocking density on ships, which will reduce the revenue that can be earned on each voyage.
"This is likely to reduce the profitability of live exports, and in the long term lead to structural adjustment by sheep farmers, exporters and domestic meat processors.
"In the short term, the Australian Government has reaffirmed its policy not to ban live animal exports during the coming northern summer," ABARES said.
However, assuming minimal disruption to the trade, Australian live sheep exports are forecast to fall marginally to around 1.9 million head in 2018-19, reflect an expected reduced turn-off and average seasonal conditions and flock rebuilding after a dry winter. The value of Australian live exports is forecast to decline by 1pc to $250 million, representing 7pc of the total value of Australian sheep exports.
Click here for a sheep meat outlook summary graph.
Click here for a lamb price-slaughter comparison graph.
The full June Agriculture Commodities is available on the ABARES website at www.agriculture.gov.au/ag-commodities-report.
Source: ABARES.