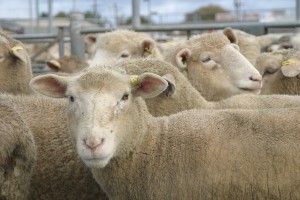 Australia's poor spring and early dry season has created quality and weight problems for lamb producers and processors this year.
Lamb producers have reacted to eastern Australia's largely failed spring and early dry season by turning off bigger numbers of lambs weeks earlier this year.
More of the offerings have been light lambs with less condition and increased grass seed contamination.
But the severity of season is set to potentially cause even more problems for processors trying to keep domestic and export markets supplied with quality lambs.
Problems with new season and shorn lamb turn-off flow
A few months ago Thomas Foods International and the Australian Lamb Company put out forward contracts for lambs to be supplied later in the summer, and these were followed by forward prices from JBS Australia and Coles.
But with the season tightening quickly, processors are now finding it difficult to find quality lambs with weight for domestic and export marketing, according to TFI's national livestock manager for sheep and lambs, Paul Leonard.
He believes until probably mid to late February when shorn lambs come back into saleyards or direct to processors, heavy quality lambs will be difficult to source on-farm or in saleyards.
"There are a substantial of lambs we think have been put out that will come in effectively from late February until July or August traditionally.
"But we are in the period now where you are getting towards the back-end of the woolly sucker lambs and because the season is drying earlier, the lambs are drying off probably a month earlier than they normally would," he said.
"The Hamilton lambs and those in the lower south-east of SA aren't coming off as good as they traditionally would if they had had a further spring rain, which they didn't get."
"So therefore people are either shearing them or selling them now," Mr Leonard said.
"So I think there will be a period of time, particularly through January and the first half of February, when it will be difficult to get lambs with weight until the shorn lambs come.
"This was the reason TFI put out contracts for lambs early in the year, and we've covered a lot of our lambs for January and February."
Thomas Foods has 330,000 lambs under contract
TFI has about 330,000 lambs contracted between its southern and northern buying areas.
"So I've effectively covered about 50 percent of our kill for the north and the south – and that's Tamworth (NSW), Murray Bridge (SA) and Lobethal (SA) for all of January and February.
"It was 520c/kg cwt for January, it was 510c/kg cwt for early February and I think the last two weeks of February was 500c/kg cwt.
"Where we had a point of difference was we were the only ones to come out with it at the time and it was for 16-34kg cwt – so we widened our spec, as we have on our traditional lambs this year to accommodate more people in the season."
He said the weight range had suited people supplying before Christmas so they were not penalised.
"And when we come into January-February most of them will be shorn lambs and therefore the top end will be accommodated."
TFI Murray Bridge plant closing for Christmas
Mr Leonard said a lot of the contract lambs had gone onto grain and TFI would start pulling grain-assisted lambs out of the mid-north of SA for January right through February.
TFI's Murray Bridge plant is closing for Christmas, with its last 2014 kill on December 18, recommencing on Monday January 5.
"But all our other facilities – Tamworth, Wallangarra (Qld) and Lobethal – will kill right through, other than the normal public holidays."
The company had no contracts before December 18, but has been able to accommodate a few producers with drier lambs in late December at Lobethal.
"We're reasonably well-positioned going into January and February and there should be a reasonable supply of shorn lambs from March through to June, with the amount of lambs that have gone out."
Lamb quality will be an issue
But Mr Leonard said January-February will be a bit of a difficult period to get lambs with weight during the new season-shorn lamb changeover period.
TFI's wider grid weight range meant it could handle a wider spec of lambs for its diverse domestic and export markets, but skin and grass seed issues were a concern.
"I think quality is an issue at the moment and it will be right into that January period for a lot of people, and lack of cover and weight.
"I think that underpins why you need to go out back a few months with forward pricing to encourage people to shear their lambs early and pout them onto grain or failed crops and value-add their lambs rather than be grain farmers," he said.
"The only way they are going to do that is if you underpin them with price, that's why we did that."