LAMB prices regained lost ground on AuctionsPlus last week with new season lambs making up most of the online offering.
The AuctionsPlus weekly sheep and lamb offering increased by 2 percent last week to 78,857 head.
With winter drawing to a close and the spring selling season just around the corner, new season lambs continued to flock to the online market and made up 65pc of the total offering, AuctionsPlus said.
Following the previous week's 25pc increase in listings and price contractions across most of the lamb categories, the market this week regained some ground, with price lifts in four out of the six lamb categories.
Central Western New South Wales was the top purchasing region again this week, securing 14,844 head, followed by south-west Victoria with 10,411 head and the Riverina region of NSW with 10,408 head.
The crossbred lamb offering rose 20pc to 22,227 head and all were sold, with an increase in the average price per kilogram liveweight paid of 42c/kg to average 534c/kg, or $166/head. NSW offered 70pc of the crossbred lamb category and 48pc were sold to Victorian buyers.
The shedding breed lamb offering contracted to 1942 head, but it met robust demand and the category's average price rose $83 to $334/head.
The number of Merino wether lambs increased 18pc and was matched by a jump in the clearance rate to 96pc. Prices ranged from $119-$174 and averaged $9 higher at $142/head. The supply of Merino ewe lambs, on the other hand, contracted by 80pc to only 2126 head. Despite the reduced supply, prices eased for the second week in a row – back $28 to an average of $210/head.
Off the back of yet another record-breaking sale of scanned in-lamb Australian White ewes in Tuesday's sheep sale, the SIL shedding breed ewe category's average price rose $198 to $598/head. The category reported a reduced offering of only 603 head this week, with numbers back 61pc. With the reduced offering, buyers competed fiercely, resulting in a 100pc clearance rate.
The smaller scanned in-lamb first cross ewes offering averaged $40 higher to $316/head, and the 100pc clearance increased from the 69pc rate of the previous week. The top line consisted of 154 SIL ewes from Naracoorte in South Australia that averaged 55.6kg and returned $338/head. The ewes sold to a Victorian buyer at Birchip.
The offering of 3525 unjoined Merino ewe hoggets was similar to the previous week and 89pc were sold. The average price fell $31 to $251/head.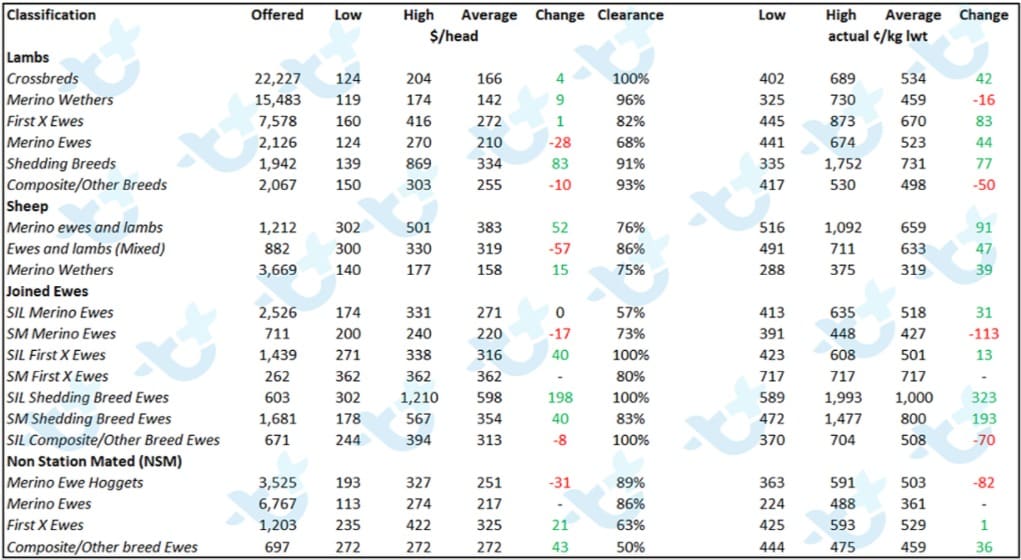 NOTE: Prices as at 5pm, Thursday 26th July, 2021