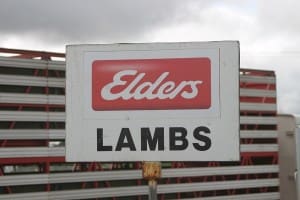 Lamb prices recovered some ground early this week in the reduced yardings across the country with processors seeking quality new season supplies and restockers in some centres seeking supplies at the lower rates.
With processors now quoting over-the-hook prices of just over $5/kg, Meat and Livestock Australia's National Livestock Reporting Service said the Eastern States Trade Lamb Indicator closed on Tuesday at 457c/kg cwt, an eight cent increase, and the heavy lamb indicator ended at 446c/kg, up one cent. The mutton indicator lost two cents to close at 324c/kg cwt.
New season light trade lambs up $3 at Dubbo
In New South Wales at Dubbo on Monday, agents yarded 23,380 fair to good quality lambs, down 12,170, and 6060 sheep, a fall of 1940.
About 4000 new season lambs were offered, and the old lambs were mostly trade and heavy weights, with not many extra heavy lambs. Most hoggets and lambs were Merinos. Not all the usual buyers were operating in a firm to cheaper market.
The NLRS said new season lambs sold $3 stronger for the light trades. The medium and heavy trade weights eased $1 on average ranging from $95-$115 or 470c/kg-485c/kg cwt. Heavy new season lambs made to $120.20.
Old lambs also sold to dearer prices for the lighter weights and firm to $5 cheaper on the medium and heavy trade weights and heavy lambs. The medium and heavy trade weights sold from $82-$113. Heavy lambs made $108-$126 and extra heavy lambs to $144. Merino lambs eased $3-$4, receiving $70-$100. Heavy hoggets mostly made $78-$100.
Sheep quality was good with large runs of heavy sheep penned. Competition was again strong on the lighter, medium weights which sold to a dearer trend, but most other sheep eased $3-$5. Medium weights mostly sold from $68-$92. Heavy sheep made to $102 or 310c/kg-335c/kg cwt, with the more sought after lines up to 370c/kg cwt
Young lambs firm and old lambs cheaper at Tamworth
At Tamworth on Monday, agents yarded 2000 lambs, down 1350, and 1000 sheep, 770 less.
The NLRS said lamb and sheep quality and condition was mixed, with only a small number of very good young lambs, for the usual buyers. Very good young lambs remained firm. Medium and heavy trade weight old lambs also remained close to firm, but the heavy weights sold to a cheaper trend, with limited processor demand. Grown sheep were cheaper, however an increase in skin value on a couple of pens of medium weight Merino ewes made them dearer.
Old and new season lamb prices lift at Forbes
On Tuesday at Forbes, agents yarded 29,050 mixed quality lambs, 3400 fewer, and 8050 sheep, down 4700.
The NLRS said there was a large percentage of well-finished lambs offered along with the few plainer types. There were extra buyers present and they competed in a dearer market.
Prices lifted $4-$5 for the 13150 new season lambs penned with light lambs making $90-$102. Trade weights sold from $100-$120. Heavy lambs ranged from $115-$130. Carcase prices averaged 477c/kg-512c/kg. Old trade weight lambs were $3 dearer, selling from $85-$108. Heavy lambs sold from $111-$120 and extra heavy weights made $112-$149.
Mutton quality was again mixed, with most sheep Merinos. Prices remained fairly steady, with Merino ewes selling from $74-$107. Crossbreds made $70-$115 and Merino wethers ranged from $72 to $107.
Lambs and sheep mostly firm at Inverell
At Inverell on Tuesday, agents yarded 2624 lambs, 495 fewer, and 577 sheep, down 142.
The NLRS said the lambs included a good supply of trade weights, with more heavy lambs and several pens of light weights. Quality was fairly good with trade lambs generally firm, while light weights attracted less interest and heavy lambs sold firm to slightly dearer. Several pens of the medium and heavy mutton carried a good skin. There was little change in rates, with most ewes and wethers selling at recently strong prices.
Stronger competition for new season lambs at Bendigo
In Victoria on Monday at Bendigo, agents yarded 15,061 lambs and 12,169 sheep.
The NLRS said the lamb yarding fell 23 percent, to be mostly new season lamb lines that attracted stronger competition. There were limited numbers of heavy weight young lambs and no restocker enquiry. New season light weight 3 score lambs were 64 cents dearer at 491c/kg cwt, while 3 score trade weight lambs gaining 26c/kg and averaged 523c/kg cwt. Heavy weight 3 score new season lambs were up 19 cents and averaged 522c/kg cwt.
Old light weight 2 score lambs lost 20 cents to 416c/kg cwt, 3 score trade weight lambs slipped eight cents to 435c/kg, while 3 score heavy weight lines lifted three cents and averaged 463c/kg cwt. Sheep consignments increased 55 pc, to 12,169, and included some big lines of recently shorn Merinos. Medium weight 3 score Merino ewes fell 21 cents to around 320c/kg cwt.
Most lambs sell firm at Ballarat
At Ballarat on Tuesday, agents yarded 2339 lambs, 2552 fewer, and 5069 sheep, 2045 more.
The NLRS said lamb quality was average, with just a few pens of better presented trade weights, but lambs showing finish sold to keen competition. Not all the usual buying group were in attendance or operated fully, with most of the lambs selling similar to last week and some of the lighter lambs a little dearer.
Restockers paid from $71-$80 for lambs and to $125.50 for a pen of crossbred ewe lambs. A few small pens of new season light lambs made to $72. Light weight 1 and 2 score lambs sold from $48-$78. Light trade 2 and 3 score lambs made $65-$92. Trade weight 3 and 4 score lambs sold from $88-$118 to around 420c/kg cwt. Heavy 3 and 4 score lambs made $115 at around 390c/kg cwt.
Several pens of well-presented Merino wethers sold from $70-$95 at around 330c/kg-340c/kg cwt. Heavy crossbreds made to $120. Restockers and feeders were very active and paid $62.50- $80 for Merino wethers, to $66 for young Merino wethers and $61-$110 for Merino and crossbred ewes.
Light weight 1 and 2 score sheep sold from $37-$66, with very light 1 scores making $22-$41. Medium weight 2 and 3 score sheep sold from $55-$85 and ranged from 250c/kg-350c/kg to average around 310c/kg cwt, with some of the crossbred sheep a little easier. Heavy crossbred sheep sold from $76-$99, with heavy wethers to $120. Medium weight Merino wethers sold $62-$85 at around 300c/kg cwt. Rams of all weights sold from $15-$62.
Lamb prices fall at South Australian markets
In South Australia at the SA Livestock Exchange at Dublin on Tuesday, agents yarded 10,058 lambs, 2112 more, and 3061 sheep, up 325.
The NLRS said the yarding of 10,058 mixed crossbred and Merino lambs sold to weaker competition from the usual trade and processor buyers. New seasons lambs made up a large percentage of the yarding and feeders and restockers were keen to take advantage of the easing prices.
Lightweight 3 score new season crossbreds eased $6-$10, selling from $65-$85 and heavier lambs to feeders sold from $87-$91. Lightweight 3 scores to trade buyers eased $8, as they sold from $87-$98 and averaged 451c/kg cwt, while light trade weight 4 scores eased $7 to $95-$106 and average 441c/kg cwt. Heavy trade weights eased $8, selling from $104-$111 and averaging 435c/kg cwt, as the few heavy weights yarded eased $9 to return from $110-$120 to average 427c/kg cwt. Light weight Merino new season lambs followed the easing trend and eased $7-$15 to sell from $73-$95.
Old lamb numbers continued to decline, and the trade and heavy weight crossbreds sold from $73-$100, while the equivalent Merinos made $75 to $101/head.
A slightly larger, very mixed quality sheep yarding of 3,061 head sold to weaker processor bidding, although restockers provided some competition, purchasing lightweight ewes from $25 to $62 and wethers from $62 to $75/head. Lightweight 2 score ewes eased $7, selling from $49 to $63 and averaging 224c, while heavyweight 3 score ewes eased up to $16 and made from $56 to $75/head to average 226c/kg cwt. Heavyweight wethers eased up to $20, and they sold from $70 to $90/head to average 266c/kg cwt. Heavy weight rams sold from $35 to $50/head.
Young trade weight lambs $10 dearer at Naracoorte
At Naracoorte on Tuesday, agents yarded 901 mixed quality lambs, 329 fewer, and 1560 sheep, down 441.
The NLRS said prices were erratic throughout the sale but the few pens of trade weight young lambs were $10 dearer at $95-$112. Light trade weights were from $69-$86, while restocking young lambs were equal to last week at $58-$83.
The old 2 score light weight lambs made $42-$68, while light trade weight 2 and 3 scores sold from $56-$73. Medium to heavy trade weight 3 score old lambs made $65-$86, with a top pen at $100. These averaged 390c/kg cwt. No heavy weight 4 score lambs were offered.
The general run of sheep averaged $3-$5 cheaper. Most 2 to 4 score ewes sold around 275c/kg cwt with the odd pens of wethers a little higher. Light weight 1 and 2 score sheep sold from $45-$58, while medium weight 2 and 3 scores made $56-$70 and the heavy and extra heavy 3 to 5 scores $65-$89. Rams sold higher at $30-$72, with the poor 1 scores making from $12.
New season lambs cheaper at Muchea
In Western Australia at Muchea on Tuesday, agents yarded 4895 fair to good quality lambs, 1031 more, and 6473 sheep, up 1680.
The NLRS said the new season lambs were carrying a little more weight, well-finished old lambs were in limited supply and there were the normal runs of lightweight Merino lambs. All the regular buyers operated.
The well-finished new season lambs were $5-$7 cheaper, with the 3 scores 18kg selling from $82-$127, with the lighter weights averaging 474c/kg cwt. Well-finished Merino new season lambs sold to $85. Trade weight old lambs had a similar result, falling $8. The few over 18kg old lambs yarded sold from $75-$116.50, while trade weight Merinos sold from $70-$83.50. New season lambs to suit the air freight market were $8-$9 cheaper, with the 12-18kg 2 scores selling from $57-$85. Old lambs in the same category were up to $11 cheaper and sold from $47-$80.
Merino lambs to suit the air freight market sold from $40-$73. Lambs to the restockers held their ground, finishing around firm. Crossbreds to the restockers sold from $30-$65, while the Merino lambs returning to the paddock sold from $35-$53.
There were some good lines of well-finished ewes yarded, but only limited numbers of wethers. Light and medium weight ewes to the processors were firm, while the heavy weight ewes were $4 cheaper. The 2 score Merino ewes to the processors sold from $32-$80.50, while the better 3 scores made $78-$87.50. The prime conditioned heavy weight ewes to slaughter sold from $89.50-$99. Heavy weight crossbred ewes to slaughter sold from $75.50-$93.50. Merino ewes to the restockers were firm to $3 cheaper, selling from $55-$88.
Limited numbers of wethers to the processors were around firm, with better medium and heavy weights to slaughter selling from $75.50-$90. Merino wethers to the restockers were $1-$2 dearer, selling from $57-$91.50. The live exporters paid from $60.50-$91.50 for wethers to go on the boat. The live exporters were also active on suitable lines of rams, paying from $55-$96. Merino rams to slaughter sold from $45-$65.50.
Source: MLA, NLRS.