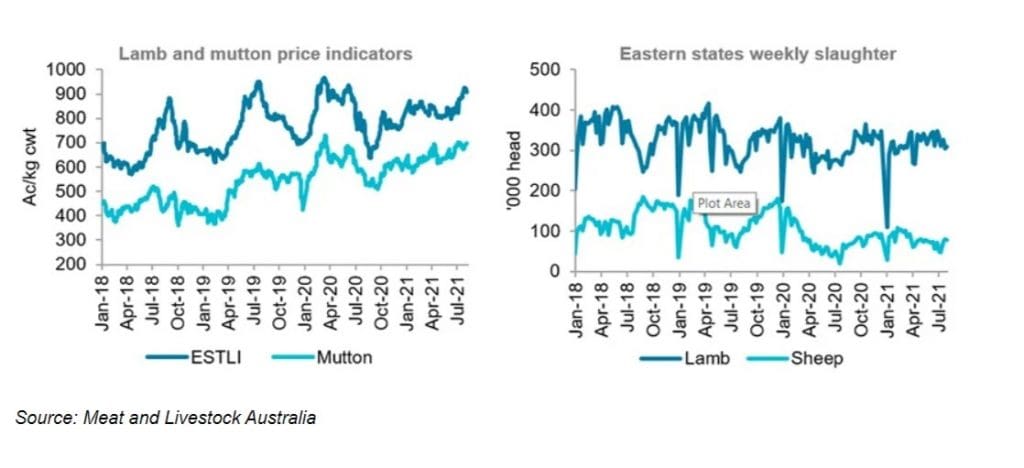 LAMB prices are likely near their winter peak and are expected to begin to ease in August as new season lamb supply lifts, according to the Rural Bank's August commodity overview.
The bank said lamb supply is expected to increase compared to last year due to higher lambing rates; however, wet conditions could slow the onset of the spring flush while also supporting strong restocker demand.
The impacts of a wet season coupled with strong export demand should support strong lamb prices throughout spring, albeit lower than the current winter peak.
The bank said mutton prices are likewise expected to ease as supply improves in spring, but support from strong export demand and restocker buyers should keep mutton prices in a high range.
Australian lamb prices typically increase during winter and this year has been no exception, the Rural Bank said. The Eastern States Trade Lamb Indicator (ESTLI) rose 11 percent from the start of June to the end of July. This increase saw the ESTLI return above 900c/kg for the first time since June 2020.
The National Mutton Indicator (NMI) also pushed higher and bounced between 675-702c/kg in July. Both lamb and mutton prices were higher than 12 months ago when prices were lower due to restricted processing capacity in Victoria.
The bank said lamb prices performed remarkably well in July given the level of supply. Although average weekly lamb slaughter in July declined 6.8pc from June, it was 15.7pc above July 2020 and 1.6pc above the 10-year average.
Average weekly yardings were likewise elevated in July, 49.7pc above July 2020 and 18.5pc above average. This was primarily driven by increased supply in New South Wales, the bank said. The typical seasonal trend of lower supply through winter was evident, albeit to a much lesser degree than usual. Sheep supply remained tight in July with average weekly slaughter 15.5pc below average. However, this was up 57.1pc from the very tight supply seen 12 months ago.
Export demand supporting high prices
The bank said strengthened export demand has been a major factor supporting high lamb prices. Lamb export volume in July was 36pc higher year-on-year despite a 7.5pc month-on-month decline.
Resurgent demand from the United States is leading the overall strength in demand, with US exports in July 48.9pc higher year-on-year and up 21.5pc for the year-to-date.
Demand from China is also firm, with exports in July 25.6pc higher year-on-year, although year-to-date volumes are lagging by 3.2pc.
The bank said growth in year-to-date exports to the US and emerging markets such as Hong Kong, Taiwan and Papua New Guinea has offset continued weakness in Middle Eastern demand. Lamb exports to the Middle East in 2021 are 33.8pc below 2020 and are unlikely to improve until significant international travel resumes.
Mutton exports in July were 25.9pc higher year-on-year, but kept below average by tight supply, the bank said.
Source: Rural Bank.