PRICES rose in most lamb categories on AuctionsPlus last week, despite an increase in the new season lambs listed.
Prices for new season lambs continued to be tested, with numbers increasing by 25 percent last week.
Five of the six lamb categories averaged higher than last week – a testament to the current robustness of the market and ongoing demand, AuctionsPlus said.
Crossbred lambs made up 24 percent of the total online sheep and lamb offering and Merino wether lambs made up 22pc, with unwaivering demand across both categories despite the increased listing. The average price for Merino wether lambs rose $1 to $145/head and they sold to a top of $225. A line of 255 Pooginook blood Merino wether lambs weighing an average of 26.8kg liveweight at Oaklands in New South Wales sold for the top price.
Total online offering lifts 15pc
AuctionsPlus sheep and lamb offering increased by 15pc last week, with 112,308 head listed online. Compared to the corresponding week in 2020, the total offering across the commercial sheep and lamb sales this week was up 12pc. New South Wales' central west region purchased 20pc of the catalogue this week, followed by the Riverina with 12pc and north-west Victoria with 10pc.
The number of first cross ewe lambs offered rose to 10,560, to comprise 9pc of the total catalogue. Following a $50 rise in the average first cross ewe lamb price last week, the category recorded a $9 decline, to average $300, with clearance rates only hitting 79pc, compared to 90pc the previous week.
The 1786 Merino wethers offered all sold at an average price of $151, down $17. Most of the wethers sold to southern buyers. Victorian buyers purchased 71pc of the offering.
Joined Merino ewes meet 'red hot' demand
Joined ewe categories continued to rise in value this week, with four of the five categories recording higher prices. The number of scanned in-lamb Merino ewes increased from 765 head last week to 1300. AuctionsPlus said the bigger offering was met by red hot demand and all ewes sold for an average of $268, up $2.
The online offering of station mated shedding ewes increased by 99pc, but demand matched this to lift the average price paid by $61 to $387/head, with a 97pc clearance.
A new record price for scanned in-lamb shedding breed ewes was set, when $1351 was paid for 10 SIL Tattykeel blood Australian White ewe lambs. The price surpassed the previous record by $141. The August-September 2020 drop ewes weighed an average 91kg liveweight.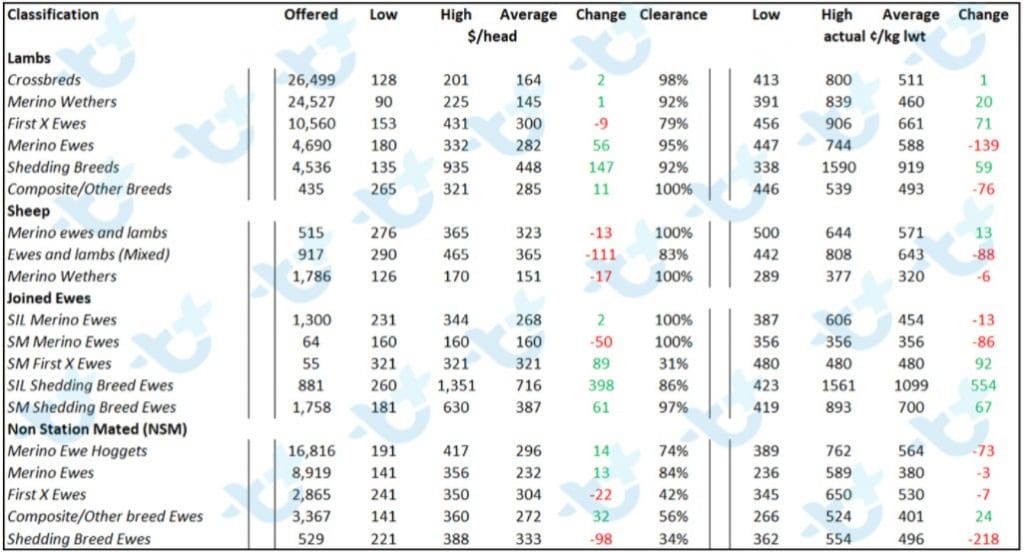 NOTE: Prices as at 5pm, Thursday 16th September, 2021