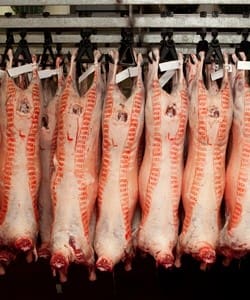 Australian lamb slaughter hit a new high in March, but the number of sheep processed in the month slumped, compared to 2014 figures, MLA said today.
MLA said 2.04 million lambs were processed in Australia March, 18 percent more than at the same time last year (ABS figures).
All states, with the exception of Queensland, registered an increase in lamb slaughter March. Lamb slaughter in Victoria was 24pc higher at 939,432 head, while the kill increased 22pc in NSW to 445,582 head and to 239,355 head in WA. The number of lambs slaughtered in SA was up 6pc on year-ago levels, at 335,095 head.
"As a result of the average lamb carcase weight lifting 4pc year-on-year, to 22.74kg/head in March, Australian lamb production was 22pc higher than last year, totalling 46,383 tonnes cwt for the month.
"While lamb slaughter has maintained a strong pace throughout the first quarter, it is expected to tighten over the coming quarters," MLA said.
Mutton slaughter slowed in March
MLS said Australian mutton slaughter continued to slow in March, easing 14pc compared to the same period last year, with 829,563 sheep processed during the month (ABS).
This was largely due to an 18pc decline in slaughter in Victoria to 298,235 head, and a 29 pc fall in SA to 119,365 head. The number of sheep processed in WA also fell 13pc compared to March 2014, to 118,969 head and in Tasmania, 29,141 sheep were killed, down 5pc.  Slaughter levels were steady year-on-year in March in NSW at 216,257 head and in Queensland at 47,596 head.
MLA said Australian mutton production overall declined 9pc year-on-year, to 18,901 tonnes cwt.
Victoria accounted for the majority of the slowdown, being 14pc lower than the same time last year, at 6469 tonnes.
SA registered a 24pc decline during March to 3020 tonnes, while WA mutton production eased 15pc to 2605 tonnes, and in Tasmania fell 9pc to 526 tonnes. In contrast, production lifted 10pc in NSW to 5270 tonnes and was 10pc up Queensland at 1010 tonnes, suggesting higher yields compared to the same period last year.
Nationally, average sheep carcase weights increased 5pc year-on-year, to 22.78kg/head, MLA said.
Source: Meat and Livestock Australia