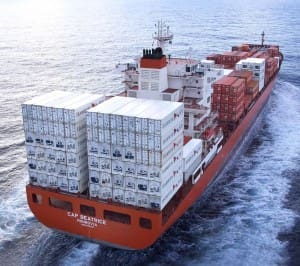 AUSTRALIAN lamb exports have fallen below 2015 levels since July this, after a strong first half, Meat & Livestock Australia has reported.
However, total exports for the year-to-date — from January to September — were 2pc above the corresponding period in 2015, to 174,308 tonnes, largely underpinned by higher volumes shipped earlier in the year. Furthermore, compared to the five-year average for the nine month period, 2016 is up 16pc.
MLA said recently released September data from the Department of Agriculture and Water Resources show an 8 percent year-on-year decline for the month to 17,385 tonnes.
The proportion of chilled shipments in September was 44pc (up one percentage point year-on-year), while frozen volumes accounted for 56pc. MLA said reduced lamb supplies contributed to the lower volumes shipped during the month.
MLA reported that eastern states lamb slaughter in September averaged 331,105 lambs per week – down 8pc from the corresponding period last year.
Export volume performance into the major lamb markets so far this year (January to September), compared to last year's volumes included:
The Middle East down 10pc to 47,229 tonnes
The US increased 8pc to 38,067 tonnes
China increased 23pc to 28,350 tonnes
Papua New Guinea increased 11pc to 11,642 tonnes
South East Asia eased 3pc to 9434 tonnes
The EU lifted 1pc to 7018 tonnes
Korea increased 44pc to 5889 tonnes
Lamb carcase trade growing
Lamb carcases accounted for the greatest proportion of total shipments for the January to September period this year, at 36,043 tonnes. While 2016 volumes were down 11pc on last year, it was off a high base, with year-to-date shipments remaining 21pc above the five-year average, MLA said. The year-on-year decline was largely attributed to volumes to Bahrain dropping from 7,272 tonnes in 2015 to 312 tonnes this year – due to the lifting of the Bahrain government subsidy on imported Australian lamb.
However, MLA said there was considerable growth recorded in lamb carcase exports to Qatar and the UAE. According to in-market insights, both markets are very progressive and have seen great expansion in retail supermarkets. For the year-to-September, carcase volumes to Qatar jumped 16pc year-on-year, to 11,890 tonnes, with the trade supported by government subsidies that apply to chilled whole carcases.
To the UAE, carcase exports recorded 11pc growth from last year, to 9683 tonnes – reflective of urbanisation and the developing retail sector over the past several years.
Breast and flap exports lifted 4% for the year-to-date, at 32,384 tonnes. China is the primary destination for this product, with volumes reaching 17,490 tonnes – an 8pc increase from last year. MLA said Papua New Guinea is also a major market for breast and flap, taking 10pc% more than last year, at 9490 tonnes.
Lamb shoulder shipments for the January to September period edged 1pc higher than in 2015 to 25,448 tonnes. Volumes were spread across a range of markets, the largest being South East Asia (4937 tonnes, down 2pc), Japan (3896 tonnes, up 14pc), Middle East (3763 tonnes, down 13pc), the US (3340 tonnes, down 25pc) and Korea (3076 tonnes, up 48pc).
Leg exports were 3pc lower for the year-to-date at 24,820 tonnes. The US is the largest market for leg shipments, at 9460 tonnes, although volumes were down 5pc year-on-year. Shipments to the Middle East declined 4pc to 5466 tonnes for the nine months, while those to the EU were similar to last year at 3892 tonnes, MLA said.
Source: MLA.