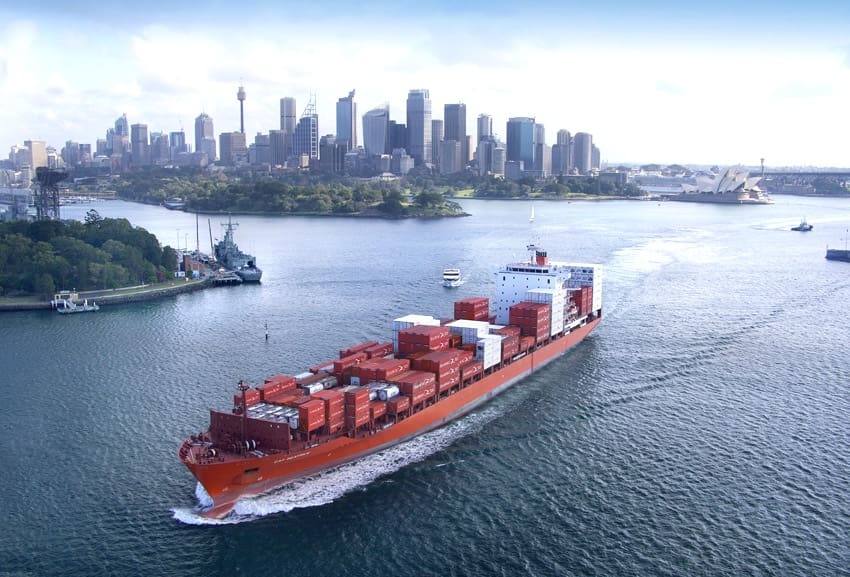 A STRONG finish to the year saw Australia's 2016 lamb exports rise 3 percent over the previous year, while mutton exports fell 12pc.
Total lamb exports last year reached 242,285 tonnes shipped weight, up from 240,000t the year before. Last year's trade was back slightly from 2014's record lamb export volume, but 23pc higher than the five-year average.
The strong result was influenced by November and December shipments up significantly year-on-year, with December up 20pc to 23,236t, according to statistics released by the Department of Agriculture on Monday. Lamb shipments in November were the highest monthly figure since October 2014, reaching 23,507t – up 10pc year-on-year, and up 26pc on the five-year average for the month.
While the Middle East remained Australia's largest export lamb market in 2016, volumes last year retracted 9pc, to 62,115t.
Lamb carcase volumes (39,148t) to the region declined 12 for the 11 months ended November, while legs (6651t to November) and shoulders (4777t) fell 3pc and 11pc year-on-year to November, respectively.
The overall decline to the Middle East was largely attributed to a 92pc year-on-year drop in exports to Bahrain, from 7500t to 652t, due to the removal of a government subsidy on imported Australian lamb. Encouragingly though, two of the largest and most progressive markets in the Middle East for Australian lamb – the UAE and Qatar – did record considerable growth. Volumes to the UAE jumped 10pc from the previous year to 18,900t, and Qatar increased 13pc, to 15,900t.
Much of the decline in the Middle East was absorbed by a 9pc rise in lamb trade, year-on-year, into the United States, where exports rose by about 5000t to 54,545t.
Latest data released by the USDA indicates lamb and mutton volumes in cold storage in the US are steadily reducing as the 2017 year starts – which is likely to stimulate import demand further into the New Year.
Demand from China was mixed in 2016, however total lamb shipments increased 25pc to reach 39,096t – just short of the record 39,500t consigned in 2013.
Domestic sheepmeat production in China has reportedly been high last year, and as a result of the higher slaughter, domestic production levels are anticipated to be lower this year. Additionally, domestic Chinese lamb is lower in price and has an advantage of freshness over Australian frozen product – reportedly the most important purchasing factor for Chinese consumers.
In-market reports suggest that importers are anticipating good demand for sheepmeat during the cooler northern hemisphere months.
Exports to Korea last year exceeded those to Japan for the first time. The Korean market exhibited significant growth, totalling 8970t – a rise of 43pc year-on-year.
Japan last year took 8640t of Australian lamb, an 8pc rose on the previous year, but still 14pc down on the record 2014 year when the market took 10,100t.
Malaysia remained a strong frozen lamb market, taking 9741t last year.
Mutton exports well back
Australia exported 132,199 tonnes shipped weight of mutton last year, declining 12pc on the previous year (150,900t), and an even larger decline on the 186,000t record volume exported in 2014.
The reduction was driven by lower mutton slaughter during 2016 influenced by earlier drought, with average weekly eastern states kill levels down 21pc on the year before, to 91,902 head.
Almost all export destinations registered reductions compared to the previous year. Encouragingly though, higher-value chilled mutton shipments more than tripled year-on-year, to 7713t – accounting for about 6pc of total yearly exports, up from 2pc for the previous three years.
Mutton exports to the Middle East region slipped 4pc in 2016 to 46,883 tonnes, with Saudi the biggest contributor at 11,431t. Next largest was Dubai, taking 8887t. and Oman, 7901t.
Mutton exports to China were down 30pc last year, to 20,353t. Nevertheless, the earlier than usual Chinese New Year in 2017 has reportedly spurred demand, with importers and in market reports suggest that importers are anticipating good demand for sheepmeat during the upcoming cooler months.
The US (mostly ethnic) mutton market took just over 10,000t in 2016, down 30pc from the year before. Malaysia took 14,933t last year, while Singapore accounted for 9300t.
Declines in lamb, mutton exports likely in 2017
Australian lamb slaughter is forecast to decline in 2017 on the back of slightly poorer lamb markings and fewer ewes joined, and the result will cascade to lower production and exports, MLA suggests.
Lamb exports for 2017 are likely to fall short of 2016 and be 6pc lower year-on-year, at around 220,000t, on the back of lower Australian lamb slaughter. Volumes are still in excess of 200,000t, however  – a level only reached for the first time in 2013.
The major markets are likely to again be the US, China and the Middle East, while the Australian domestic market will account for 48pc of production, MLA suggests.
A recovery in lamb exports is forecast from 2018, with volumes reaching 235,000t by 2020. The longer-term export outlook should be underpinned by further growth in demand in Asia (especially China), the US and the Middle East, a lower A$, diminishing NZ exports, and Australia's projected growth in production.