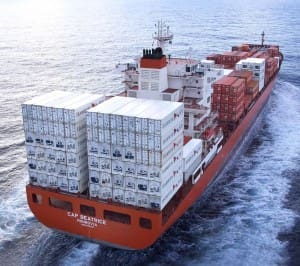 AUSTRALIAN lamb exports eased slightly to in March, but were still 30 percent above the five-year average for the month, according to Department of Agriculture and Water Resources figures.
The 4 percent fall in March to 22,588 tonnes brought the quarter's total to 62,304 tonnes – up 6pc on the corresponding period last year and 31pc on the five-year average, Meat & Livestock Australia said.
Australian lamb in the March quarter rose by 25pc to 15,322 tonnes into the United States, by 10pc to 2551 tonnes into Japan, by 7pc to 9354 tonnes into China and lifted by 1pc to 3372 tonnes into South East.
March quarter lamb shipments into the EU fell 6pc to 2842 tonnes and by 2pc to 15,786 tonnes into the Middle East. Papua New Guinea shipments were steady on 3687 tonnes.
The proportion of chilled product in total shipments for the March quarter was similar to last year at 43pc, and 57pc was frozen lamb, but these figures represented a considerable shift since 2011, when the proportions were 36pc chilled and 64pc frozen.
MLA said for the first three months of 2016, compared to last year, volumes of whole carcases were steady, at 11,435 tonnes, while breast and flaps increased by 4pc to 11,631 tonnes and legs were steady at 9488 tonnes. Shoulders increased 2pc to 9220 tonnes and manufacturing manufacturing meat increased 8pc to 4012 tonnes.
Sources: MLA, Department of Agriculture and Water Resources.