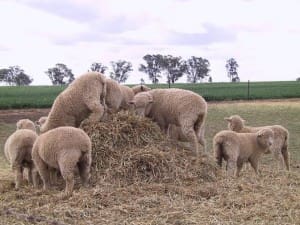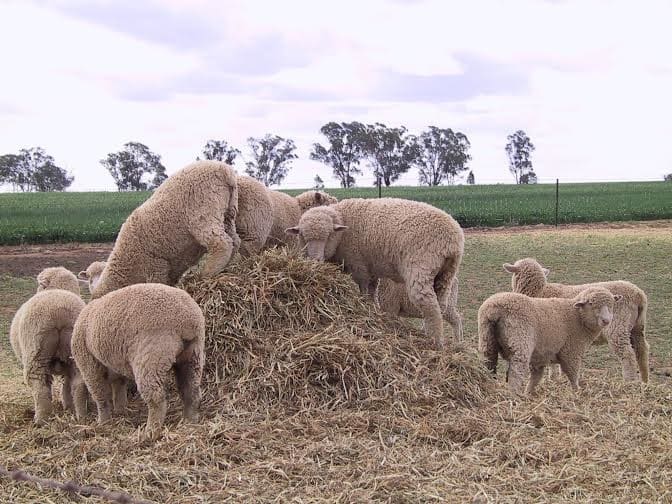 A shortage of quality heavy lambs was expected in the second half of the 2014-15 financial year, potentially prompting processors to offer forward contracts around 540-550c/kg cwt, according to Landmark national livestock director Mark Barton.
But the Landmark executive advised producers looking at feedlotting lambs to do their costings carefully and with the security of a forward price from a processor.
Mr Barton said the 2014 season had led to processors offering contracts in January-February that they would traditionally have out for March-April-May delivery. But these were not for large numbers of lambs and were filled quickly.
"So I guess what we are already seeing is the lamb market is already expressing a desire to go out with forward positions to try to secure supply for the remainder of the season."
"We've still got nine months to go before the next new season lambs."
Many looking at feedlotting lambs
Many of the better lamb finishers this year were looking at locking lambs up on pellet or grain rations to ensure forward supplies, Mr Barton said.
"The positive thing out of it for me is that while we've seen some fantastic quality lambs sold early, you can buy a forward position – you will be able to buy basically eight months (ahead), right through till August.
"So it is probably unprecedented to be able to get a forward price as easy as we have going forward."
Mr Barton said the restocker lamb buyer has now become more professional.
"They are buying them at 35-45kg individually weighed and working them out per kilogram, whereas once upon a time it was very subjective."
But he said there was a risk in buying lambs at any price and thinking there was a "golden apple coming at the end of it".
Confident contracts would rise to 540-550c/kg cwt soon
Mr Barton said 520c/kg dressed was a common price being quoted for December-early 2015 delivery, but he was very confident this could rise to 540-550c/kg quickly.
"That's likely to continue as we go into probably February-March-April contracts, but I would be very confident that you are going to see those contracts push out to 540-550c/kg cwt pretty quickly.
"If you said to me could it push out to 600c/kg, I wouldn't back against you."
Budget feedlot costs carefully, with a forward price
Mr Barton said one of Landmark's major clients that does 30,000 lambs a year was able to value-add and turn over lambs at 520c/kg with a margin.
With costs of $25-$30 to finish a store lamb bought for up to $90, lamb finishers needed to have their costings worked out to do better than breaking even, he said.
"Mind you at 550c/kg cwt those numbers don't sound too bad if you can get 15kg on a 40kg lamb, you are starting to get 27-28kg which starts to come back not too bad."
"If you are looking at supplementary or grain feeding of lambs, talk to someone you trust whether that be an agent or someone else," he said.
"Be sure of your numbers because you are going to pay close $390-$400 a tonne for pellets.
"Some people talk ridiculous weight gains – if you budget at 300gms a day that is probably a reasonable number – you hope you might get a bit better," Mr Barton said.
"But there is liquidity in the thought that if you have got the ability to shear them well, look after them with water and make sure you keep the seed out of the lambs, there are plenty of processors who will want to talk to you.
"Don't throw caution to the wind and just punt on this big market at the other end, because processors aren't obliged to bail out expensive store lambs," he said.
"When the people gets a bit bullish people do that."
Mr Barton said the Australian processors were only a gateway to a global market.
"They don't go and buy a position before they have got one sold.
"If you are going to put 25-30pc loaded cost onto a grain-finished lamb, a smart business person will go and sell that position forward so they can see a satisfactory return.
"Whilst you have got liquidity out there take advantage of that and work with the processor to make sure you make their specifications as well."
Processors' lamb grids were 'an easy target' this year
Mr Barton said most processors have got broad weight range grids for lambs, from around eight kilogram dressed weight range minimums within fat scores of 2-4.
"It is a good easy target and they're in the business of trying to shore up supply so the producer should get a position to lock in a satisfactory return."
Mr Barton said it was a "reasonable expectation" that farmers could finish lambs within a contract price of 540-550c/kg cwt this season.
"The short market is about 520c/kg cwt and the likelihood that it will push north of that is real, but when budgeting don't shoot for the stars, shoot for the clouds."
Lamb group field day at Mortlake on Thursday
The Southern Prime Lamb Group will hold a lamb finishing field day at Mortlake on Thursday, December, 4, with equipment demonstrations and speakers from the lamb processing, pasture, feed company, animal health and advisory sectors.
The speakers will include Australian Lamb Company livestock manager Ben Verrall, Peter Rollason on AuctionsPlus, the CBA Agribusiness regional manager, the Victorian Farmers Federation, Nathan Scott from Achieve Ag Solutions, Iain McPherson from Five Star Stockfeeds, Grant Muller from Advantage Feeders,         Michael Grant from Stephens Pasture Seeds, Russ Davis from Ceva Animal Healt and Peter Mecham from Zoetis.
A BBQ lunch will be provided, for catering registering is appreciated. For more information contact: Leigh Harry on 0429 302056 or [email protected]