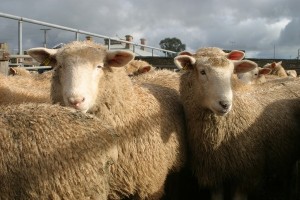 Lamb buyers were more selective in saleyards across Australia early this week opting for quality new season lines with weight and good skins where they could.
At Dubbo in New South Wales, some producers with young lambs at home opted to run them on after recent rain promised spring growth, while at Bendigo in Victoria the growing new season turn-off from the north-east and Riverina put pressure on prices.
Meat and Livestock Australia's National Livestock Reporting Service said the Eastern States Trade Lamb Indicator finished on Tuesday at 472c/kg, down nine cents on the day before, while the heavy lamb indicator was at 476c/kg, down four cents and the mutton indicators fell one cent to 339c/kg.
Dubbo lamb prices firm to easier on quality in big yarding
At Dubbo on Monday, agents yarded 36,000 lambs, an increase of 10,000, and 8000 sheep, 2000 more.
NLRS said the quality of the mostly trade weight lambs offered was fair to good, but only 3000 young lambs were drawn for as producers opted to put extra weight on in the paddock.
The usual buyers attended and light trade lambs sold firm to slightly cheaper depending on quality. The best medium and heavy trade weights also sold firm, while secondary quality lots were cheaper. Heavy and extra heavy lambs were up to $5 cheaper and extra heavyweights prices were only up due to higher weights.
Competition for grown sheep was subdued and some ewe prices eased significantly.
Best old and new season lambs dearer at Tamworth
At Tamworth on Monday, agents yarded 3350 lambs, 150 more, and 1770 sheep, up 970. NLRS said quality and finish was fair to good.
Only a few pens of generally good new season lambs were yarded and there was a good selection of old lambs, but not many heavy weights.
All the major buyers competed and the heavy end of the new season lambs sold dearer in a range of $128-$135. Trade weight young lambs sold firm with most sales from $105-$118.
Heavy old lambs gained $5 and sold from $118-$134. Trade weight old lambs were $1-$4 cheaper, while heavy trade lambs sold from $90-$118.
Mutton quality was mixed and most sales were $2-$6 dearer. Medium and heavy ewes sold from $60-$80. A couple of pens of wethers reached $72.
New season lamb prices drop $10 at Forbes
At Forbes on Tuesday, agents yarded 32,450 lambs, 8600 more and 12,750 sheep, up 4600.
NLRS said there good numbers of well-finished lambs, along with plainer grades, including 10,500 mostly fresh and well-finished new season lambs for the usual buyers.
New season lambs generally sold $5-$6 easier and up to $10 down, with trade weights making $87-$122. Heavy lambs made $112-$130 with carcase prices from 475c/kg-500c/kg.
Old light lambs eased $4, selling from $69-$78 with carcase prices of 441c/kg-488c/kg. Trade weights sold $10-$12 easier, from $80-$106. Heavy and extra heavy weights slipped $5-$7. Heavy lambs sold from $91-$123 and extra heavy weights made $119-$147/head.
Merino and crossbred ewes sold from $70-$105, Dorper ewes made $65-$85 and Merino wethers ranged from $71 to $106.
Lamb prices slip $5-$10 for bigger Bendigo yarding
In Victoria at Bendigo on Monday, agents yarded 19,514 lambs, 9513 more and 7871 sheep, 2158 more.
NLRS said lamb numbers nearly doubled due to increasing supplies of new season lambs from the local north-east area and the Riverina. The 13,000 new season lambs included very good quality second-cross lambs to very lightweight Merinos from pastoral country.
Elders Bendigo livestock manager Nigel Starick said despite buyers pulling prices back this week amid the increased seasonal turn-off of lambs, he expected rates to hold firm.
Prices were $5-$10 cheaper, with all the usual buyers operating but not appearing to be under any pressure to secure numbers, NLRS said. The market reached a top of $139 for new season lambs estimated at 26kg cwt.
Only new season lambs with good clean skins and weighing above 24kg cwt made more than $130. Most trade weight and young lambs for supermarkets sold from $108-$126, averaging around 480c/kg-500c/kg cwt. Lighter weight crossbred young lambs sold well, at $80-$96 for most, often making similar carcase prices to the heavier pens.
A run of very lightweight Merino lambs from the Riverina made $27-$68, with the larger lines selling to local restockers – the only restocking support for young lambs.
The mixed quality old lambs sold cheaper and a few pens of extra heavy old season lambs made up to $135, with most sales from $88-$125, around 380c/kg-450c/kg cwt.
Extra heavy crossbred ewes sold from $85-$96 to be a few dollars cheaper, mainly due to excess weight. The best Merino ewes with good skins sold from $83-$94 and wethers to $90. Overall the quality export and trade weight mutton was estimated at 300c/kg-340c/kg cwt, to be dearer in places. Rams were significantly discounted this week.
Sheep and lambs sell easier at Naracoorte
In South Australia at Naracoorte on Tuesday, agents yarded 1230 lambs, 296 fewer, and 2001 sheep, 767 more.
Most lambs generally sold to an easier trend, but the yarding was insufficient for comparative quotes. The few pens of new season young lambs sold from $88-$96, at around 420c/kg cwt. Restockers also bought young lambs for $56-$84.
Light trade 2 and 3 score lambs sold from $66-$78.50. Trade weight 3 and 4 score lambs made mainly from $80-$104, or around 390c/kg cwt. Heavier 3 and 4 score lambs sold to $116.
The sheep penning included some good runs of heavy crossbred and Merino sheep, selling to an easier trend, with a run of medium weight sheep averaging around 290c/kg cwt.
Light weight 1 and 2 score sheep made $35-$55. Medium weight 2 and 3 score sheep sold from $58-$75, or from 250c/kg-310c/kg cwt, to average about 290c/kg. Heavy 3 to 5 score sheep sold from $63-$90, with heavy Merino wethers making $76-$85 and medium weights $65-$70, or around 290c/kg cwt. Rams sold from $5-$38.
Restockers and processors active on Merinos lambs at Dublin
At the SA Livestock Exchange at Dublin on Tuesday, agents offered more new season lambs in the yarding of 7946 lambs, 898 fewer and 2736 sheep, 275 more.
NLRS said the new season lambs sold to generally softer competition from trade and processor buyers. Restockers and feeders were more active and concentrated mainly on new season crossbred lambs.
Lightweight new season crossbreds to feeder buyers sold from $59-$93 and a larger offering of lightweight Merinos sold to restockers at $52-$75. Lightweight new season crossbreds to trade buyers made $94-$105, or around 489c/kg cwt, while trade weight 4 scores eased marginally to make from $105-$114 and average 472c/kg cwt. Heavyweight 4 scores eased $3, making $120-$128, or around 463c/kg cwt. Light weight young Merino lambs sold to the trade for up to $100.
The good selection of old Merino lambs sold to solid processor competition. Trade weight 3 scores eased by $8, from $80-$98, or around 357c/kg cwt, while heavyweights remained unchanged from $98-$120, at 397c/kg-414c/kg cwt. Heavyweight old crossbreds sold from $100-$115, or around 394c/kg cwt.
The mixed quality yarding of sheep sold to stronger processor demand. Lightweight 2 score Merino ewes lifted $3, making $55-$70, or around 261c/kg, while heavyweight 3 scores sold from $60-$95 at 282c/kg cwt.
Heavyweight wethers were plentiful, but prices lifted up to $10, to $70-$104, or around 287c/kg cwt. Heavyweight rams made $61-$71.
Mutton dearer at Muchea
In Western Australia at Muchea on Tuesday, agents yarded 3864 lambs, 1072 more, and 4793 sheep, 384 fewer.
NLRS said most new season lambs were light trade weights of good quality. There were fewer well-finished old lambs, but good numbers of air freight and store lambs for the regular buyers operating.
Lighter trade weight new season lambs under 20kg cwt were $5 dearer, while the fewer over 20kg cwt were cheaper. The 18-20kg new season lambs made $85-$120, while those over 20kg sold from $115-$131, or around 520c/kg cwt. Light weight new season lambs suiting the air freight market were firm, with 12-18kg 2 scores selling from $55-$79.50.
Restockers paid from $25-$55.50 for new season lambs to grow out. The small number of trade weight old lambs were firm, with the 18-20kg 3 scores selling from $81-$105 and those over 20kg made $117-$123. Trade weight Merino lambs sold from $80-$97.
Lightweight old lambs suiting the air freight market were also firm, with crossbreds weighing 12-18kg selling from $50-$77. Lightweight Merino lambs made $14.50-$65 to restockers.
NLRS said the good quality mutton yarding had some outstanding lines of Merino ewes, but only limited numbers of wethers. The fair selection of slaughter ewes were $3 dearer, with 2 score ewes to the processors making $35-$77. The better-finished ewes were firm to $2 dearer, with the 3 and 4 score medium and heavy weights to the processors for $70-$109 for Merinos and to $101.50 for crossbreds.
Restockers paid $42.50-$86.50 for Merino ewes. The wethers finished firm to $2 dearer. The 2 score wethers to the processors sold from $60-$73, while better 3 scores made $70-$87.50.
Live exporters paid from $51-$66.50 for lightweight wethers and bought a large percentage of the rams for $43-$90.50.