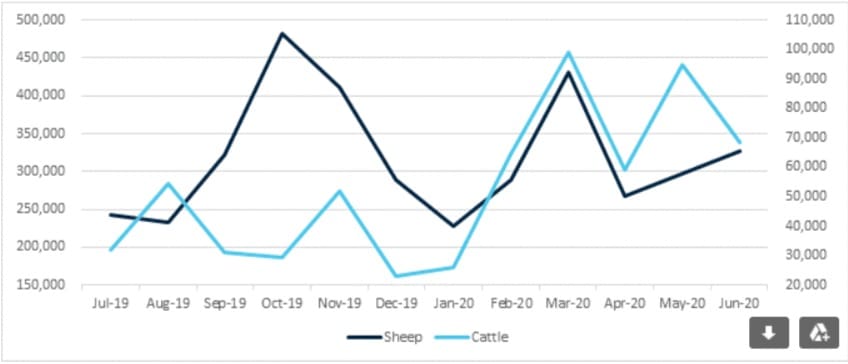 STRONG online store lamb and restocker sales, especially Western Australian ewe offerings, have boosted AuctionsPlus sheep turnover to a record level in 2019-20.
AuctionsPlus has reported a turnover of 3,820,434 sheep and lambs in 2019-20, up 24 percent from the total of 3,078,631 head in the previous financial year.
Tom Rookyard reported that the number of crossbred store lambs increased from 748,000 in the 2018-19 financial year to 860,000 in 2019-20.
The growth in Western Australian sheep and lamb offering was more dramatic. From about 33,000 in 2018-19 to 203,000 in 2019-20.
AuctionsPlus cattle turnover lifted 62pc from 391,229 in 2018-19 to 632,887 in 2019-20. But in contrast with the sharp lift in cattle turnover, sheep turnover has grown reasonably steadily from 2017 to 2019, before jumping sharply last year.
AuctionsPlus chief executive officer Angus Street said the reason for that was the seasonal impact of the number of store lambs turned off in FY18 and FY19.
"As the drought started to kick-in in sheep areas at the back end of 2018, lambs that would have been held out to trade weights were sold early.
"We saw a lot of store lambs sold in 2018 and 2019, but the most recent 12-month financial year cycle was in two distinct halves," he said.
Drought drove the supply side over the first six months, peaking at 482,404 sheep and lambs in October 2019, with breeders and store lambs being sold early," Mr Street said.
"But with the big improvement in seasonal conditions in many lamb and wool-producing areas over the past six months, trading in lambs has grown sharply, as well as big lines of ewes.
"Another factor has been the emergence of trade in sheep out of Western Australia back to the eastern states, this year, on the back of rain," he said.