MORE favourable production cycles in Australia and Brazil, and challenges in the company's US beef business are clearly evident in third quarter financial results released by global meat protein giant JBS this week.
Across its entire global operations embracing various proteins in North and South America, Australia and Europe, JBS reported third-quarter (ended 30 September) revenue of US$19 billion (down marginally year-on-year) and net profit of US$117m (down 85pc on last year).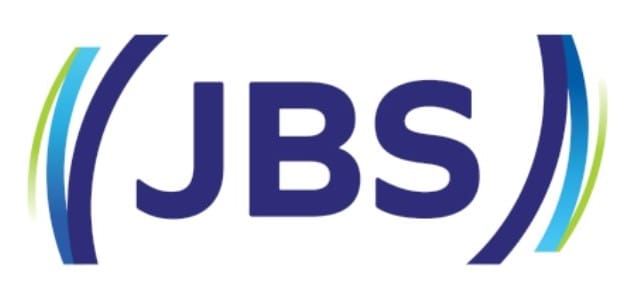 Readers will also note the change in JBS's company logo (pictured left), departing from the old red, black and white oval livery to a new blue-aqua- green combination as part of the company's 70th anniversary celebrations.
"This evolution of our brand is not just a simple change of logo or colours; it demonstrates our determination to continue growing, innovating, positively impacting the regions where we operate, and generating value for all our stakeholders," a company statement said.
JBS Australian operations
JBS Australian operations, encompassing beef, lamb and pork processing, Primo Smallgoods and Huon Aquaculture, produced third quarter net revenue of US$1.6 billion (up 6pc from the previous quarter, but down 5.3pc year on year). The 11pc growth in volume sold was offset by a price decrease of the same magnitude.
Adjusted pre-tax earnings of US$136m, up 45pc on the same period last year, when livestock prices were near record high. A seven percent exchange rate appreciation was included in results.
Volumes from the Australian beef business grew 13pc compared to the same quarter last year, given the growth in both domestic and export sales.
The improvement in the EBITDA margin reflected the lower purchase price of cattle and sheep, given the greater availability of animals due to the more favourable cycle, shareholders were told.
Quoting Meat & Livestock Australia data, JBS said the price of live cattle in Australia had decreased 49pc year-on-year in the third quarter.
Australian smallgoods unit Primo recorded a 5pc increase in average prices, but this was offset by lower volumes sold, as a result of weaker consumer demand.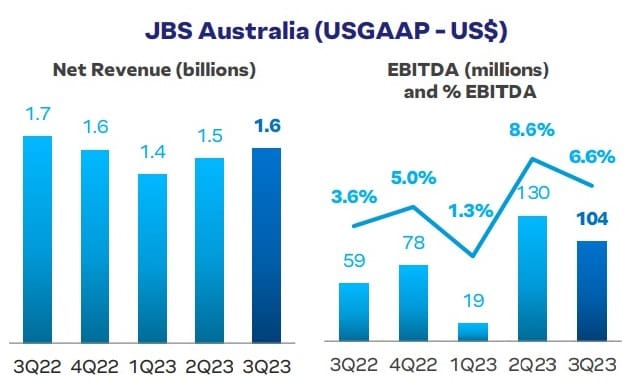 US beef division
In the company's US operations, the impact of prolonged drought and herd reduction is now being clearly seen.
During the quarter, beef margins in North America suffered compared to the previous year, as a result of changes in market conditions due to the turn of the cattle cycle in North America, reducing the availability of animals for processing and therefore increasing cost.
JBS US Beef division reported adjusted earnings before tax of $US1.1 billion, down 39pc year-on-year. Net profit of US$117m was down 85pc, compared with the same quarter last year.
During the third quarter, according to the USDA, US live cattle prices remained at high levels, growing 28pc year-on-year, while wholesale beef prices grew 18pc in the same period.
Year to date, US beef exports have fallen 19pc compared with last year (USDA data), mainly due to restricted cattle supply combined with lower Asian demand.
Global chief executive Gilberto Tomazoni said the company's beef operations in Brazil and Australia were increasingly ready to capture the opportunities presented by more favourable cycles in both markets (plus the decline in US production), and this movement was expected to intensify from the next quarter onward.
Australia's competitive position
In cost of goods sold (COGS) comparisons with other JBS global businesses, JBS Australia raw material (livestock) price last quarter fell to 75.3pc, compared with the US beef division, where livestock cost last quarter was 85.8pc of COGS.
This reflects the dramatic contrast in production cycles currently being experienced on either side of the Pacific.
In comparison, in the third quarter last year, JBS Australia's livestock raw material cost was 80pc, reflecting the big reduction in cattle and lamb prices witnessed this year, while US cattle prices this year have shot to near-record highs.
Worth noting, the JBS Australia 'livestock' cost of doing business does not just include beef and lamb, but also pork (JBS pork processing plus smallgoods raw material through the massive Primo business) and salmon as part of the Huon Aquaculture operations.
The labour component of JBS's COGS last quarter in Australia was the highest of all company divisions worldwide, at 16.7pc. Compare that with 8.6pc for the US beef division, and just 7.6pc for JBS Brazil. It means the labour component to process beef in Australia is currently almost 2.3 times that seen in Brazil (exchange rate factor included).