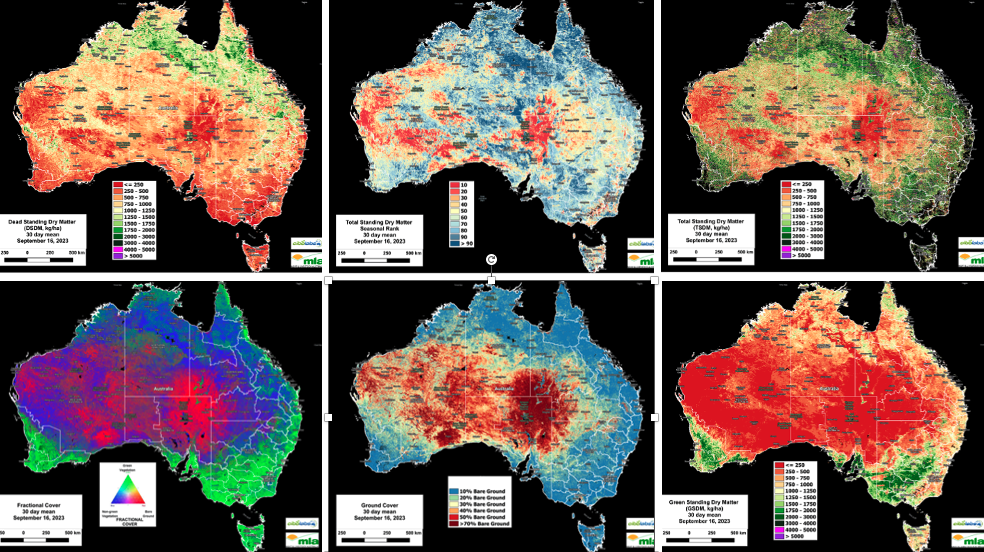 Sheep Central is pleased to partner with Cibo Labs to launch an exclusive new service for our readers across Australia today.
National updates on pasture conditions produced by Cibo Labs across the country will now be published exclusively on Sheep Central and Beef Central every fortnight.
Following the launch of the Australian Feedbase Monitor in November 2022, Cibo Labs has released two new tools designed to provide Australian graziers with regular feedbase observations extending from a national level down to catchment level.
The National Comparison product (https://www.cibolabs.com.au/products/national-comparsion/) has been developed to enable graziers and other land managers to review and compare seasonal conditions.
The National Comparison offers users the choice of reviewing the most recent satellite imagery for Total Standing Dry Matter as well as being able to select alternative layers which include a seasonal comparison against average years; the amount of Green Dry Standing Matter and the amount of Dead Standing Dry Matter.
In addition to a national view, users can scroll in to observe greater detail on a state or catchment level.  The national comparison also provides a timescale which can be used to move images to assess changes that have occurred in the proceeding fortnight.
This product complements the Australian Feedbase Monitor which is freely available to all MLA members and in turn offers those users farm level information on their amounts of total standing dry matter and ground cover.
Accompanying the release of the National Comparison product, Cibo Labs has commenced a fortnightly National Feedbase Summary, published on Beef Central, offering an overview of the national feedbase, as well as changes in seasonal rankings against the average; total amounts of green and dead total standing dry matter; areas of growth; and ground cover.
These summary reports are designed to offer producers a national overview to assist with planning decisions and to complement their use of the Australian Feedbase Monitor or other products such as the subscription service PastureKey.
Both products are freely available to producers through the Cibo Labs website (www.cibolabs.com.au).  Producers who also wish to create a free account to use the Australian Feedbase Monitor can also subscribe on the website.
The National Feedbase Summary will be published fortnightly on the Cibo Labs page and will also be published under agreement on Beef Central. Note that all the images below can be expanded: simply click on the image to enlarge.
Latest update:
RAINFALL in the period ending September 18 saw little significant rainfall recorded across Australia, with the exception of parts of south west Western Australia and in isolated pockets of North Queensland.  This, combined with warm day temperatures, has continued to influence the national feedbase, with noticeable changes in areas such as the NSW Hunter, Northwest Slopes and into south west Queensland.
Total Standing Dry Matter
In the week ending 16 September 2023, there are noticeable changes in Total Standing Dry Matter (image 1 above) with significant reductions to levels of TSDM of 500kg DM/HA and below in expanding areas of western Qld, south western Qld, western NSW, northern SA and Western Australia.
This is noted by the increase in area shaded amber and red in the above image.
Although TSDM in northern Australia has remained in reasonably higher levels than other regions, there has been notable reductions in the areas of northern Barkly and the Qld Gulf regions.
Seasonal Comparison Total Standing Dry Matter
The Seasonal Comparison of Total Standing Dry Matter (Image 2) indicates an expansion of regions with 40 percent or below the long-term averages of Total Standing Dry Matter.
Across the North East Regions of SA, including the pastoral regions, much of Western Australia and expanding areas of southwest Queensland and north west NSW are now below long-term average of Total Standing Dry Matter for September.
Fractional Cover (Growth)
Pasture Biomass Growth events (as indicated by Fractional Cover Image 3) is largely unchanged in the past 14 days, with growth still evident in cropping areas of NSW, Victoria and Spring growth in Tasmania, south east SA and south west WA. There has been a slight expansion of bare and non-growing area in central Australia, reflecting the decline in total standing dry matter.
Green Total Standing Dry Matter
The portion of green Dry Matter (Image 4) within the Total Amount of Dry Matter available has continued to decline.
Over the two weeks from September 4 to September 16, the areas where green material is less than 250kg DM / Ha have increased in central and north west NSW, across South Australia, Western Australia and south western and western Queensland.
In Southern Australia despite growth from crops and some spring growth, the amount of green dry matter in pastures is continue to remain within the range of 500 – 1250kg/ DM / Ha.
Dead Standing Dry Matter
The contribution of Dead Material to Total Dry Standing Material amounts remains significant in most areas of the nation (Image 5).
However, the total amount of dead material (kg/DM/HA) has significantly declined in the Queensland Downs, Central NSW, Victoria, South Australia and south west Western Australia.
The declines in Dead Standing Dry Matter combined with low levels of Green Dry Matter are the principal reasons for the overall reduction in the national feedbase levels in the past 14 days.
Monthly Ground Cover levels
National Ground Cover levels (Image 6) (30 day rolling average) show that despite significant reductions in the amounts of Total Standing Dry Matter, areas that have large areas of bare ground (less than 60% ground cover or less) are confined to the arid regions of central Australia, the channel country of western Qld and the Pilbara and Gascoyne in Western Australia.
However, parts of Western NSW and Central Queensland are indicating a trend towards falling ground cover and an increase in bare ground.
The Cibo Labs National Comparison can be used to freely access these layers (https://www.cibolabs.com.au/products/national-comparsion/) to view the most recent images from a national, state or catchment level. 
This tool can complement the Australian Feedbase Monitor which can also be created within the Cibo Labs Web Site www.cibolabs.com.au