VICTORIAN sheep meat seedstock breeders Matt and Brigid Kelly have successfully introduced drench-sensitive worms to make all chemical drench groups effective in their Low Footprint Lamb flock.
Their easy care footrot resistant Nudie shedding flock has been bred to be genetically highly worm resistant, and each generation has been achieving an Australian Sheep Breeding Value for PWEC of -50 percent on Lambplan for the past eight years.
The stud sheep have not had any drench for the past three years and prior to that just once a year at lamb marking.
Matt said he has not done anything special with grazing to assist his worm program apart from maintaining soil fertility and pasture renovation so 10 ewes can be run per hectare..
"I'm just running my sheep as they were, just without a drench."
Matt said the past three years have been very challenging for worms in their district – Croxton East near Hamilton in the state's south-west — due to higher rainfall and longer seasons.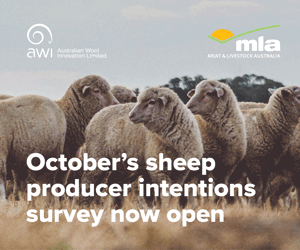 The commercial flock sheep are drenched at marking if they are under condition score 3 — about 5-10 pc get drenched – and the ewes get their last drench at 1.5 yr when their first lamb is weaned.
All lambs are drenched as required or based on a WEC test, and ewe lambs might have a pre-joining drench if needed. Mature ewes are culled from the stud if they need a drench.
"With young sheep it is all about optimising their growth and their performance recording."
Matt said the operation's regimen tests the worm resistance of the sheep, but without jeopardising their health, and over time moving the flock into a more ethical welfare status.
"If an animal isn't coping it is treated appropriately, but this is recorded and it might be dropped from the stud."
"We run 12 sheep per ha on improved country and 6 per ha on lease country and lamb in Spring," he said.
"We have had trouble getting WECs high enough to do individual WECs needing over 400epg average.
"So twice in the past three years we have purchased worms from Resurrect Refugia and drenched lambs with worms," he said.
"This allowed us to get fast and accurate worm info, but also introduced chemical naïve worms.
"With our low drench requirement these worms have taken over our original worm population, making all chemical drench groups effective again."
The results from the latest drench resistance testing show the improvements made since 2020.
Results                               2020                     2023
White  BZ                             72pc                       96pc
Abamectin                           86pc                       99pc
Levamisole                          88pc                       100pc
The impressive worm results have been achieved within a program aimed at pushing genetics and management to increase weaning and growth rates to reduce the flock's methane output to meat production ratio.
"The key message from this is that it is two things combined: not drenching a portion of your flock and introducing naïve worms," Matt said.
"I can break lots of rules as far as worms go because I've got the backup of the mature sheep that are not being exposed to any chemicals at all.
"My worm situation is under control and I will continue to not drench my mature ewes."
He said the regimen should make his sheep a lot tougher.
"Essentially I tried to create a situation as a seedstock producer to test a system that one day a percentage of the industry could implement without worrying about chemical resistance."
Matt said clover is maintained in paddocks to extract nitrogen from the air and fix it into the soil to feed pastures, farm methane production is being tracked and about 2000 trees are planted annually to lock up carbon and reduce wind speed, while offering shade, shelter and forestry options with replanting.
The Kellys are also experimenting with producing biochar from fallen timber in our plantations and they will begin measuring individual animal methane output and selecting for low methane/high production animals in 2023. Carbon neutrality is a goal and the Kellys have applied to participate in a Meat & Livestock Australia research that will utilise methane chambers to measure output of individual animals and match this to the DNA makeup of highly recorded sheep.
Click here to see the timeline of how the LFL ewes have managed their worms over the last six years, going from one drench per year at lamb marking to no drench at all, and here for the latest Livestock Logic drench resistance report.