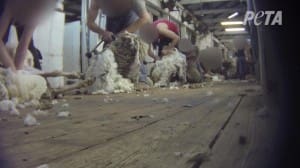 A call for Australia's Minister for Agriculture Barnaby Joyce to sponsor legislation to place video cameras in wool sheds in the wake of shearer cruelty evidence has been rejected by wool growers and shearing contractors as unnecessary.
Animal rights group PETA has suggested Australia's Minister for Agriculture Barnaby Joyce sponsor legislation to allow camera surveillance to collect evidence of shearer cruelty against sheep.
PETA's camera surveillance suggestion came as WA Senator Chris Back received Mr Joyce's support for draft legislation that would require immediate reporting of animal abuse, rather than after several months, as in the case of the latest shearing shed footage (see Senator Back's full statement at the bottom of this article).
Following the release of video footage last week showing shearers kicking, punching and throwing sheep in shearing sheds across three states, PETA Australia director of campaigns Jason Baker has hit back at Barnaby Joyce's defence of the industry.
While not condoning mistreatment of animals, Mr Joyce initially questioned the legality of the footage of sheep abuse in Victoria and others in New South Wales and South Australia.
The minister said the footage was only representative of an individual mistreating sheep and not representative of how the industry operated.
It was against the law to film people on private property against their wishes, he said.
"It is against the animal's interest to hold this footage till the time of most political effect."
Mr Baker has defended the collection of the footage over seven to eight months to prepare a solid case for authorities and said Mr Joyce's "support for prosecution would seem more appropriate than your attempt to shrug off the abuse."
In a letter to the minister on Monday, Mr Baker said if Mr Joyce was not satisfied that abuse was systemic in the industry, "I would recommend that instead of advocating for more secrecy in the sheds, you suggest a bill to allow the placement of cameras in them in order to document for the public and the media what is done to the hapless sheep."
Mr Baker said the minister had a responsibility to use his office for the public good and to ensure that the abuse does not continue to be ignored, excused or covered up.
Put cameras in the homes of PETA officials: Joyce
Federal agriculture minister Barnaby Joyce told Sheep Central that cameras were not necessary in wool sheds, suggesting that perhaps cameras should go up in the houses of PETA officials.
"It's an imposition on the liberty of the individual and the free practise of enterprise, and on the general belief that most people are doing the right thing."
PETA continued to dodge the question that they have evidence that would be inadmissible in court because it was illegally obtained, he said.
"We are just continually reliant on their word; that they say so and therefore it must be true."
"The law doesn't work like that; the police are the police, the RSPCA are the RSPCA, and if you think you have a right to do something outside those groups because you have been self-endowed with some legal principle, well that is a very dangerous proposition."
Mr Joyce said he supported Senator Back's proposed legislation but he wanted to ensure it went through the proper processes.
"I support Senator Back but we have got to make sure we don't set up a rod for our on back…
"We want to make sure we are not over-regulating our space as well."
WoolProducers: Where does it stop?
WoolProducers Australia president Geoff Fisken said he did not support monitoring shearers with video cameras.
"I don't think it (CCTV) has a role in any workplace, does it?"
"We know this (abuse) is isolated and to put video surveillance in wool sheds – who is going to pay for it, what is the purpose and are we going to intrude on peoples' private lives?"
"I can't see where they are going with this…do you then put it in sheep yards, do you put it in paddocks, in livestock yards?
"Where does it start and where does it stop? Do we put it in PETA's backyard and see what they're up to?"
The wool industry had nothing to hide and a Ballarat contractor, Central Shearing's Emma Morvell, had already invited PETA to work in a shed beside her workers.
'there is no three strikes and you're out like the AFL – it is one and you're gone and that's the way it should be'
"They employ 90 people and they have an absolute zero tolerance to behaviour like that — there is no three strikes and you're out like the AFL – it is one and you're gone and that's the way it should be."
'We've got nothing to hide'" Shearers Association
Shearing Contractors Association of Australia secretary Jason Letchford said video surveillance in sheds was not necessary, but he was not opposed to the idea "from an industry perspective."
With or without video surveillance, every worker had a mobile phone and could film workers and the majority of instances of abuse shown by PETA were "completely out of character" for the individuals involved, he said.
"We've got nothing to hide, workers should be proud of their workmanship and happy to show it to the world."
Victorian Farmers Federation livestock president IanFeldtmann said any cruelty in shearing sheds should be dealt with by the owner or contractor, with workers abusing animals being dismissed.
"It doesn't need cameras in sheds," he said.
Australia's major woolgrower bodies and the Shearing Contractors Association of Australia have condemned the reported abuse and supported investigations by the Department of Primary Industries and Environment in Victoria, and by the RSPCA in New South Wales and South Australia.
RSPCA: Training and supervision the solution
RSPCA Australia communications and campaigns manager Elise Meakin said CCTV in wool sheds might be an option to consider, but the body favoured woolgrowers and contractors choosing the right workers, and offering training and supervision with monitoring to maintain good animal welfare practices.
The RSPCA encouraged meat processors to have CCTV throughout their production systems, but it was not the "sole answer".
'You also need to be monitoring the footage and have good workplace practices in place."
Senator Chris Back's full statement today on proposed animal protection legislation:
"Draft legislation to protect animals under the Criminal Code proposed by Senator Chris Back, should ensure that malicious cruelty to an animal or animals is reported by the person observing this action as quickly as reasonably possible.
The first component of the proposed bill addresses a person taking visual images of action they believe to be maliciously cruel being placed under an obligation to report this act and supply the images to responsible authorities in a timely fashion enabling investigation with a minimum of delay.
Recent examples of activist groups presenting visual images taken sometimes up to twelve months previous to disclosure, effectively prevents responsible authorities from accurately investigating these allegations.
As a result, any capacity to fully examine allegations or evidence, prosecute if proven, and prevent further incidences of cruelty are severely limited. The motives of many activists, by their own published statements, are clear.
They want to see the end of Australia's livestock industries, many opposing meat consumption and wanting to drastically reduce Australia's meat consumption. Activists are agitating against many of Australia's primary activities in the wool and sheep industries, the pig industry and our sheepmeat and beef industries.
Examples of this include activism relating to farmers' shearing practices, lamb losses, wild dog attacks on livestock, and even against the controls put in place in attempts to control wild dogs.
The activists are attempting to trash Australia's enviable reputation internationally for the supply of livestock and safe, reliable meat products, advances in animal husbandry and welfare in Australia's target markets. In so doing, they are directly attacking Australia's export trade and the profitability of agricultural and rural communities generally.
Of equal importance is the threat to Australia's biosecurity when meat from foot and mouth disease (FMD) endemic countries is sold into our neighbouring countries.
The animal welfare and economic disaster which would unfold in the event of an FMD outbreak in Australia is beyond comprehension. The second component of the bill is directed against anyone who intimidates, threatens or attacks a person associated with a legally operating animal enterprise or trespasses onto or vandalises the property of anyone conducting a legally operating animal enterprise.
Such actions are criminal in nature, invade the privacy of affected persons and can place animals in such a property at risk from a welfare, health and husbandry basis.
The draft legislation is designed to complement that of Australian States and Territories."