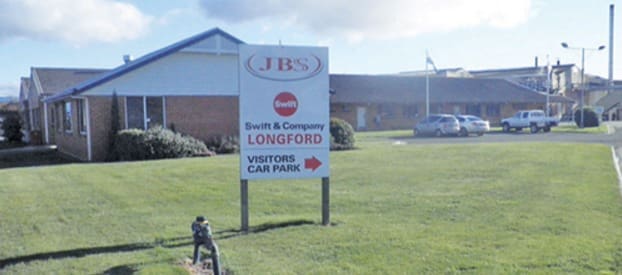 JBS Australia has extended temporary closures at two of its southern lamb processing plants for an indefinite period, as livestock supply and price conditions continue to impact heavily on the processing industry.
The company last month announced month-long closures at its Cobram facility on the Murray River west of Melbourne, and Longford lamb chain in northern Tasmania, but both plants will now remain closed for the 'remainder of the season,' the company says.
Pressed on how long those closures might last, JBS said re-opening dates could not be determined until a better understanding was gained about lambing rates in spring.
Staff at both plants were informed of the decision yesterday afternoon. The closure will affect 241 personnel at Cobram and 86 at Longford.
"This has been a very tough decision to make, and we do not take it lightly when we are forced to put off staff," JBS Southern chief operating officer Sam McConnell told Sheep Central yesterday afternoon.
"Putting off skilled people represents a big cost to the company, and we are very conscious of the impact on our team members and the local communities." Mr McConnell said.
"Unfortunately the industry is facing a major livestock supply challenge. We have seen many closures of plants across the Country. For us these temporary closure decisions are difficult as they impact directly on our team members, their families and the communities in which we operate. Our team at JBS is working with professional service providers and the state governments to provide a range of support services for the displaced JBS team members at Cobram and Longford" Mr McConnell said.
Sheep that would have been processed at Cobram and Longford will now be diverted to other company facilities at Brooklyn and Bordertown.
Though the closures will reduce JBS's lamb production capacity in its southern operations, importantly the company's Great Southern branded lamb program will be unaffected, Mr McConnell said.
"There may be some lamb customers that are affected a little by the closures, but at the end of the day, some of our customers presently don't want to pay the money they have to, to secure a lamb supply. They are taking lamb out of their business, at current prices, or the lamb offer in the chilled cabinet might shrink from two metres of space to half a metre," he said.
"We've certainly seen signs of price resistance, with customers pushing back."
Mr McConnell said it was difficult to predict how long the closures at Cobram and Longford might be in place.
At Longford, the beef and veal programs are unaffected.
"We'd hope that in spring, we will see lamb numbers but it's very hard to get a clear picture at the moment. In Western Victoria, some of the best farming country in Australia, there are very mixed signals. The current slaughter lamb shortage was perhaps being exacerbated by the strength of the wool industry."
Mr McConnell said there was evidence of more sheep in paddocks in local areas, but part of that was Merino wethers that would previously have found their way into lamb production, now being retained for wool.
"That's just part of the broader lamb supply challenge we'recurrently facing," he said.
The recent outlook figures coming out of Meat & Livestock Australia were not good for either beef or lamb, Mr McConnell said.
Domestic retail supermarket price wars on lamb have also been blamed in industry circles for the current cost-price squeeze on lamb processors, and the lamb market in general.
While it is not unusual for southern lamb processors to take a week or two off heading into winter for maintenance and upgrades during periods of low supply, the current supply challenge and plant impact is without precedent.
There have been a string of lamb and beef plant closures in southern Australia since January, and other plants continue to survive only on loss-making skeleton three-day weekly kills, as trading conditions and supply issues mount up.
Apart from earlier closures at the two JBS plants, there has been a sequence of other plant closures this year, including:
Manildra Meat Co's Cootamundra lamb plant dropped 150 permanent workers and 70 casuals in late February after administration deemed the business unable to work in a viable manner given the current industry climate, with lamb prices in many cases rocketing past $6/kg or $250 a head.
The Australian Meat Group's Deniliquin Abattoir in NSW closed its doors on

March 17

, due to high lamb prices making the business unsustainable. While the closure was described at the time as 'temporary', there has been no sign yet of any intention to re-establish operations. AMG purchased the facility in 2014, after it had been dormant for eight years. It received significant support from the NSW Government to re-activate the plant, including a grant of more than $1 million. AMG invested another $4 million to get the abattoir operating again in January 2015.
In Western Australia, the Shark Lake abattoir near Esperance was placed into administration on

February 24

, with Melbourne-based administrators Phillip Newman and David Charles Quin appointed, and a first meeting of creditors took place on

March 8

.
Other plants to close or significantly reduce operations have included Southern Meats' Goulburn, NSW,  TFI Wallangarra and Victoria's McGillvray abattoir at Gunbower, which closed last month after more than 60 years of operations.
The recent spate of plant closures have again raised questions about over-capacity in the lamb processing industry, relative to the available supply pool.
Some stakeholders say the over-capacity situation has been exacerbated by the advent of the Tier One export certification process, where former domestic-only plants have expanded, after gaining access to export markets.
Volatility has been one of the big enemies of the processing sector in recent years, with oversupply of livestock due to drought and high profitability only two or three years ago seeing high levels of foreign investment interest in investment in processing. That's been followed by the current cycle of dramatic stock shortage and big losses being accrued, with lamb livestock prices soaring past $6/kg.
Export markets unwilling or unable to pay more for Australian meat has only added to the buy-sell impact.