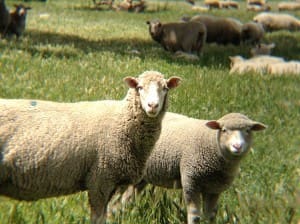 SHEEP producers who want to bullet proof their sheep business against variable seasons are encouraged to attend one in a series of free workshops being held across northern Victoria in the last week of July.
More Lambs More Often workshop organiser Dr Kristy Howard said during the last decade, almost all sheep-producing regions in Australia have experienced highly variable seasons and many experienced prolonged, catastrophic drought and other extreme weather events.
"To help sheep producers anticipate and plan for these variable seasons, to help maintain productivity and profitability, Rural Industries Skills Training (RIST) in conjunction with leading sheep experts have developed More Lambs More Often."
Dr Howard is a recognised as a local expert around practices related to sustainable sheep production
The workshop dates and locations are:
– Monday, July 27 at DEDJTR Rutherglen;
– Tuesday, July 28 at Wangaratta (TBA);
– Wednesday, July 29 at Nathalia RSL Club;
– Thursday, July 30 at Benalla (TBA).
All workshops run from 9am-4 pm and include morning tea, lunch and notes. Bookings can be made directly to Rina Cooper [email protected] or 0417 535 822.
Inquiries can be made to Kristy at [email protected] or 0400 282 222.