DESPITE Australia's $20 billion food waste problem, there is very little waste in the Australian meat supply chain.
We have an industry that has become resourceful and proactive to find markets for every part of the animal, and surplus or unmarketable protein is virtually unheard of.
This created a unique challenge for food relief organisation, Foodbank, to work collaboratively with the supply chain to produce a consistent and sustainable supply of protein that will help support the more than four million Australians experiencing food insecurity each year.
Foodbank relies on a 'surprise chain' for the majority of their food and groceries.
Although, with industries driving operational efficiencies and focusing on reducing food waste combined with the challenge of sourcing key staple products in regular volumes for communities seeking assistance, an opportunity to collectively think outside the box was required.
This was the humble beginning four years ago for what has become the world-renowned Foodbank Collaborative Supply Program.
These programs, which includes a collaborative protein program, unite generous companies in the meat and freight industry to work together and help tackle our country's hunger problem.
Foodbank Australia national program manager – agriculture, Jacqui Payne, said the program is made up of several components and fantastic partners who are committed to the cause and the common desire to make protein accessible for all Australians.
"It's inspiring to know that one tonne of trim per month could have such a positive and far reaching impact in our communities.
"The dedicated teams at MDH Pty Ltd and Fletcher International Exports know their generous contribution has a massive impact on Aussies all around the country," Ms Payne said.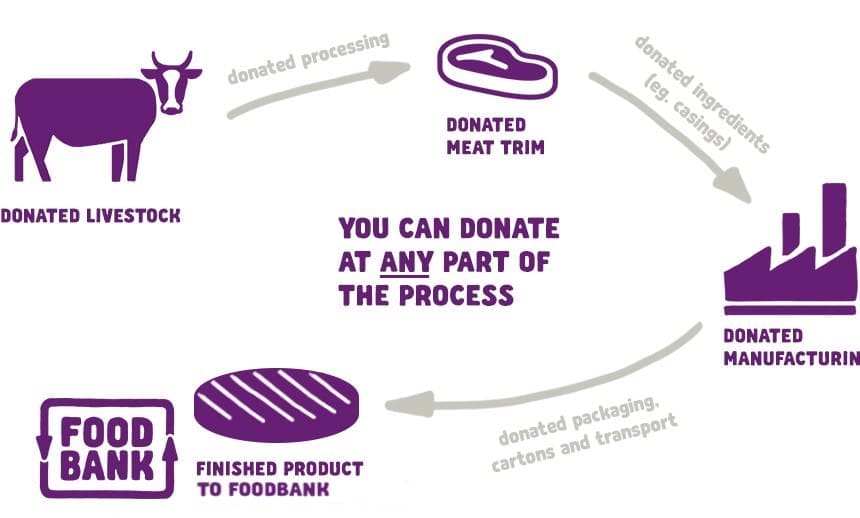 MDH Pty Ltd chief financial officer Julie McDonald agreed.
"For many and varied reasons, families in every community across Queensland can struggle to make ends meet at times, and we know this is happening on a national scale.
"Getting involved in this innovative supply chain that ensures a regular source of protein for Australians was an easy decision to make, we really wanted to be part of it,' she said.
"We're proud of our team and the role we are able to play via this program."
The program originated with assistance from both Primo in the provision of sausages to Foodbank at cost, and the Australian Meat Industry Council (AMIC) in support, knowledge and relationships across the industry.
This support led to the concept of the Foodbank Sausage Collaborative Supply Program taking shape and quickly gaining industry support in late 2015.
With industry heavyweights, Fletcher International Exports' managing director Roger Fletcher, and Thomas Foods International's chief executive officer Darren Thomas, bringing their organisations on board as the program's two original trim partners.
This important program continues to be Foodbank's only national source of regular protein, and now produces close to 1 million sausages per year.
"Foodbank is a valuable program with whom we have had a long relationship.
"Our family and staff are proud to be part of a program that supports our drought affected farmers," Mr Fletcher said.
AMIC CEO Patrick Hutchinson has also been a strong advocate of the program and understands the need to be creative in an industry that is very efficient.
"This collaboration is unique to Australia – it's the way we do things in regional Australia, you help neighbours out, we're just making sure we do it on a bigger scale to ensure we can reach as many Australians as possible."
The program works successfully as the process is kept simple for all partners.
It utilises existing supply chains with each partner contributing their particular component, producing a sustainable supply of protein that everyone is proud to be part of.
Foodbank's program would not be viable without the support of all partners including trim donors, Fletcher International Exports and MDH Pty Ltd; manufacturing partner, Primo Foods; sausage casing donor, Devro and; freight partner, AHG Refrigerated Logistics.
The Foodbank Hunger Report 2019 states that front line charities have reported a 22 percent increase in the number of people seeking food relief in the last 12 months and only 37 percent of charities are currently meeting the full needs of the people they assist.
With the growing need within our community and the importance of protein in our diet there has never been a better time to look internally and ask 'Can you help Foodbank help others?'.
Interested in learning how your organisation can get involved and join this vital program? Visit foodbank.org.au or contact Jacqui Payne – National Program Manager – Agriculture: [email protected]