CONCERN about the economics of turning store lambs off at current prices is forcing some sheep producers into preparing for more forage crop and grain finishing this year, depending on seasonal conditions.
But with the current El Nino prediction, high grain prices, variable Spring rainfall, and more positive movements in lamb prices this week, many producers are still weighing up their options.
One large Victorian corporate operation has told Sheep Central it is preparing at putting more lambs on grain to reach domestic weights, while other large operations are focussing on maximising grass finishing and forage crop backgrounding, or turning off finished lambs earlier off pasture at under 18kg cwt before considering grain.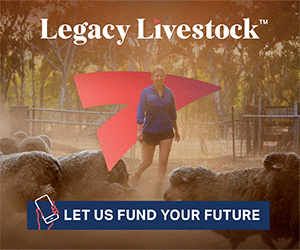 One Western District manager said she would feed lambs in containment areas when opportunities justified it, saving any crops for replacement ewe lambs.
"Two years out of five I feed to a domestic weight only."
"We need to get all our (sale) lambs off paddocks by Christmas if not the end of January."
But current lamb, grain and weather conditions were still too volatile to know what option will be taken. Final decisions will be made by December, depending on grain prices, and held over grain stocks could be a factor in this yet.
"It's too hard to tell what to do yet, but that's how flexible I can be."
Restocker and store lamb demand stifled
Nutrien AgriSolutions national livestock director Mark Barton said restocker and store lamb demand has been stifled by the season and the lack of confidence in the market.
But he said recent movements in the new season lamb price to $4.60-$5.20/kg cwt showed a margin was appearing, especially for producers who have built early growth and fat genetics into their flock.
He said one client was aiming to get half their 2023 drop off as slaughter lambs, placing the stores into other clients able to run them on failed crops or stubble.
But Mr Barton said the economics of grain feeding is not stacking up well at the moment, but were better for running lambs into Summer forage crops, where practical, rather than accepting current prices.
"It would be a fire sale to shovel lambs into a store market at the moment."
Mr Barton said Victoria is still on track to finish later lambs on pasture and crops into December and January where the season has hung on.
"But western New South Wales and those area, they have limited options.
"Their options are probably grain, with less likelihood of Summer forages."
Mr Barton said he is advising clients if they have killable lambs 16kg-plus cwt "get them gone."
"We are encouraging people to accept the market where you've got a realistic market for them now – $80-$100 take them money is sort of where I'm at and buy a few stores."
MLA survey will indicate store lamb intentions
Meat & Livestock Australia this week launched its October Sheep Producer Intentions Survey and MLA's acting National Livestock Reporting Service manager Ripley Atkinson said participating producers would be asked how many store lambs they intended to put on feed.
"The questions revolves around expected numbers of lambs to be prepared for 35 days or more on grain."
The survey results would also indicate what factors are influencing change in the flock, including whether the flock is decreasing – eg. with movement into cropping or other land use — or increasing.
"Individual producer data won't be available but we will analyse it on a flock size and state level."
This data would give an indication of flock movements, including for Western Australia, where producers are labouring with a lack of confidence underpinned by low prices and the impending phaseout of the live sheep trade.
Mr Atkinson said the survey is also seeking information on actual and planned sales.
"Are we going to see more producers go direct or are we going to see more producers sell through the yards or online because you can have different buyers."
He said the impact of the lack of forward contracts for lambs will also be covered in the survey.
The survey will also encompass lamb breeds on hand, and the types of breeding ewes joined.
The survey is open now until 16 October and takes 10-15 minutes to complete, Mr Atkinson said.
Focussing on the importance of the survey data to the industry, and with the winding down of ABS data collection, Mr Atkinson said the survey results also inform MLA projections.
"So the more accurate data we get from this survey, the more accurate forecasts we can do for the industry.
"So the encouragement is very strong from MLA for sheep meat and wool producers to participate."
The survey is run three times a year by MLA and Australian Wool Innovation to collect sheep meat industry livestock numbers and lamb production expectations.
Click here to complete the October survey and see previous survey results.