Hot lamb prices in AuctionsPlus' first Christmas Store Lamb Sale were an early Yuletide gift for sellers this week.
AuctionsPlus offered 26,936 lambs from NSW, VIC and SA in Tuesday's sale to 194 registered bidders, comprising backgrounders, feedlots and processors.
The sale grossed $2.06 million, with lambs selling to $105 and averaging $78.56.
AuctionsPlus market operations supervisor Anna Adams said there were 90 active bidders throughout the sale and the 71 lots sold at auction went to 42 different purchasers, also from NSW, VIC and SA.
"The 26,936 lambs sold for a clearance rate of 100 percent," she said.
Lighter offering sells well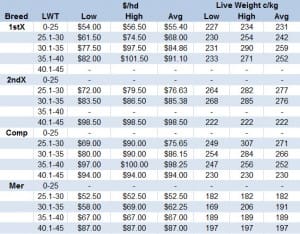 The offering overall was lighter than lambs offered in AuctionsPlus' Inaugural Farmgate sale in November, with more lambs from 25-35kg liveweight. Composite bred lambs were well-represented and there were fewer Merino lambs.
Crossbred and composite lambs weighing 27-29kg sold from $61.50-$90, the 30-31kg lambs made $77-$89 and the 32-33kg lines made $77-$90, Ms Adams said. The 34-35kg lambs made $78.50-$97.50 and lines weighing 36-38kg sold from $82-$101.50. The heavier end weighing 39-41kg made $85.50-$105.
The Merino wether lambs were mostly shorn lines, but woolly lambs attracted a premium of around $4 on similar weight shorn lots. The 31-33kg Merino lambs made $56-$$62 and the 34-36kg lines sold from $65.50-$69.
Carcase weight prices up to 769c/kg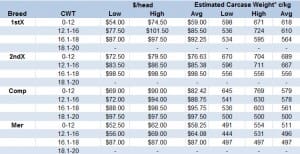 First cross 12.1-16kg cwt lambs sold for 536c/kg-724c/kg and the 16.1-18kg cwt lines made 534c/kg-595c/kg. Second cross kg lambs 12.1-16kg cwt made 596c/kg-711c/kg and the 16.1-18kg lines sold for 556c/kg. Composite lambs 12.1-16kg cwt ranged from 541c/kg-630c/kg, the 16.1-18kg lines made 536c/-603c/kg and the 18.10-20kg lots went at 500c/kg. Lighter composite lambs sold to 769c/kg cwt.
The top price of the sale was $105 for Dorper cross ewe lambs weighing 39kg at Finley, NSW. The more traditional crossbred lamb sold to a top of $101.50 for first crosses at Nyngan, NSW weighing 38kg. The top priced Merinos were Spring-drop lambs also out of Nyngan NSW, unshorn and weighing 44kg live, sold for $87.
Rain and lamb price confidence drives demand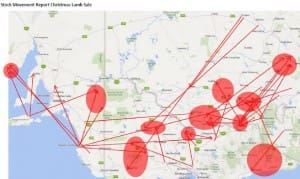 Lambs sold back into southern and central eastern NSW, south-west and eastern Victoria and South Australia, with Elders Holbrook livestock manager Tim Wright believing many orders came after recent rain and because of confidence in forward lamb prices.
"I don't think there are the lamb numbers about that people think there are."
His clients offered about 5000 composite lambs and were "extremely happy" with prices $5-$9 over reserves of just under 250c/kg liveweight.
"I think everyone is thinking that the lamb job is going to be pretty good.
"There are some pretty good forward contract prices out there at the moment, so that is probably an indication of where people think it is going to be," he said.
"There are plenty at 520c/kg."
The sale started at noon on Tuesday, but Mr Wright said when he logged on at 12.10pm, AuctionsPlus already had 71 people logged on.
"That to me is phenomenal, that's great."
Holbrook Primeline pioneer is happy
The Wirruna Poll Hereford operation at Holbrook sold just over 2000 lambs for an $80 average in the sale. The pure Primeline lambs averaged about 34kg liveweight.
"I think it is the best price we've received for three years at this time of the year," principal Ian Locke said.
"It's certainly a solid result, but the outlook is pretty good."
 Source: AuctionsPlus