With the Christmas gift-giving season upon us, Sheep Central in coming days will continue to profile more great bush reads that anybody with a connection to the cattle or sheep industry would love to find under the tree on Christ morn…
LEGENDARY Wagga livestock trader and grazier Stan Henwood is just one of the often colourful, sometimes quirky, always inspirational industry identities captured in Andrew Chapman and Tim Lee's latest richly-illustrated new book, The Long Paddock, launched in Hay a few weeks ago.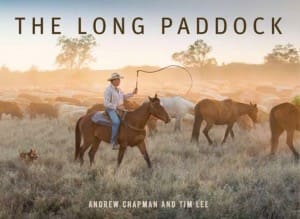 The pair have followed in the pathways of the drovers and stockmen, past and present, across the vast plains of Australia capturing in stunning imagery and evocative writing the richness and beauty of a timeless tradition.
"Drovers are a hardy and resilient breed of independent nomads who relish the freedom of the road and revel in the solitude of the open spaces. The delight in the company of the livestock in their care, their loyal dogs and keen stockhorses," the foreword says.
"They lead lives governed by the pace of their mob, the rhythm of the seasons and by the travelling stock routes on which they move. These pathways are known to most Australian as the 'Long Paddock'."
Wagga legend Stan Henwood, now 89, was regarded as the 'King of the Road' when it came to utilising stock routes, as part of his sheep and cattle trading operations which frequently stretched from Queensland into Victoria.
Here's an excerpt from the book, capturing some of Stan's life and experiences:
"I was the biggest dunce," confesses Stan Henwood of his brief school days. "But I was a genius on figures as far as working out whether it was profitable or not. I never wrote anything down, that's my trouble now. My memory is not nearly as good."
Even at 89, however, Stan's famed recall of figures, transactions and profit margins seems undiminished by age. He was once dubbed the "second Sidney Kidman," and like the legendary "Cattle King" he is a self-made multi-millionaire, who lives abstemiously and has never drunk alcohol, smoked cigarettes or used bad language. He has run a business empire from a cramped office semi-detached from his modest farm house.
When he started school at seven he was already hand-rearing orphan poddy calves bought from local farmers, and he showed little interest in anything but stock. "It's all I thought about," he reflects. At age nine he contracted polio, which withered his left leg and caused him to miss a great deal of school. His scant education left him close to illiterate, and meant he never wrote things down; the ledger books were kept by his wife Eileen or a book-keeper. Despite this, he can readily quote prices paid for stock, in what number, and the margins they made him, from many years ago.
At 21 his father died and he inherited the family property, good grazing land on the eastern outskirts of Wagga Wagga. But two thirds of its value was burdened by probate duties. "I did it tough in those early years," he reflects. At 22 and staving off bankruptcy he employed his first drover, and began buying cheap stock and walking them along the stock routes, sometimes camping out with them. For several years during the warmer months he took sheep to mountain leases near Tumut, in the Snowy Mountains.
One year the snow came early, trapping his flock of 12,000. Though Stan and his drovers worked desperately to move the stock to safety, half of them still perished. "That's my biggest loss in the game. I never want to see snow again," he says.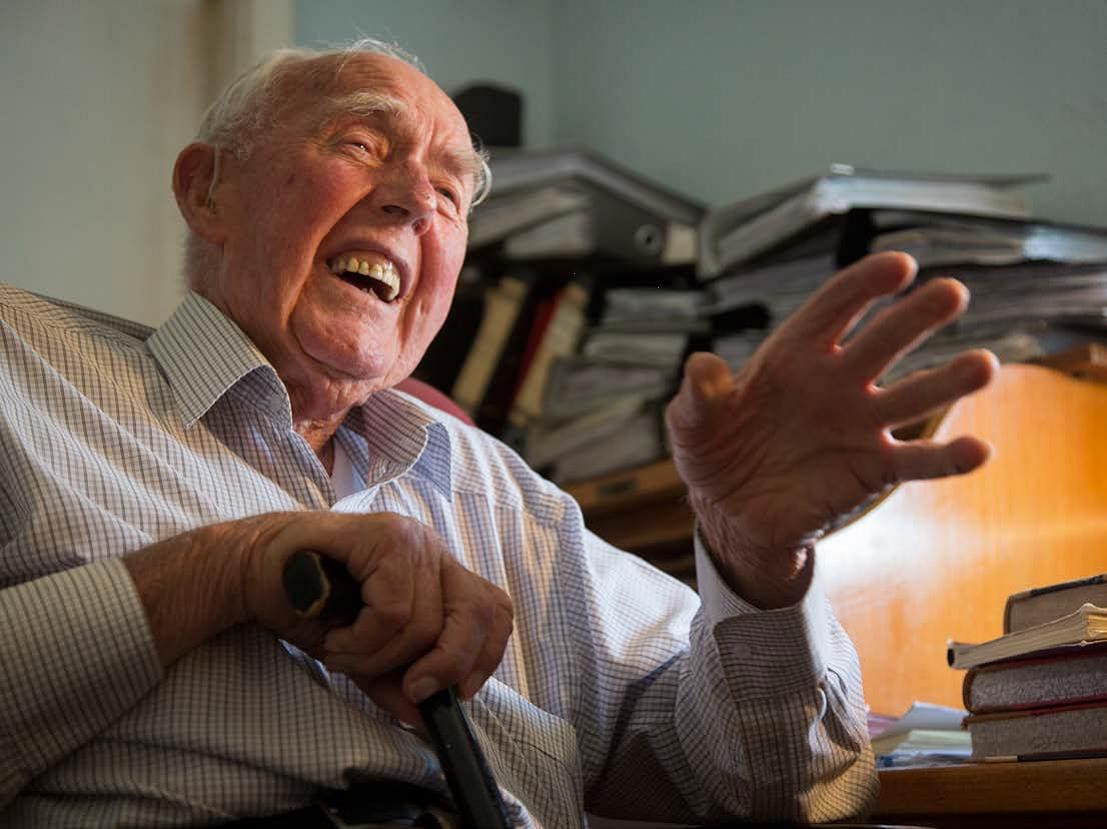 In time Stan Henwood's hard approach to business, his acumen and work ethic made him one of the largest stock dealers in eastern Australia. He forged a pastoral empire that is now a family dynasty. You'll see the trademark Black Angus cattle of the Henwood family from the stock routes of the Riverina all the way to Western Queensland. "I was a dealer one time. Years ago I wasn't frightened to buy anything I reckoned I could keep alive on the stock routes," he says. He rode the surge and fall of stock markets, and the travelling stock routes were pivotal to his success.
One year, when sheep prices fell through the floor, he bought a hundred thousand head and spread them out on "the long paddock" all over NSW. "There's a bit to it," he grins. His contemporaries marvel at his ability to store so much information in his head.
Where adverse seasons and poor prices spelt misery for most farmers, Stan smelt opportunity. When cattle prices crashed he bought up big; "I once bought about 28,000 [head of cattle] at an average of eighteen dollars: a lot of good cattle for seven and thirteen dollars. All the best cattle I could buy." Most came from Victoria, and Stan trucked them northwards to the stock routes around Moree on the black soil plains of NSW. When the rain fell and the seasons turned he would work just as feverishly droving and trucking sheep and cattle to better pastures in all directions. Then, stock near worthless only weeks earlier would be cashed in on a surging market. "I made a fortune out of most droughts. I raked it in then," he beams.
Stan ran flocks of 7000 sheep and minimum herds of 1500 cattle in the care of some very capable drovers. Usually he had about 30 men on his books, but the extent of his wealth was made public in 1992, when a prominent business magazine listed Henwood Pastoral amongst Australia's richest 200 companies. By then he'd buttressed his fortune by subdividing and selling much of the original Henwood farm, now a suburb of Wagga Wagga, though he still owner a cattle station in the Gulf of Carpentaria. When he dispersed his empire to his children a few years ago it amounted to about 70,000 cattle and 26 major properties.
His children and many his grandchildren are prominent in the pastoral industry and makes full use the stock routes. Stan has great admiration for Tom Brinkworth and his recent bold venture of droving cattle half way across the Australian continent. "He's a very smart man. I hand it to him," says Stan. "He's made a lot of money. Very similar to what we've done."
After almost two hours of sitting and talking Stan gets fidgety and pushes down impatiently on his walking stick motioning to stand and leave. Like most highly successful businessmen, he is used to holding the whip hand. Besides he's never been given to reminiscence and this is the first time he's ever really told his story to anyone outside of the family. Suddenly he stands, shuffles towards the doors and bids a brisk goodbye. He has revealed enough about himself. He is content to remain the enigmatic Stan Henwood, widely known of by many, truly known by few.
The Long Paddock is the latest collaborative effort between ABC Landline journo, Tim Lee and award-winning photographer, Andrew Chapman.
It follows the pair's earlier publications,  'Woolsheds' and 'Working Dogs',  the latter of which will be previewed on Beef Central later this week.
The Long Paddock is published by The Five Mile Press, RRP A$39.95