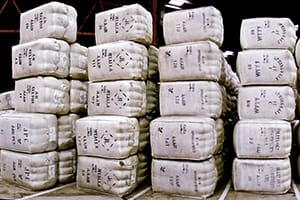 Wool prices general fell this week, but selected high tensile wools sold up to 50 cents a kilogram dearer, AWEX senior market analyst Lionel Plunkett said.
Mr Plunkett said 54,532 bales were offered this week, making it the second largest offering in 12 months and beaten only by the sale immediately prior to Christmas which was more than 58,000.
The AWEX-Eastern Market Indicator closed on 1054 cents with a pass-in rate of 8.6 percent nationally. The EMI closed up eight cents in US dollar terms at US865 cents.
"The AWEX-EMI dipped five cents over the three days, carried lower mainly by the medium and broader microns.
"Each day there were steady falls, resulting in losses of 5 to 15 cents for the 19-micron and broader range," Mr Plunkett said.
"Results in the finer microns were less clear; the Micron Price Guides (MPG's) all closed ahead but there was a divergence in price levels depending on the type.
"The weekly MPG's increases of 10 to 20 cents tended to camouflage the renewed interest in the better types."
Best support for high tensile wools
Mr Plunkett said the 40Newtons/kilotex types found the most support and selected types were as much as 50 cents dearer.
"On the other side of the equation the lower spec types all tended to lose ground throughout the finer microns.
"Part-tender, high mid-breaks and spindly weaner types eased back 30 to 40 cents during the sale, stretching out the premiums/discounts between the high and low end of the quality spectrum."
Mr Plunkett said skirtings have followed a similar pattern where best-broken types continue to find reasonable support while the short/seedy end of the offering eased back 10 to 20 cents.
"Crossbreds steadied off in their recent bullish run this week, closing auctions at similar levels or slightly below the previous sale.
"The Merino Carding Indicators also had a steady week and closed within a few cents of the previous week."
Next week is another large sale with just over 50,000 bales expected around the nation, he said.
Source: AWEX