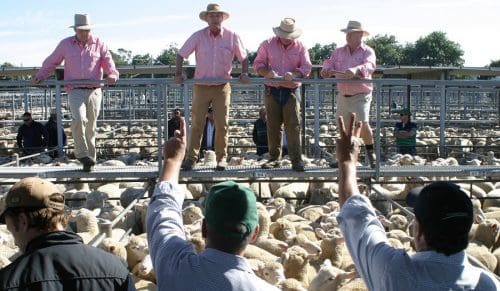 A DELAYED Chinese recovery from African Swine Fever, strong ongoing global lamb and mutton demand, and higher beef prices point to continued high prices for Australian sheep meat producers this decade, according to independent analysts.
Thomas Elder Markets analyst Matt Dalgleish and Global AgriTrends analyst Simon Quilty both believe ABARES forecasts for sheep meat prices this decade are overly pessimistic.
Mr Dalgleish said seasonal market movements aside, "the trend is still on track for higher pricing over the next five to 10 years" and Mr Quilty believes lamb prices will follow beef values.
ABARES this week said drought-induced sheep meat supply shortages and strong global demand driven by African swine fever are expected to begin to abate, and in the medium term to 2025-26, lamb and mutton prices were unlikely to remain at the high levels of 2019-20 and 2020-21.
By 2025-26, lamb saleyard prices are forecast to fall by 10pc to 673c/kg and the saleyard price for sheep is forecast to fall by 19pc to 479c/kg, ABARES said.
During question time at the 2021 outlook conference, Mr Dalgleish asked ABARES economist Chris Mornement whether ABARES was "a little on the pessimistic side" in forecasting softer sheep meat prices, given the FAO was forecasting strong growth in sheep meat demand to the end of the decade and sheep flock supplies from key exporting nations like Australia and New Zealand were at all-time lows.
Mr Mornement said the main driver for ABARES sheep meat outlook for the next five years was the African Swine Fever situation.
"That has been driving up our (sheep meat) exports a lot more than the long-term trend.
"I think we considered that demand would move back after the ASF impact disappears."
He said ABARES sheep meat price predictions "meet pretty well" with the FAO's forecasts for the middle of the decade.
"Certainly for the remaining five years of the decade that sort of trending upward demand for sheep meat will be playing out majorly and our sheep flock is not going to be getting to 80 million anytime soon, so it's a good point."
Australia's Department of Agriculture, Water and the Environment website is still expounding the claims of Chinese biosecurity authorities and the pork industry that the spread of ASF has been contained, and that the pig herd and pork production is on a rapid path to recovery.
"Since May 2020, outbreaks in China have almost ceased. Small, isolated outbreaks in July and October 2020 and in January 2021 have had limited impacts on the industry," the website said today.
China suffers ASF recovery setback
However, at the ABARES conference Mr Quilty said a second wave of ASF infections due to new viruses has removed potentially 7-8 million sows from the Chinese pig herd, setting China's rebuild back for several years. He said poor production due to ongoing diseases, poor genetics and Mr Quilty said imports of pork, chicken and beef into China will need to increase to make up for the shortfall and are likely to exceed last year's record 8.9 million tonnes. Shortages in global beef supply will see higher beef and lamb prices in 2021, he said.
Mr Dalgleish said independent data and anecdotal evidence does not support the supposed recovery in the Chinese pig herd from ASF. He believes the Chinese pig herd recovery is going to take longer than the authorities are predicting.
"I'm quite bullish on sheep and lamb prices …. the only thing that really stopped us from seeing record prices last year for lamb was COVID.
"And there might still be a lingering impact this year, which means that the forecast model from me is that prices are going sideways pretty much or a very small 2 percent decline in average prices from last year to this year (to about 800c/kg on the Eastern States Trade Lamb Indicator)," he said.
He said lamb prices would be driven by the recovering global economy, tempered by the higher Australian dollar.
"But the prospect moving forward as the global economy recovers out of COVID is that modelling is showing that we are going to see an uptick again in sheep and lamb pricing, and a lot of that is going to be driven by demand out of developing countries and China of course, is in the mix there.
"ASF has a function there but the modelling that was done is pre-ASF to a degree — ASF has just supercharged Chinese demand for the moment, but the underlying story was that China was one of the key countries that was still going to experienced growth in wealth and with its big population meant it is going to continue to demand proteins of all types."
Mr Dalgleish said his modelling did not show declining sheep meat prices toward the middle of this decade, especially considering the FAO's predictions of potential demand growth from developing countries, including South East Asia and China. Other potential growth markets included India, Middle East and the United States as they recover from COVID. China buys about 45 of Australia's mutton exports and is a growing lamb importer, almost rivalling the United States lamb market.
Mr Dalgleish said Australia was also eclipsing New Zealand as the key provider of sheep meat to the world. Australia last year provided 36pc of the world's global sheep meat trade, compared to NZ on 30pc.
"That also is not looking like it is going to reverse in a hurry; Australia is going to become more and more dominant as the dominant world supplier."
He said New Zealand's ewe flock and lamb production is falling, reducing the country's capacity to supply the world, while there is a lot of interest in flock rebuilding in Australia, with predictions of a flock of 75 million head by 2023.
"So we are going to increasing our ability to produce — providing the climate keeps being favourable for us – at a time when there is a chance that we get out of COVID and into an economic growth cycle globally.
"That is going to add wealth into those developing countries and they are going to want proteins of all types, and meat proteins specifically."
Mr Dalgleish said Australia now exports about 75pc of the lamb and mutton it produces.
Lamb prices expected to follow beef – Quilty
Mr Quilty said apart from the impact of a longer Chinese ASF recovery on Australian sheep meat demand and prices, lamb prices have always followed high quality beef prices and he expected these to lift this year with a 7pc tightening in South American beef supplies.
"There is a strong correlation between high value grain-fed beef prices and lamb price.
"You will have a COVID recovery – we've already seen signs of the bounceback effect — and with that will come stronger grain-fed beef prices and strong lamb prices."
But he said the airline and cruise ship industries need to be back on their feet for lamb to realise its true value.
"Without those two important sectors up and running I think it will be a little bit of a drag on lamb.
"But putting that aside, I am still bullish on lamb prices, based on a strong global recovery and a strong grain-fed beef market, lamb will be carried with it."
He agrees with Mr Dalgleish that ABARES' sheep meat price predictions are "overly pessimistic".
He said the engine room of the International Monetary Fund's expectation of global GDP growth — 5.5pc in 2021 and 4.2pc in 2022 – will be Asia.
"If the airlines and the cruise lines get back on their feet I can see lamb prices just getting better and better with all the parts of the lamb back in full use.
"But even if those two segments that have been slow, I still think we will see better lamb prices globally because of that high-end grain-feed beef price taking lamb with it."
FAO is forecasting high sheep meat prices
According to the OECD-FAO Agricultural Outlook 2020-2029, sheep meat prices in real terms are projected to remain high as contractions in flock reduce supply and restrict trade from the two leading exporters, Australia and New Zealand, maintaining pressure on global prices in the early years of the projection period. Strong growth in import demand from China is expected to marginally increase in the second part of the projection period as the effects of ASF begin to subside.
Growth in sheep meat production will mostly originate in Asia, led by China, but significant increases in production are projected to occur in Africa, particularly in the least developed countries of Sub-Saharan Africa. In Oceania, production growth is expected to increase only moderately because of ongoing competition for pasture land from beef and dairy in New Zealand, which is the major exporter, as well as the extreme and prolonged drought in Australia where total sheep numbers have fallen from 72 to 66 million from 2017 to 2019.
Sheep meat production in the European Union is expected to remain stable, as it will be sustained by the voluntary coupled support in the main sheep-producing Member States.
The OECD-FAO Agricultural Outlook 2020-2029, also assumes pig meat production will increase and reach pre-ASF production levels by 2025. It is projected that ASF outbreaks will continue to reduce global pig meat output until 2021, after which it is expected to steadily increase over the remainder of the outlook period. The outlook assumes that Chinese pig meat production will decline in 2020 by 8pc. Production and consumption in China is projected to reach 2017 levels in 2025/2026 and to resume a steady growth trend for the remainder of the outlook period. The increase in global pork production over the next decade will be largely driven by recovery from ASF in the Asian region, with China's production growth aimed at supplying its own domestic market.