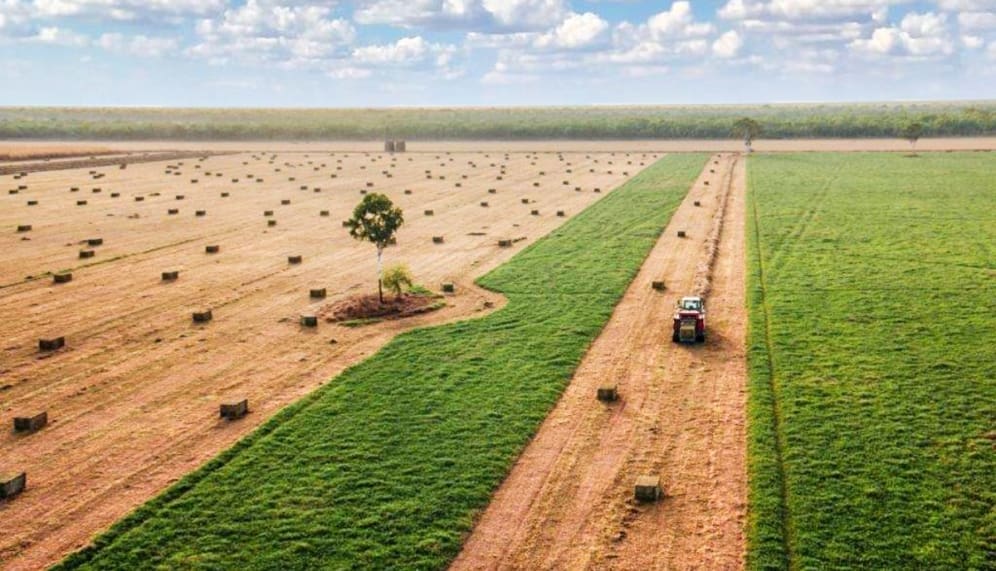 HIGH quality hay supplies are under pressure as demand increases on the back of widespread frosts and dry weather in the past month.
Some of Australia's major hay growing areas in Southern New South Wales and Victoria were hit by widespread flooding last year – which left paddocks under water for months.
While major cattle producing areas in southern Queensland and northern NSW have seen some rain this week, the end of Summer has been dry. National hay marketer Feed Central has noticed demand increasing in some of those areas this week.
Feed Central managing director Tim Ford said there was a surprising volume of hay available, but the quality was variable.
"There's been a lot of weather damage to crops and crops that were without weed," Mr Ford said.
"Recent frosts and cold weather have activated buyers and they are picking through that higher quality product. Some of them are also picking up good bargains with the lower quality product.
"We have also seen some producers in western Queensland, areas like Winton and Longreach, cut some Flinders and Mitchell grass for hay because they have had such a big season up there," he said.
"They do this a few times a decade after a big season.
"It doesn't have a huge impact on the national market, but definitely makes some product available."
Mr Ford said demand from feedlots has been virtually non-existent to start the year, with some yards starting to make contact this week.
"I think with the wet season going on for so long in the north limited movements of cattle have been coming down to some of the feedlots.
"With the weather generally drying out – except for the showers this week – we have noticed distinct change and some of the lot feeders starting to make contact," he said.
"They haven't bought 12 or 18 months supply like they sometimes do, they have bought for a few months and look like they will wait and see."
High grain prices impacting decision to grow hay
On the supply side, some of the hay growing areas have plenty of water after the relentless wet season last year. Mr Ford said high grain and cotton prices were keeping some growers away from hay.
"Last year we saw a lot of hay growers go towards grain or cotton because of the market for those crops," he said.
"We are seeing some of the regular hay growers come back to hay.
"The opportunistic hay growers are telling us that they are sticking with grain or cotton. But drought and a frost at the right time of the year can result in a lot hay," he said.
"Labour is another factor because hay is more labour intensive than grain and the harvesters are still struggling to find workers."
Growing hay a profitable exercise
Summit Ag mixed farming specialist Ben Romeo covers an area from Canowindra to Condoblin – with most of it seeing big floods last year. He said hay supplies had been depleted.
"All my major hay producers around Forbes have been flooded for the past two years, Canowindra is pretty much the same and there is very little in sheds," Mr Romeo said.
"Very little was made in the last couple of years and what has been made is likely to be kept on farm. Some areas are looking pretty dry too."
Mr Romeo said a lot of clients on the Lachlan River floodplains in Forbes area were keen to grow lucerne again – with the low supply increasing prices.
"They do a lot of the small bales and small bales on farm are worth anywhere between $23 to $25," he said.
"What's left of the lucerne hay they can grab is worth about $600/T. But a lot of people have been burned in the last couple of years and decided to sow more grain crops over more hay country, which means there is not much around and if we move into more of dry season there is not much for sale."