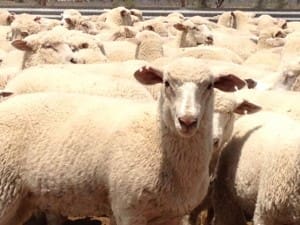 AUSTRALIAN sheep producers with high operating margins have not necessarily sold lambs or sheep at higher live weights in the past three years, but they generated higher meat and wool prices at lower cost than low-margin operations, an ABARES study has found.
The MLA-commissioned study found that that the higher margin properties sold slaughter lambs at an average liveweight of 47kg for 248c/kg lwt versus 46kg at 228c/kg for lower margin operations. Sheep sold off high margin farm averaged 54kg live, but returned 150c/kg lwt compared to 56kg sheep at a price of 128c/kg from lower margin properties.
The 'Cost of production Australian beef cattle and sheep producers 2012–13 to 2014–15' report by ABARES researcher Peter Martin found that over the three years the high margin operations on average produced more sheep, lambs and wool at lower production and debt costs with less labour and off-farm income.
Compared with other sheep producing farms, the higher margin farms had a larger scale of operation, higher labour use efficiency and higher stocking rates.  About 22,000 Australian broadacre farms each ran more than 800 sheep in 2014–15.
High operating margin farms were more likely to be located in the cropping (wheat–sheep) zone and less likely to be located in the high rainfall zone.
The study found that the average on-farm cost of sheep production expressed on a per kilogram live weight basis remained largely unchanged between 2012–13 and 2014–15. Nationally, the total cost of sheep production averaged 304c/kg liveweight for sheep producers and 288c/kg for slaughter lamb producers for the three years up to 2014–15.
The total cost of production for the smallest slaughter lamb producers — selling 200-500 lambs — averaged 346c/kg compared with 251c/kg for the largest slaughter lamb producers — selling more than 2000 lambs.
What the high margin farms did
On average, when compared with other sheep producers, farms with higher operating margins in the study:
– had a larger overall scale of operation – 13,100 DSEs vs 8700 DSEs
– had higher stocking rates — 3.5 DSE/ha vs 2.8 DSE/ha
– sold more lambs for slaughter
– had higher lamb-marking percentages – 94pc vs 87pc
– had higher wool cuts per head – 4.3kg vs 4kg
– received higher prices for the lambs – 248c/kg lwt vs 228c/kg lwt
– received more for sale sheep – 150c/kg lwt vs 128c/kg lwt
– had higher wool prices – 711c/kg vs 687c/kg
– had higher labour use efficiency – 6100 DSE/labour unit vs 4700 DSE/labour unit
– had lower debt – 83pc vs 127pc debt to receipts ratio
Younger farmers in study did better
The higher margin farms were also operated by younger farmers; and earned less of their household income off-farm. These farms were more likely to be slaughter lamb producers and to sell a large number of lambs, but were less likely to be highly reliant on slaughter lamb production to derive more than 50 per cent of their revenue from slaughter lamb production.
MLA said producers can use this report to compare the cost of production of their cattle herd or sheep flock with the industry generally, and possibly identify opportunities for improvements within their business.
The report presents cost of production estimates for beef cattle and sheep producers for the three years ending 2014-15, based on data that ABARES collects on broadacre farms through its Australian Agricultural and Grazing Industries Survey (AAGIS).
For the purpose of this report, farm businesses with fewer than 800 head of sheep (4% of the national flock) were excluded from the analysis. However, unlike beef producers, on average, the smallest slaughter lamb producers generated sufficient revenue to cover all finance costs (interest payments on debt), capital depreciation and most or all of the value of unpaid family and partner labour.
Click here to read the full ABARES cost of production report.
Source: MLA, ABARES