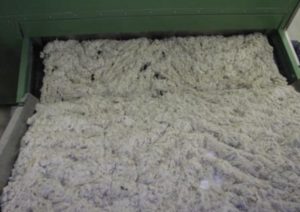 LAST year Australia's remaining early stage wool processors could process the home-grown fibre as cheaply as Chinese factories, winning them business.
But high energy prices are risking the viability of the wool scourers and carbonisers, and meant temporary closures at Michell Wool in Adelaide last week, for up to four hours.
The company, one of the three Australian wool processors, moved to buying electricity on the spot market in January and the factory closed down when prices became too high, up to $13,000 per megawatt hour last week.
Michell Wool chief executive officer Steven Read said the company was able to do other jobs during the shutdown and it would not affect weekly production.
"We've just got to run the business differently with these crazy price rises."
Mr Read said Michell Wool's move to buying electricity on the spot market meant the running of the factory needed to be more flexible.
"We will just change our processing, stop and do other jobs that we would otherwise done at other times and start up when the price comes back down again.
"It's certainly not accidental, it's managed and planned to operate like that."
Mr Read said it was the first time the factory has had to close due to high energy costs, but given a viable power prices he believed the future for early stage wool processing in Australia was solid.
"We've increased production for three years consecutively, and the fall in currency had also helped.
"We're certainly very upbeat about it."
Next 18 months crucial for wool processing
However, general manager of Australia's largest wool processor David Ritchie said the rising power prices – electricity and gas – had made processing in Australia "that much more expensive."
The Victoria Wool Processors business at Laverton North in Melbourne recently renegotiated it natural gas contract and was relatively "immune" from spot power price rises, Mr Ritchie said.
"We got it down to equalling China, now we've gone more expensive again.
"We call it like an own goal that Australia has just kicked, against ourselves," he said.
"It shouldn't have been allowed to get to this situation.
"It's a national problem, it's not confined to the wool industry and we've got to decide whether we want manufacturing in this country."
Mr Ritchie said energy prices were putting at risk Australia's remaining early stage wool processing.
"Australia pays above world parity price for labour and export manufacturers have been able survive with cheaper power.
"If we've got to pay world parity prices or above for electricity and for gas — and we know we've some of the most expensive electricity – then we can't also have world parity prices for labour," he said.
"Why would you bother to manufacture in Australia if you've got to pay above world parity prices for everything?
"It will be a telling next 18 months."