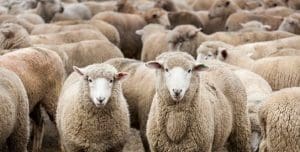 LAMB prices and demand hit extreme levels in New South Wales this week, with exporters and domestic processors finding it increasingly difficult to source sufficient supplies leading up to Christmas.
The National Livestock Reporting Service said lambs throughout the Wagga sale on Thursday sold above 700c/kg carcase weight, with 16.1-24kg lambs generally making 608-718c/kg and 30.1kg-plus lambs making 679-723c/kg, or $220-$254.60.
The new Wagga record of $254.60 was set with 366 Poll Dorset-first cross lambs estimated to weigh 33kg cwt, sold to Fletcher International by Delta Livestock and Property for the Collis family's Glenhope Pastoral Company at Beckom in the Riverina.
Recent rain, harvest commitments, producer content with future price prospects and the numbers of lambs sold back onto paddocks have combined with strong export demand to lift prices and restrict supplies.
Delta auctioneer Aaron Mackay said the $254.60 was a record price for the Wagga centre.
"Certainly processors have put the carrot out to producers to put lambs on feed and get them good.
He said many producers were just not in a rush to market lambs and in recent weeks large numbers of lambs had been bought to go back onto paddocks.
Producers were now being tempted with forward prices of up to 660c/kg for lambs from exporters and 650c/kg from domestic abattoirs.
Mr Mackay and Riverina Livestock Agents auctioneer James Tierney said they didn't expect prices to get dearer, although the demand for heavy export lambs is extreme.
"There is big demand for lambs over 26kg cwt," Mr Tierney said.
"It was extreme in places yesterday.
"I would say a run of heavy export lambs would be costing 700c/kg."
The NLRS said lambs numbers lifted by 8000 to 28,000 at Wagga, and the sheep yarding lifted by 4000 to 9000.
The quality across the offering was very good with bigger numbers of shorn trade and heavy lambs, NLRS said. Trade lambs were in reasonable supply, while heavy lambs were in bigger numbers. All major trade and export buyers were operating, however some buyers were unable to make many purchases due to the significant increase in price. Store lambs were well supplied and bidding intensified for all breeds.
The NLRS said new season lambs trade lambs were in shorter supply over all trade weight categories.
"The bulk of the offering sold to dearer trends making from $132 to $178/head to average 670c/kg cwt.
"Shorn new season trade lambs were keenly sought and buyers once again paid a premium for the better trade types," the NLRS said.
"Throughout the market plenty of sales recorded above 700c/kg cwt.
"Heavy young shorn lambs were well supplied and prices increased by $22/head, aided by the shortage of supplies at northern sales."
The NLRS said heavy shorn lambs sold from $172 to $254.60/head. Extra heavy full wool lambs sold from $170 to $200/head to average 666c/kg cwt.
Store buyer confidence ignited bidding with an isolated sale $20/head dearer.
"Light weight store lambs sold from $77 to $115, while the heavier lambs returning to the paddock sold at $115 to $128/head."
The NLRS said heavy mutton made from $127 to $183, with the heavy wether portion topping at $179.20 a head. Trade sheep prices eased $1 to $5, making from $90 to $147 a head, averaging 476c/kg cwt.