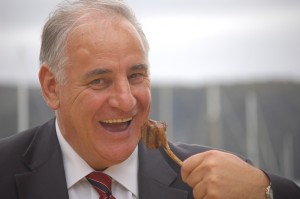 Meat & Livestock Australia says its long and successful partnership with "Lamb-assador" Sam Kekovich is not over despite confirming this week that a new agency will take over its lamb marketing work for the first time in 14 years.
MLA's flagship Australia Day lamb marketing campaign has been handled since the early 2000s by the BMF agency, during which time Sam Kekovich has grown to become the firmly entrenched face of lamb marketing in Australia.
MLA confirmed to marketing news website Mumbrella earlier this week that its lamb work will now be handled by a new advertising agency, The Monkeys, while BMF will retain the beef elements of its marketing account, and the One Green Been agency will manage its public relations work.
Over the past 10 years Sam Kekovich's colourful lamb advertisments have become a national talking point leading up to each Australia Day public holiday, regularly generating national media discussion over their comical, politically incorrect and often controversial lamb-flavoured parochialism.
At various times the former Australian Rules Footballer's Australia Day advertisements have described vegetarians as 'un-Australian, soap-avoiding, pot-smoking hippies'; recommended capital punishment for those who don't eat lamb on Australia Day; encouraged all Australians (and the rest of the world) to be more Australian; lobbied for Australia Day to become 'Australia Week'; launched a music video (See the "Barbie Girl" video from 2012 below this article); blamed problems around the world on a lack of lamb consumption in those areas; and triggered a Trans-Tasman furore by claiming that former NZ Prime Minister Helen Clarke did a "passable impression of a man".
Along the way there seems little doubt that Sam has helped to sell more lamb. Last year, for example, aNielsen Homescan survey registered a year-on-year increase of 31.7pc in lamb sales in Australia Day week, attributing much of that increase to awareness created by Kekovich's successful "Lamb-nesia" campaign leading up to Australia Day 2013.
News that MLA has changed agencies prompted Mumbrella to speculate that Sam's future as the industry's 'Lamb-assador' may be now in doubt.
MLA told Sheep Central today that it would be continuing to use Sam Kekovich but was still to finalise in what capacity.
The Monkeys CEO and co-founder Mark Green told Mumbrella that the Sam Kekovich campaign was an "iconic piece of advertising business".
"We're loving the opportunity to write the next chapter. It's a lot fun and we're in it already, it's busy and happening."
Mr Green also declined to divulge how Kekovich may be involved in the next phase of the campaign.
Marketing expert asks: 'Have Sam's ads had their day?'
10 years is a long time for any marketing association to last and at least one independent food marketing expert has questioned whether the Sam Kekovich model may have outlived its usefulness for Australia's lamb industry.
In an interview with Sheep Central at the recent Lambex conference in Adelaide, Professor David Hughes, a food marketing professor from the Imperial College London, questioned whether Sam Kekovich was the right identity to help lamb reach the critical under 40s demographic.
"If I look at that (the Sam Kekovich campaigns) I would think it has had its day," Professor Hughes said.
"It gets right across to a certain demographic.
"The real challenge I think for lamb going forward domestically is to get under 40 year olds on a consistent basis to see there is relevance in lamb for them, for their families, and for their lifestyle.
"And whether they are Kekovich people is questionable."
What do you think? Should Sam get the lamb chop, or would it be unAustralian for MLA to cut ties with lamb's most recognised champion? Tell us in the comment box below