INNOVATIVE brand Gundagai Lamb today launched a new grid to encourage lambs with above average marbling, discourage over-fattening, and promote best practice animal health and management.
Gundagai Meat Processors chief executive officer Will Barton said with company will next week launch a (50 cent) bonus for lambs graded as GLQ5+ using a new proprietary grading system, the GLQ Score.
The new scoring system would replace the company's world-first intramuscular fat bonus of 50 cents per kilogram for lambs with an IMF of 5 percent-plus.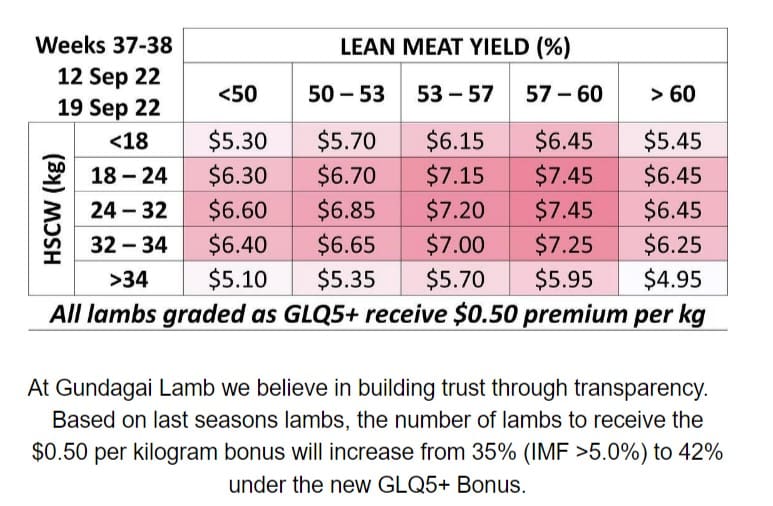 Click here for more information on the new grid system.
The system will strengthen the brand's push to encourage production of lambs with above average marbling, discourage over-fattening to boost IMF and reward lambs free of animal health conditions and carcase defects, he said.
Mr Barton said GLQ5+ lamb is going to be on the menu of fine dining Sydney restaurant Oncore by Clare Smyth.
Mr Barton said the GLQ Score algorithm's primary focus is IMF, but it also includes lean meat yield, animal health conditions and carcase defects.
"We encourage high IMF for eating quality, we discourage overfattening for sustainability in land use and animal production, and we reward something that is high yielding – if it is also high in eating quality then you've hit the jackpot.
"We take points off it there are animal health conditions or carcase defects, to promote best practice management on farms."
More than 100 producers attended Gundagai Lamb's inaugural producer event at Kimo Estate's Grain Shed at Nangus on 25 August at which the top GL suppliers were recognised.
Producers were also introduced to Gundagai lamb's Pioneers Program, to be rolled out over the next 3-6 months as a way for select producers to directly engage with the latest advancements in the Gundagai Lamb offering including;
Access to soil carbon baselining;
Enhanced carcase feedback and analysis via Gundagai Lambs new traceability platform; and
Input into the development of the brand's forward contract strategy.
Gundagai Lamb team members Jake Bourlet and Claire Marriott revealed that more than 170 producers consigned a combined 80,000 lambs to the brand in its start-up year, despite significant constraints on processing capacity given COVID related labour shortages. About 35pc of the lambs had an IMF of 5pc-plus.
The average distance travelled to the plant was 180 kilometres, with one seedstock producer delivering 150 lambs from 1050km away to gain the carcase feedback. Mr Barton anticipated that a greater percentage of future consignments will come from commercial producers closer to Gundagai.
Aligning production with the end product
Mr Barton said it is anticipated that more producers and lambs would qualify for the GLQ5+ grading and the system allowed for genetics and best practice management to play bigger roles.
Though he said this should not be interpreted as GMP making it easier to achieve the premium price, because lambs that are over-fattened to lift IMF will be discounted.
"It really is about aligning the bonus to producers to the premium product that we are selling to restaurants like Oncore.
"This sends a clear signal to the market and to producers about our intent," he said.
"Our intent is to evolve, provide better feedback, and keep talking quite transparently tour producers about what we are trying to do and this aligning of what we are paying producers with what we are charging consumers is a really good example of that."
Top producers recognised on night
All producers were acknowledged at the event for supporting the Gundagai Lamb concept in its start-up year. The top producers were awarded and congratulated by Supply Chain Manager Dr Michelle Henry who presented awards as follows;
IMF Award – highest average IMF percentage for a consignment – Andrew & Deborah Cotter, 'Koolabah', Henty, 6.8pc.
Grid Performance Award – highest proportion of lambs/consignment within HSCW 24-32kgs and LMY 53-60pc — Hufton Pastoral Co, 79pc.
GLQ Score Award – highest average GLQ score/consignment, Tallawong Pastoral Co, 7.1.
Pioneer's Award – for producer portal engagement, onsite/even attendance and GL team engagement, Tom Molineaux, Mollies Trading.
Agent of the Year – for weighted GLQ score/HSCW average/number of consignments, GLQ Score spread/HSCW spread, Jarrod Slattery, Nutrien Ag Wagga, 90.
Producer of the Year – for weighted GLQ score/HSCW average/number of consignments, GLQ Score spread/HSCW spread, Old Bundemar, 72.Key
Key Gundagai Lamb markets identified
Director of GMP's strategic sales partner InterAgri Group, Adrian McCorkell, reported trade volumes and value across 19 markets globally as well as a foundation of domestic customers, all of whom are enjoying the premium GLQ5+ lamb offering. He nominated Australia, the United States and Middle East as key growth markets for the brand, with strong demand for the premium GLQ5+ product already evident.
Mr Barton said GMP's vision is to establish Gundagai Lamb as the highest quality and most trusted source of lamb, certified by a world-first eating quality guarantee, the new industry standard.
"We're on a mission to provide all Gundagai Lamb producers with priceless information about their flock which allows them to nurture and breed a healthier, more resilient, better tasting lamb with a higher percentage of intramuscular fat and the perfect balance of lean meat yield.
"The result creates an exceptional eating experience; a rich and mouthwatering cut of marbled lamb, guaranteed to be of the highest quality, setting a new world standard in the lamb industry,' he said.
Attendees at the producer night enjoyed Gundagai Lamb GLQ5+ lamb cutlets, sweet and sticky lamb ribs and slow cooked coconut curry lamb on rice along with a number of less interesting non-lamb dishes.