THINKING about a career move in 2015, or even a relocation to a new site in the kind of job you're currently doing?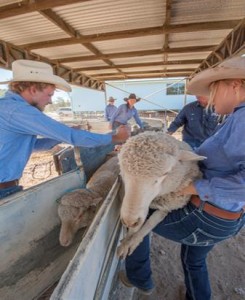 There's a bunch of great new job opportunities currently posted on Sheep Central's recruitment page, Jobs Central, as the sheep and wool industries prepare for the 2015 year ahead.
Recent postings include positions in rangelands and environmental management, extensive livestock production, export and domestic red meat sales, lotfeeding, agribusiness management, meat processing and trading management, meatworks livestock buying, livestock export operations, helicopter pilot and governessing.
The roles extend from entry-level trainee positions right  through to senior management roles.
The list shows the sheer diversity that now exists for exciting and rewarding employment across the Australian red meat and livestock supply chain.
Latest listings include:
Various positions – Bulloo Downs (Gibson Grazing)

Rangeland Manager (Heytesbury Cattle Co)
Killara Feedlot Livestock Manager (Elders)
Sales and Production Executive – Domestic & Export (OBE Beef)
Agribusiness Development Manager (AWX Agribusiness)
General Manager – Meat Processing and Trading (Wellard)
Assistant Manager Livestock (JBS Northern)
ESCAS & Operations Coordinator (NACC)
Trainee Livestock Buyer (Teys Australia)
Outstation Manager, The Peake SA (S. Kidman & Co)
Feedlot Manager, Indonesia (Agricultural Appointments client)
Station-hand and governess positions (several)
Click here to access these and other exciting meat and livestock supply chain jobs on Jobs Central.