PROPERTIES in Queensland, New South Wales, South Australia and Western Australia feature in this latest listings report by property editor Linda Rowley.
 QLD's Robina Downs attracts institutional enquiry
 Peel River country hits the market after 130 years
 Bells offload central western NSW country
 Western land lease sale will end 95 years of ownership
 Eyre Peninsula portfolio set to change hands
 Four properties in WA listed
QLD's Robina Downs attracts institutional enquiry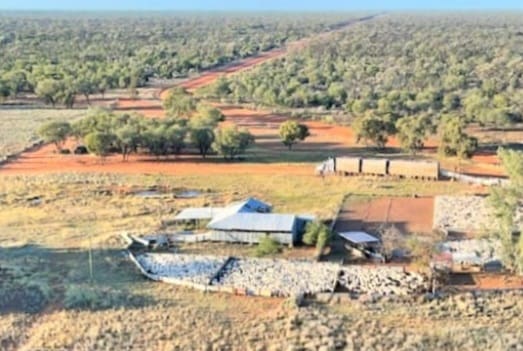 After four excellent seasons, Nyngan producers Jack and Dione Carter have listed the exclusion fenced Robina Downs in south-west Queensland.
The 13,780ha are situated 25km from Noorama and 131km south-east of Cunnamulla, in the renowned 'salad bowl' region.
The Carters purchased Robina in August 2019 for drought relief due to dry conditions in north-western New South Wales. What followed was four impressive floods from the Noorama Creek.
During their ownership, the couple has been running a mixed sheep and goat enterprise with a 7000DSE rating or 8000 to 10,000 goats.
With a return to more normal seasons, the regular, safe, beneficial flood out grazing country is now surplus to the Carter's requirements.
Nutrien Harcourts agent Darryl Langton said there has been solid enquiry from a range of buyers.
"The balance of soil types, diverse pastures and plentiful water are attracting locals, producers from Goondiwindi to northern New South Wales, as well as upsizing institutional type investors."
Mr Langton said grazing land sales in Cunnamulla's salad bowl have been few and far between.
"The last property I sold in the region was around 12 months ago and that achieved $156/ac. Robina Downs is expected to achieve more."
Dark soils across 70 percent of Robina Downs grow a mix of Mitchell, Flinders and native grasses and prolific herbages (in season) along the Noorama Creek flood out country. The balance consists of red loam soils growing buffel and native grasses.
Robina Downs is watered by a 300ML irrigation licence and three capped artesian bores that deliver water to tanks and 30 troughs and dams.
It is being offered for sale by expressions of interest closing on September 15.
Peel River country hits the market after 130 years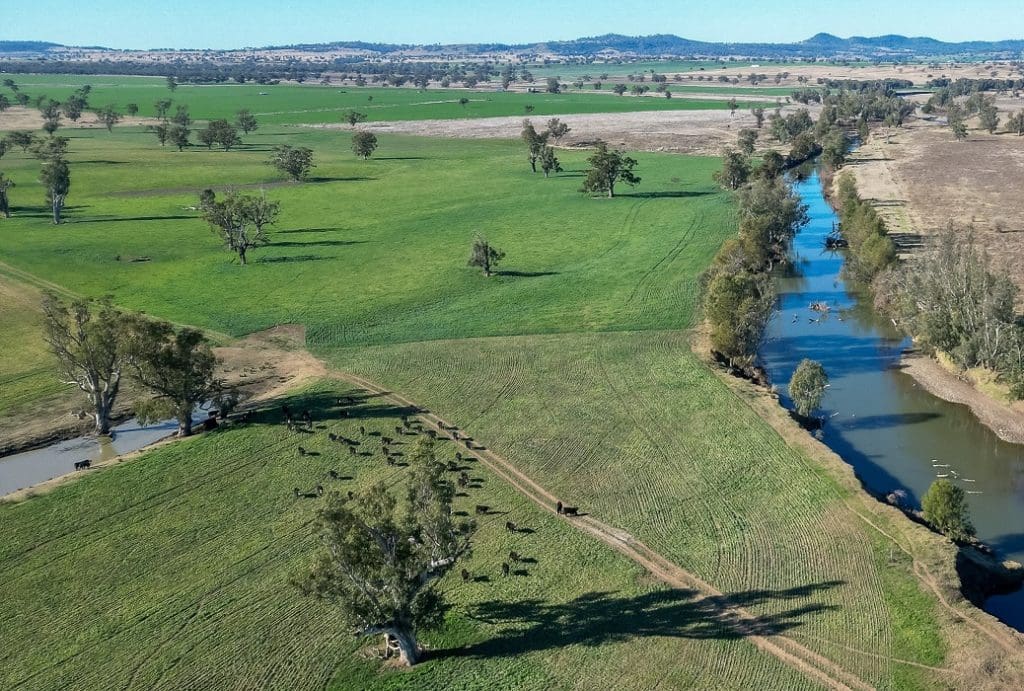 Descendants of the Vickery family are ending more than 130 years of ownership of Swanton and Menedebri on the Peel River in northern New South Wales.
The 1071ha Swanton and 759ha Menedebri are non-contiguous, but are located close to Somerton, 37km from Tamworth and 41km from Gunnedah.
Some of the 1830ha of mixed farming country has been owned by the Vickery family since the 1890s.
The properties are being offered by the Morgan and Benn families and include 849ML of water licences.
Swanton and Menedebri boast 7.3km of Peel River frontage and are used primarily for sheep, cattle, grain and fodder production.
The vendors have been running a self-replacing breeding enterprise with a carrying capacity of 1370 mixed cattle or 1665 adult equivalents, or 16,650 dry sheep equivalents.
Around 87 percent of the property is arable, with deep alluvial soils adjacent to the Peel River, as well as red and grey loams.
The property is situated in a 615mm average annual rainfall area, with stock water on Swanton and Menedebri also supplied by equipped bores connected to tanks and reticulated to troughs in all paddocks.
The properties are well fenced, with 6km of new fencing installed in the last five years.
Swanton and Menedebri are being offered as a single aggregation or as separate parcels via an expression of interest process closing on October 10.
The sale is being handled by David Goodfellow from Koranui and Simon Fritsch from Agripath.
Bells offload central western NSW country

Between $5.5 million and $6 million is anticipated for a mixed organic grazing and dryland farming enterprise in New South Wales' central west region.
The 8419ha Wirchilleba is 53km north of Mount Hope and 111km south of Cobar.
It is being sold by Phillip and Vanessa Bell who own the large-scale breeding property Cooplacurripa Station between Gloucester and Nowendoc in northern New South Wales.
The country on Wirchilleba is described as highly regarded soft grazing with the fertile soils growing a variety of natives including copper burr, barley grass, cotton bush and clovers.
The property is currently carrying a good body of dry summer grass, with winter herbages in abundance supporting 850 cows and followers or dry sheep equivalents.
The well-developed, open cropping country is flat to slightly undulating with heavy red clay to sandy loams. There are 2633ha of mixed organic dryland farming with 1200ha sown to lucerne.
Wirchilleba is watered by eight dams, two bores and 9ML of water entitlements, and also benefits from a 6km flow from the Burthong Creek.
It will be auctioned on September 13 by Nutrien Russell Property & Livestock.
Western land lease sale will end 95 years of ownership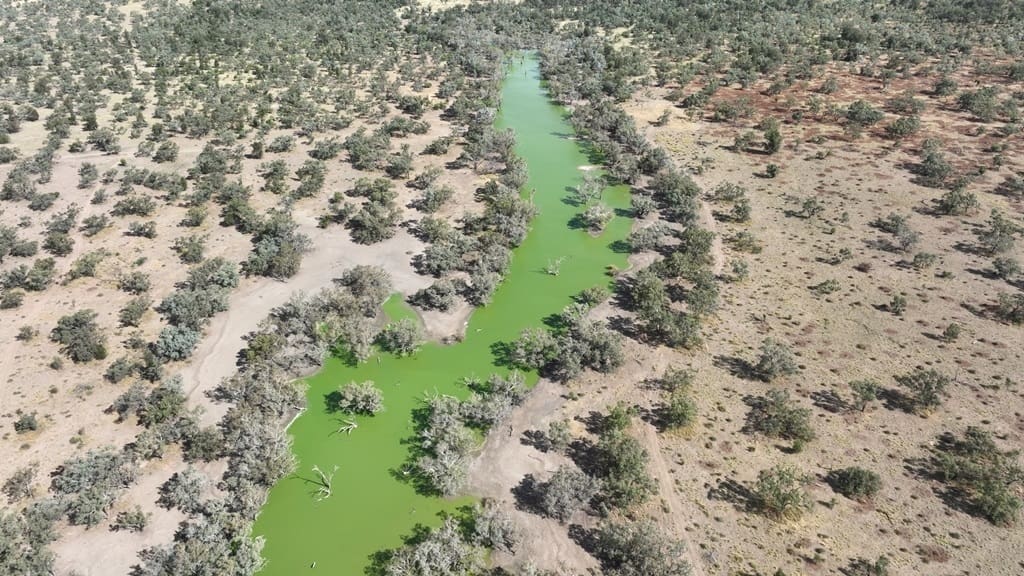 After 95 years of family ownership, Mark McMullan is selling the New South Wales Western Lands Lease Stoney Ridge as he heads towards retirement.
The 3315ha lease located 50km south of Brewarrina and 150km north of Nyngan is being sold bare of stock and is likely to achieve around $543/ha to $568/ha.
Described as good quality country, it comprises 50 percent medium to open timbered grazing with heavier grey and black soils adjoining the Bogan River.
The balance is more naturally open with a beneficial mix of timbers, including myall, whitewood, leopardwood and rosewood, with lighter grey to chocolate soils.
The country grows a mix of grasses and herbages and is rated to carry 1500 ewes or 150 cows in an average season, or 2000 ewes or 200 cows in better seasons.
Stoney Ridge has 4km of Bogan River frontage, a large waterhole that has never run dry, four dams and two lagoons.
Moree Real Estate agent Dianne Kelly is offering the property by online auction opening on September 25 and closing on September 28.
Eyre Peninsula portfolio set to change hands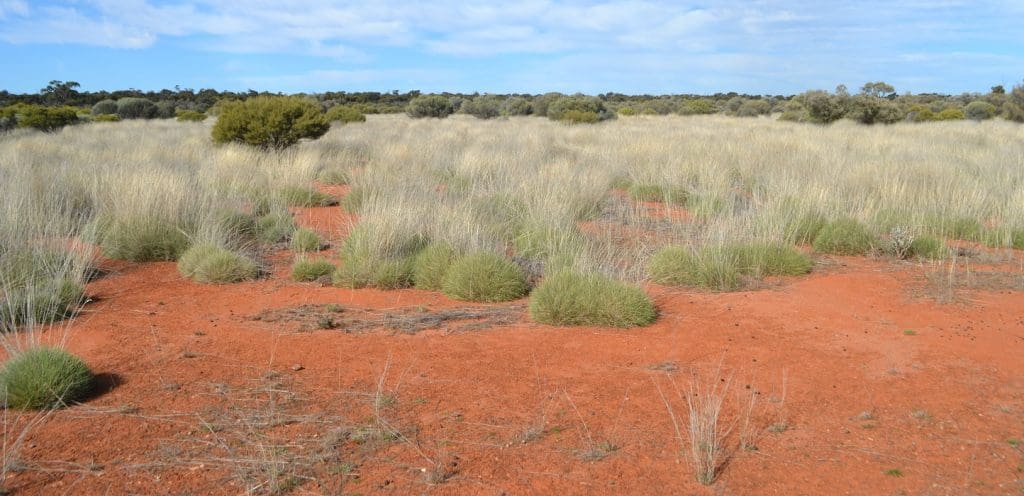 Around $20 million is expected for the Allen family's portfolio of properties on South Australia's Eyre Peninsula.
The portfolio spans almost 14,000ha across seven properties and comprises two distinct hubs – a 9240ha grazing block and 4572ha of farming land.
Yeltana Station is situated 35km north-east of Kimba and is rated at 970 dry sheep equivalents.
Historically, Jason and Sonia Allen, together with Trent and Laura Allen, have run a mixed operation of 5500 Dorper ewes plus replacements, 100 cattle and 80 horses.
The cropping country consists of six holdings – Wannamanna, Allen Park, Woolfords, Panitya, Wudinna East and Jasons Block which are located in Wudinna, Kyancutta and Panitya.
Some of the properties have been held by the Allen Family for up to six generations, with Albert James Allen purchasing the first property in 1911 and the family continuing to acquire properties over the past 110 years.
CBRE Agribusiness agent Phil Schell is managing the sale via a two-stage expressions of interest campaign closing on September 14.
Interest is coming from local farming families, out-of-district producers and city-based investors.
Western Australian properties come onto market
TWO offerings in the Albany zone, the Echidna Ridge Aggregation and the Pearce family's holdings, Gnargagin in the Kwinana North zone, and Wattle Grove north of Geraldton zone, are among the latest farms to list in Western Australia.
All four listings are well set up for cropping and also have shearing sheds and sheep yards, with Echidna Ridge also having a sheep feedlot.
More than $10m sought for Gnargagin
Offers above $10 million are being sought for a broadacre cropping and grazing property in the Central Midlands region of Western Australia.
The 4331ha Gnargagin is located 14km north-east of Watheroo and 54km from Moora. It has a history of running sheep and cattle and is rated to run 4500 ewes and lambs.
The gently undulating country has mostly yellow sandplain soils and sand over gravels in 20 well-fenced paddocks.
Around 3521ha (82 percent) are arable and suited to a cereal, lupin and canola crop rotation or a wheat / fallow system. In previous years, applications of lime sand and deep ripping have been undertaken.
Gnargagin (meaning place of water) is situated in a 411mm reliable rainfall region, and features 21 soaks with water reticulated across the property by solar pumps.
The infrastructure includes a five-bedroom home, numerous sheds, a four-stand shearing shed, new 3500 head capacity sheep yards, four liquid fertiliser tanks and grain silos.
Elders agents Courtney Keeffe and Simon Cheetham are handling the sale of Gnargagin as a whole or as five separate parcels, with offers to purchase closing on September 17.
Wattle Grove for sale for $3.15m
Wattle Grove, a broadacre block in WA's northern wheatbelt is being offered by Mr Keeffe with a price tag of $3.15 million.
The 3194ha Wattle Grove is located 35km from Binnu and 90km from Northampton.
The strong York gum country has a balance of mallee red loams, tamar sands and yellow sandplain soils.
Around 2846ha (89 percent) of the flat to gently undulating property is arable and suited to cereal, lupin, canola and rotational cropping on a wheat/fallow system.
There are large open and efficient paddocks for modern farming practices with the potential to further increase productivity with soil amelioration and pH adjustment. The property has three bores, two of which are unequipped.
Wattle Grove is being sold with a range of sheds, four grain silos, a four-stand shearing shed and sheep yards.
Echidna Ridge Aggregation
Five adjoining properties in Western Australia's Great Southern region have been listed for sale by Ray White Rural WA.
The 5937ha Echidna Ridge Aggregation near Pingrup is described as a well-established enterprise set up for both grazing and cropping.
Agent Kate Jefferies reports good enquiry across all property listings heading into the spring selling period.
The country on Echidna Ridge is slightly undulating and the soils range from heavier loamy clays to loamy gravels and lighter sand over clay. Mostly, it comprises medium easy working soil types growing cereal and canola crops.
While 5458ha are arable, recently, Echidna Ridge has been run as a mixed enterprise property running sheep.
The property is fenced into 44 paddocks with more than 55km of new fencing, and is well watered by dams, many of which have been cleaned.
Infrastructure across aggregation includes several homes, a four-stand shearing shed, new sheep yards, a 600-head sheep feedlot and machinery and fertiliser storage sheds. There are 12 silos with 743 tonnes of storage.
Echidna Ridge is being offered for sale by offers to purchase.
Numeralla, Mannabanks and Mannabanks North
In Western Australia's wheatbelt region, three generations of Pearce family ownership will end with the sale of Numeralla, Mannabanks and Mannabanks North.
It is the first time the 3383ha mixed farming and grazing aggregation has been offered for sale since the original holding Numerella was taken up by brothers Thomas and William Pearce in 1910.
Mannabanks was purchased in 1938 and the adjoining Mannabanks North was added shortly after, and expanded in 1994 with neighbouring country.
All three properties were carefully selected by the early pioneers for their abundance of fertile soils, with 2932ha (87 percent) deemed arable.
The 2023 cropping program on Numeralla includes 800ha of barley and 100ha of oats, while the Tarin Rock properties are growing 230ha of wheat, 700ha of barley and 305ha of canola.
The balance of the holding is grazing, natural timbers, revegetation, fire breaks, drains and catchments, dams, waterways and a laneway.
The 1937ha Numeralla near Moulyinn is 18km west of Kukerin and 30km east of Dumbleyung.
The gently undulating country comprises 85 percent medium loams (with some gravels), 10 percent heavier types and five percent lighter soils that have been planted to pine and tagasaste.
Water is supplied by a scheme and 27 dams, most with catchments.
Improvements include a four-bedroom home, a workers' cottage, a four-stand shearing shed, steel sheep yards, numerous sheds, eight silos and water and fuel tanks.
The adjoining 847ha Mannabanks and the 599ha Mannabanks North are situated north of Tarin Rock.
Both properties have 75 to 80 percent medium loams and 20 percent heavier clays. Original timbers include some of the best examples of White Gum, York Gum, Jam and Mallee trees.
There are 17 dams (10 on Mannabanks and seven on Mannabanks North), and most have catchments.
Mannabanks has a four-stand shearing shed, steel sheep yards, a shed, four silos and fuel and water tanks. There are no fixed improvements on Mannabanks North.
Nutrien Harcourts agent Steve Wright said the properties provide an opportunity for producers looking to expand or enter the rural industry in a sought-after and reliable area.
The offers to purchase campaign closes on September 20.