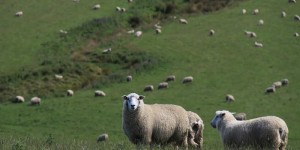 NEW Zealand's lamb slaughter has started slowly due to good pasture conditions, Meat & Livestock Australia has reported.
MLA said the latest available data from Statistics NZ is for August, with lamb slaughter down 6 percent year-on-year and 11pc lower than the five-year average, at 665,702 head.
Heavier processing during the first half of the 2015-16 season has reportedly had an impact on kill numbers during the tail-end.
With one month of the 2015-16 season to go, the October-to-August lamb slaughter total was 4pc lower than the corresponding period the previous year, at 19.5 million head, MLA said. AgriHQ pointed out that, with the better than average feed levels, the lower slaughter numbers are being somewhat offset by heavier carcases.
MLA said at a time when Australian lamb slaughter levels are also lower year-on-year, the tight supplies and strong procurement competition have provided support to the Australian and NZ lamb markets.
The first of the new season lambs reportedly hit the market mid-October, according to AgriHQ. Improved seasonal conditions have seen very good pasture growth, particularly in the South Island, lending little concern around feed levels over summer – a very different story than the same time last year.
MLA said as a result, many producers are reportedly opting to carry lambs to heavier weights, exacerbating the lower new season lamb production so far. AgriHQ indicated there is some uncertainty surrounding the capacity of new season production levels to fill Christmas chilled trade orders to the EU over the next few weeks.
Source: MLA.