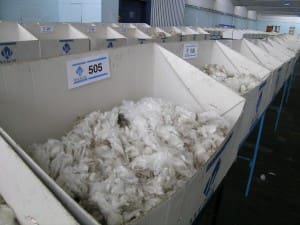 WOOL prices continued to rise in Australia's physical auctions this week, with premiums for sound wools with good length and less vegetable matter content.
AWEX senior market analyst Lionel Plunkett said the benchmark AWEX Eastern Market Indicator set a record on the first selling day of 1834c/kg clean, easily surpassing the 1822c/kg set in January.
"The EMI dropped four cents on the second day, closing at 1830 cents, an overall increase of 10 cents for the week."
With strong strong competition for superfine wools in Sydney, Mr Plunkett said the 44,150 bales offered, 2481 more than last week, did little to hinder the positive buying sentiment evident in recent sales.
Brokers passed in 6.6 percent of the offering.  The EMI in $US terms lost 5 cents to US1415c/kg clean, with the $A falling 0.69 cents to US77.30 cents during the week.
"Also hitting record highs this week, in all three centres, were the individual micron price guides for 21 and 22.0 micron.
"In the eastern markets, record levels were also recorded in the 16.5, 19 and 20.0 MPGs," Mr Plunkett said.
He said the prevalence of wools with very high mid-breaks is continuing to rise, as the quantity of these lots increases, so too does the discount applied to them.
"In many cases, these wools are bringing 80 to 100 cents less than similar wools possessing more favourable additional measurement results."
Low vm content skirtings sought
Mr Plunkett said the skirting market performed with mixed results.
"Wools carrying less than two percent vegetable matter (vm) and possessing good length and strength results were highly sought after and therefore dearer for the week, faultier lots and wools with less favourable results were highly irregular, tending cheaper."
Coarse crossbreds and cardings fall further
The crossbred market also had varied results, Mr Plunkett said, with 25-28 micron wools generally 10- 25 cents dearer, but broader types lost 10-15 cents.
"Despite a solid start to the week the carding market suffered further corrections this week.
"All types and descriptions had general losses of between 10 and 30 cents, with the southern region least-affected.
"The losses pushed the three carding indicators down by an average of 7 cents."
Currently there are 46,490 bales catalogued for next week's sales.
Click here for the latest AWEX Micron Price Guides table.
Source: AWEX.