GOAT slaughter hit a three-year high across Australia last week, driven by strong and resilient international demand, and the normal seasonal turnoff that happens around this time of year.
Processors accounted for 56,152 head of goats last week, up 6pc on the previous week and 96pc higher than the same week last year. The figure was the highest seen since July 2014, when numbers briefly exceeded 60,000 head per week.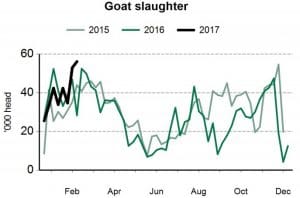 Big jumps were seen in NSW and Queensland, up 37pc on the week before, but Victoria's kill remained easily the largest in Australia at 24,290 head last week.
Kills during December and January were fairly low (see MLA goat slaughter graph), suggesting there may have been some residual processing taking place during February, compensating for the earlier summer lag. Good rainfall through the winter and spring months last year in many key goat-producing areas has also been suggested as a possible influence, adding weight to stock only now being seen in slaughter rates.
Meat & Livestock Australia is preparing to release its 2017 Goat Industry Summary in coming weeks, providing a synopsis of all available industry production and trade statistics.
But because of the lack of any accurate estimate of the size of the rangeland flock in Australia – which provides an estimated 95 percent of all goat slaughter – it makes it impossible to do any meaningful production forecasts for the year ahead, MLA chief analyst Ben Thomas said.
One recent estimate of the total Australian goat flock suggested a figure of between two million to four million head – a very wide margin for error, based on the challenges involved in estimates in an industry largely based on wild harvest.
On most recent ABS data, Australia has about 500,000 managed goats behind wire. That census information is now a few years old, and it is hoped that questions in the recent ABS livestock census may provide more up-to-date information.
Price momentum continues, unabated
Goat prices, currently averaging about $6.55/kg carcase weight, continue a sequence of almost unbroken rises to unprecedented levels over the past three years (see graph), driven by relentless international demand. In comparison, prices in early 2015 were around $3.90/kg (see MLA graph published here).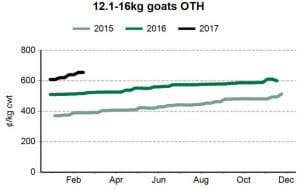 It is perhaps unprecedented in Australia for a significant global meat protein commodity to show a long-term, more or less continuous price increase like this, MLA said.
Helped a lot by the Australian dollar weakening over the past two years, exports account for 95pc of all Australian goatmeat production, about half of which goes to the ethnic market in the US, and smaller portions to a basket of markets like Taiwan and the Middle East. Exports to all markets last year totalled around 30,000t, worth around $240 million.
Slaughter has remained relatively steady, accounting for about two million head for each of the past three years. While there was some concern that consecutive high annual kills, driven by lucrative prices, may inhibit production later this year, MLA still anticipates a similar number of goats to be processed this year – around two million head.
Are carcase weights increasing?
Unlike both beef and lamb carcase weights which continue to show a long-term increase across Australia, goat carcase weights, according to Australian Bureau of Statistics data, have remained fairly constant.
That result is open to challenge, however, as there are times when the volume of goatmeat exports out of Australia recorded by the Department of Agriculture exceeds reported production levels, suggesting that there may be some carcase weight increase occurring, MLA's Ben Thomas said.
Regardless, with some 95 pc of goats slaughtered coming from rangeland production, it suggests that genetic improvement through the use of Boer goats will take time to infiltrate through the broader herd, beyond those goats managed behind wire.
Effort is being applied in infusing Boer goat genetics in the rangeland environments to increase average carcase weights, but this is difficult in regions which are not fully fenced.
One theory is that average carcase weights may actually be in decline, because of the current level of harvest pressure on rangeland animals caused by increasing prices. Some say this may push the harvest of the rangeland population beyond sustainable levels.
While goats are prolific breeders and can replenish and recover quickly, some reports suggest that lighter goats that previously would have been left to breed or grow-out further are now being harvested – such is the strength of the market.
The goatmeat industry, through the Goat Industry Council of Australia, and MLA's goat industry program, is focusing attention on the need to underpin the sustainability of the wild harvest.