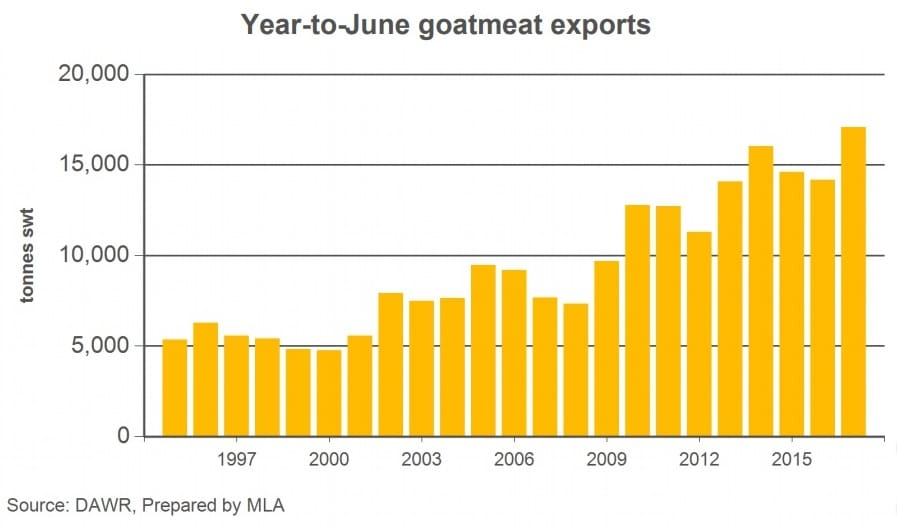 AUSTRALIAN goat meat exports during June totalled 1489 tonnes, up 59 percent year-on-year, according to Department of Agriculture statistics released last week.
Over the 2016-17 fiscal year period, goat meat exports reached 29,681 tonnes, a small rise on the previous financial year.
As illustrated in the graph above, the six months covered in the January-June period showed a sharp rise in year-on-year exports, to close to 17,000 tonnes.
Average weekly eastern states goat slaughter for 2016-17 was very similar to 2015-16 levels, down 1000 head in 2016-17, at 30,178 head, due mostly to earlier drought impact. While slaughter in New South Wales and Queensland eased, processing throughput picked up in South Australia and Victoria.
For the year ending June 30:
Goat meat shipments to the United States increased 6pc year-on-year, to 20,410t
Volumes to Taiwan jumped 38pc, to 3929t
Exports to the Caribbean lifted 7pc, to 1517t
Shipments to Korea were 15pc higher, at 1635t
Volumes to Canada eased 18pc, to 1187t
The National Livestock Reporting Service's over-the-hook goat meat indicator (12-16kg carcase weight) averaged 616¢/kg during the 2016-17 financial year just completed – up 116¢ from the previous year.
In June, the indicator hit a new record high of 682¢/kg cwt, and surpassed the Eastern States Trade Lamb Indicator . The ESTLI averaged 657¢ for the month, while the over-the-hook goat indicator averaged 665¢/kg.
Source: MLA