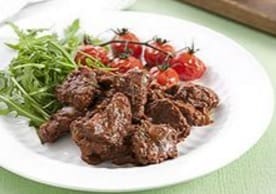 GOAT meat prices increased in May to more than 110c/kg above levels a year ago.
Meat & Livestock Australia reported that goat slaughter also increased, driving meat exports higher into all major destinations during the month.
Over-the-hook goat indicators averaged 657c/kg (12-16kg cwt) for the month – up 9 cents from April and 111c/kg cwt year-on-year.
Average weekly eastern states goat slaughter lifted 34pc year-on-year to 23,798 head. The state averages also increased by more than half to 1486 head year-on-year in New South Wales and in Victoria, by double, to an average of 9393 head per week.
Queensland average weekly goat slaughter lifted around 1000 to 7035 head and in South Australia the mean kill rose by almost 2000 to 5884 head.
MLA said Australian goat meat exports totalled 2626 tonnes in May, up 36pc year-on-year, according to the Department of Agriculture and Water Resources. This brought the 2017-to-date total to 15,580 tonnes, 18pc higher than the same period in 2016.
Goat meat shipments in May to the United States increased 31pc year-on-year to 1711 tonnes and by 37pc to 298 tonnes into Taiwan. Exports to Korea doubled year-on-year to 256 tonnes and Caribbean shipments lifted 33pc to 149 tonnes. Goat meat exports to Canada increased 70pc in May to 129 tonnes.
Source: MLA.