Lee Kernaghan is Country Music's 'Boy from the Bush' – an iconic star and 2008 Australian of the Year whose music has shaped a generation of C&W music fans.
For the first time, he has stepped off the stage and invites readers behind the scenes, into his ute and over the rutted red dirt tracks he so loves on a rollicking journey through his songs and the stories that inspired them.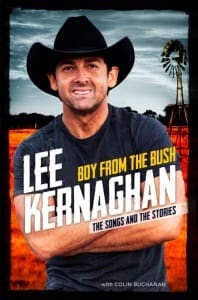 ABC Books' new offering, "Lee Kernaghan – Boy from the Bush" includes stories with more twists than the Gwydir River.
Lee's stories bounce from a disastrous caravan-obliterating encounter on Nine Mile Hill to the triumph of the Starmaker stage; from his infamous teenage rock'n'roll-fuelled Albury High lunchtime music room invasion to the blood and guts of a mid-gig brawl in a remote Kimberley community.
He shares the doubts that nearly ended his career before it began, the heartache of the bush in crisis and reveals the secrets behind scores of his hit songs. It's a tapestry of yarns that will fascinate, amuse and entertain diehard fans and newcomers alike.
Lee's hits including 'Boys From The Bush', 'She's My Ute', 'The Outback Club', 'Hat Town' and 'Planet Country' have earned him 33 Golden Guitars and 3 ARIA Awards, climbed to the top of the Aussie charts 32 times and propelled over 2 million albums off the shelves and into the lives of everyday Australians.
He has also donated his time and efforts selflessly to raise money for struggling people in rural areas faced with persistent drought over the past few years.
Now the songs that celebrate the life and times of Lee's rural heart take on a whole new dimension as he draws readers into his confidence, into the studio, onto the tour bus and up the hill to his hidden songwriting shack, along the way initiating readers into fully-fledged membership of the Outback Club.
Lee Kernaghan has a monster fan-base with more than 94,000 fans on Facebook and is one of the hardest working musicians in Australia. He tours a new album every year, travelling the length and breadth of Australia.  He sells 60-65,000 copies of any CD he does.
Kernaghan this month releases Spirit of the Anzacs, a musical tribute to 100 years of ANZAC heroes, their stories and our national pride in time for this year's 100th anniversary of the Gallipoli landing.
"Boy from the Bush" is available from ABC books. RRP $39.99.