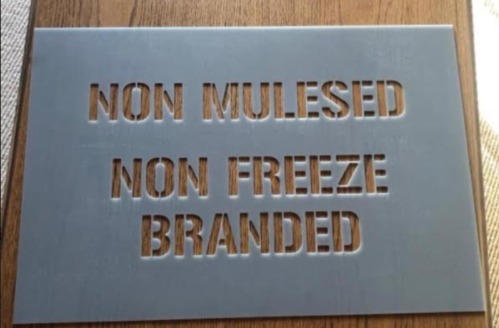 AUSTRALIA'S wool exporters and brokers have supported a revised National Wool Declaration that does not define wool from sheep that have undergone the freeze-branded process as non-mulesed.
The Australian Wool Exchange yesterday released the results of its latest NWD review that listed new definitions for mob status encompassing the breech modification processes, surgical mulesing and sheep freeze branding.
Before the latest review, wool growers had been able to include wool from freeze branded sheep as non mulesed by ticking a 'NM' box.
Australian Council of Wool Exporters and Processors president Josh Lamb and National Council of Wool Selling Brokers of Australia Rowan Woods both told Sheep Central they supported the NWD changes for the reasons of transparency to the market.
Mr Lamb said the exporters had not supported defining freeze branding as a non mulesed process.
WoolProducers Australia chief executive officer Jo Hall said the WPA board hasn't formally considered the final NWD. However, she said there are a few points of concern, including the retention of ceased mulesed.
"Whilst the Definitions/Supporting Explanations state that liquid nitrogen is non mulesed, it could have been stronger throughout the document.
"It is now up to growers to decide if they use the NWD or not."
On the revised NWD the mob status definition options for growers now are:
NM: No sheep in this mob have been mulesed.
LA: Sheep in this mob have been treated with liquid nitrogen# with a registered analgesic product.
LN: Sheep in this mob have been treated with liquid nitrogen#, without a registered analgesic product used.
AA: Sheep in this mob have been mulesed with a registered analgesic &/or anaesthetic product used.
M: Sheep in this mob have been mulesed without a registered analgesic &/or anaesthetic product used.
The changes mean that wool growers will not be able to nominate the wool from freeze branded sheep as coming from 'non-mulesed' sheep.
In an AWEX Members' Update today, AWEX chief executive officer Mark Grave said the 2021 NWD review has been completed.
"The focus of the review was the identification of wool from sheep treated with liquid nitrogen.
"In addition, consideration has been given to the categories (Property and Mob Status) of the NWD, and how they relate to each other.
"This review was complex and the AWEX board appreciates the frank feedback received from the organisations and individuals who contributed to this review," he said.
Mr Grave did not return a call requesting further comment on the review's outcome.
He said the new NWD V9.0 template included the introduction of liquid nitrogen (freeze branding) as two categories:
o LA – use of liquid nitrogen using an APVMA approved Analgesic product, and
o LN – use of liquid nitrogen without the use of an Analgesic product.
He said the questions that related to Ceased Mulesing (CM) Status now have a 12-month timeframe.
Mr Grave said it is important that industry stakeholders developing documents or stationery must not change any of the wording or definitions in the NWD V9.0.
"This is to ensure consistency of the NWD and maximise the integrity of all Australian declarations, and to provide our customers with clarity on each NWD category enabling them to make informed purchasing decisions.
"In finalising the 2021 NWD review, the AWEX board is announcing that the next review will be
conducted within two years, and it will consider the potential of removing CM," he said.
"This time-frame will allow stakeholders ample opportunity to consider the future of CM."
Mr Grave said the NWD V9.0 will come into effect on 1 January 2022.
Click here to read more details on the NWD changes.