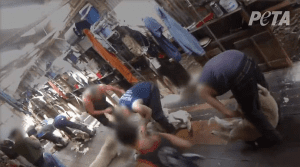 FOUR sheep shearers pleaded guilty to multiple animal cruelty charges in the Horsham Magistrates Court yesterday.
The appearance of three Victorian shearers and one South Australian shearer in the court on cruelty charges followed an investigation by animal PETA and complaints to Agriculture Victoria.
PETA Australia's associate director of campaigns Ashley Fruno said justice is finally coming to shearing sheds around Australia.
"Punching and striking gentle sheep with sharp clippers and throwing them to the hard wooden floor are unquestionable forms of violent abuse which should be met with maximum penalties, starting with a ban on being in charge of farmed animals.
"The serious nature and number of these charges means producers can no longer pull the wool over our eyes."
Click here to get the latest Sheep Central story links sent to your email inbox.
Ms Fruno said the charges followed the release of a PETA US expose. The men are due for sentencing on March 31.
Yesterday's case followed that of a South Australian shearer from Lucindale who pleaded to four charges of animal cruelty in the Horsham Magistrates' Court in December last year.
The 60-year-old pleaded guilty to abusing sheep by twisting the limbs of sheep and lambs while standing on them, stomping on them and kneeing a lamb with force in a Neuarpurr shearing shed in 2013. He was banned from shearing or being in charge of any farm animal in Victoria for two years.