FORWARD wool trading stalled this week as January auctions concluded as they began, with moderate finer micron gains and a slight easing in the medium Merinos and the crossbreds.
Trying to find a pattern and insight to where this may lead us for the remainder of the season, or indeed into next year, is fraught with danger.
The table below right highlights that modest gains or losses has little or no relationship to where we will land and the end of June each year.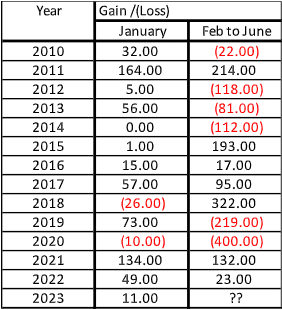 Another way of analysing where we sit at this point in time is to look at historical prices over different time frames. The table below left indicates that currently this varies across both the micron groups and timeframes for the Merinos. For example, 17 microns are in the upper percentile on a ten year scale, but are under-performing when looked at in a narrower time frame.
Conversely, the 21 micron indicator (see below) is currently sitting in the 95th percentile when we look at the last two years and although above their long-term average, less dramatically so when using a broader time scale. The less said about crossbreds, at the moment, the better.

The forward markets failed to trade this week although the spread between buyer and seller did tighten. The 19 micron contract for February and March closed with the buyer at 1650 cents and the seller at 1660 cents. Exporters are still struggling to find processors willing to purchase at the current levels too far forward, and buyers and sellers are yet to place forward levels in any meaningful volumes to give a sound forward signal.
Other commodity markets have traded in a more positive direction this week. Cotton is back at US86c/lb having dipped to US82 cents from its New Year opening of US86 cents. The general tone of most markets is better, with improved sentiment around the ability of China to move through the COVID re-opening.
Whilst this is likely to be positive in the longer term for wool, the need to value certainty over the fear of lost opportunity remains. Greater participation in the forward markets can only be positive for the wool pipeline.
Source – Southern Aurora Markets.