FORWARD wool trading continued last week as the spot auction market rose then splattered again in an overall positive week of open cry sales.
Passed-in rates remain under 10 percent and wool is travelling along the pipeline, even though it is under logistics pressure. The wool trade has handled many COVID-induced hurdles and the disruptions on the Victorian docks are just another.
Wool forwards continue to trade in modest volumes and maintain a premium to cash. The December 19 micron contract traded prior to the auction, opening at 5 cents over cash and for January, 35 cents over. The rise in the spot price to 1683 cents didn't seem to affect the sellers who were willing to sell at 1700 cents to achieve some cover in the New Year. Buyers retreated momentarily, but pleasingly returned to set a basis for growers to establish forward strategies.
The 19 micron index is bid at 1680 cents out to April 2023, then flat to cash for the next 18 months. As highlighted in the chart below, prices have been under the forward bidding levels for five consecutive quarters. The 21 micron index is bid for the same time frame at 1260 cents.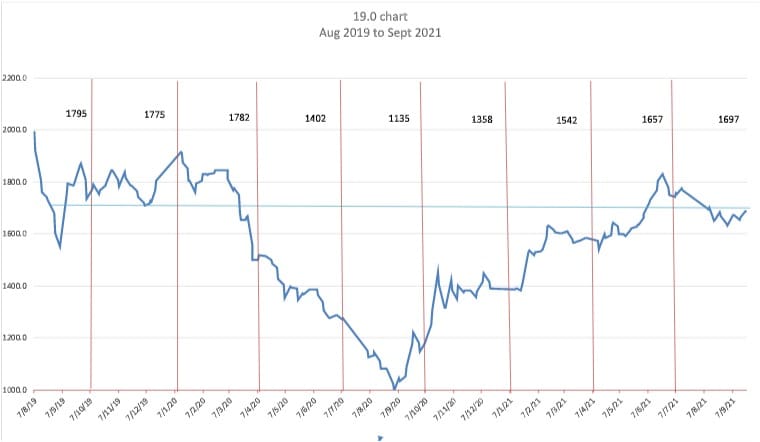 So where to from here? Mainstream commodity commentators appear mixed in their views and change with the wind. The recent credit issues in China put a shock into most stock and commodity markets early in the week, but the wool market seemed somewhat immune. That said, persistent logistics challenges and sluggish demand look like they will at least delay any concerted rally in prices. This is currently playing out on the forwards with little buyer bidding pre-Christmas. This may also be a result of the hesitancy of growers to offer forward, leaving buyers a little frustrated.
We expect the forward market to remain relatively flat to Christmas, but the chance of New Year premiums reappearing. Much will hinge on whether growers embrace the idea of valuing certainty over the fear of lost opportunity.
This week's trades
December 19 micron                                                    1670 cents                         5 tonnes
January 2022 19 micron                                               1700 cents                      17.5 tonnes
February 2022 19 micron                                             1700 cents                        5 tonnes
April 2022 19 micron                                                     1700 cents                         5 tonnes
July 2022 19 micron                                                      1700 cents                         5 tonnes
Total 37.5 tonnes