UNCERTAINTY around the impact of the coronavirus or COVID-19 on supply chains and global economies has seen stock and commodity markets fall sharply.
Up until last week the wool market had held well against the tide, but disruption to the flows caused by a ransomware attack on the major IT system provider combined with the general malaise led to prices falling again this week.
The key 21 micron Index fell 35 cents on Wednesday. This was the seventh time in the last two months that a daily movement was in excess of 30 cents. We are on track to outstrip 2019 as the most volatility year in the market's history.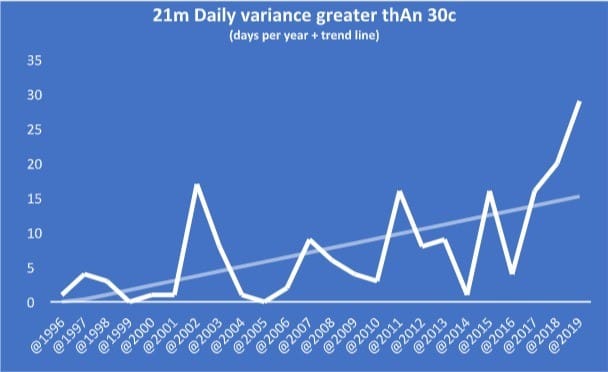 The forward markets traded sporadically early in the week as buyers and sellers tried to find fair value. The 19 micron contract traded 50 cents under last week's close and 28 micron was 20 cents under, pre-empting the falls in the spot auction. Sellers continued to try to de-risk by offering discounts from 50 to 80 cents out to one year forward. The 19 micron contract traded to 1680 cents from December through to April 2021.
Bidding in the forwards remained muted while the physical tried to find a level in the spot market. We anticipate forward levels in the April to June quarter at around 1710-1740 cents for 19 microns and 1680-1710 cents for 21 microns.
Spring and New Year levels reflect the volatility and risk that strangle commodity markets at present. Interest on 19 microns will likely range from 1660-1700 cents and on 21 microns at 1630-1660 cents.
It is opportune that in AWI's quarterly "Beyond the Bale" issue, released this week, there is an article on risk management.  The article details the challenges of risk management in agriculture and wool's position in that landscape. It also outlines AWI's project to evaluate the level of understanding among growers, to create price risk management content and to gauge the best delivery methods of that content.
To that end, a link to a short questionnaire has been included for growers to complete (www.wool.com/risk).The intent of the survey is to deliver a baseline of grower awareness and adoption of risk management to help understand the best way forward for grower extension.
"Nothing in life is to be feared; it is only to be understood. Now is the time to understand more so we can fear less" – Marie Curie
Trade summary
April 21 micron                                 1700 cents                         4 tonnes
April 28 micron                                     860 cents                         5 tonnes
May 19 micron                                  1760 cents                        5 tonnes
May 21 micron                                  1700 cents                        2.5 tonnes
June 19 micron                                   1715 cents                        5 tonnes
December 19 micron                       1680 cents                       2.5 tonnes
January 2021 19 micron                   1680 cents                       2.5 tonnes
February 2021 19 micron                1680 cents                        2.5 tonnes
April 2021 19 micron                       1680 cents                         2.5 tonnes
Total 31.5 tonnes