THERE was a slightly better tone to the spot auction and forward wool markets this week.
The auction sector again lost ground, mainly due to a poor opening Tuesday that saw most qualities come of 20 cents.
This is a continuation of the last three weeks, when prices have fallen to pre-Christmas levels, particularly in the broader microns. The stabilisation on Wednesday was as welcome as it was unexpected.
The ever-apparent stresses of financing, supply chain logistics, and overall global tensions were swept aside and the market found a base and closed the week on a positive note, although the passed-in rate did lift to nearly 20 percent.
The reaction on the forward markets was slightly better activity with buyers and sellers looking for some price certainty.
The forward curve remains relatively flat, with the majority of trades in the 19 microns. Buying interest remains strong in the prompt months (May and June) with 19 micron bid 1680 cents against the closing quote of 1673 cents and 21 mi cron bid at 1280 cents against the close of 1283 cents.
Interestingly, as illustrated in the chart below, the current nearby bid level sits precisely on the season average for 19 micron of 1680 cents (range 1613 cents to 1771 cents).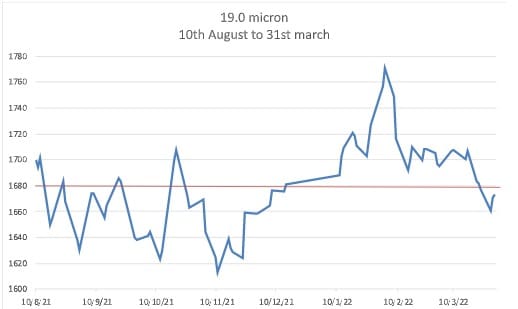 We expect to see the forward curve to remain flat through to the end of the season with a modest discount into the Spring and continuing into 2023 reflecting the current general risk assessment in most markets.
This week's trades
June 20 micron                                                               1350 cents                        7.5 tonnes
June 21 micron                                                               1260 cents                         5 tonnes
July 19 micron                                                                1680 cents                        5 tonnes
September 19 micron                                                    1665 cents                         4 tonnes
October 19 micron                                                        1665 cents                        7.5 tonnes
December 19 micron                                                    1650 cents                        5 tonnes
Total 34 tonnes